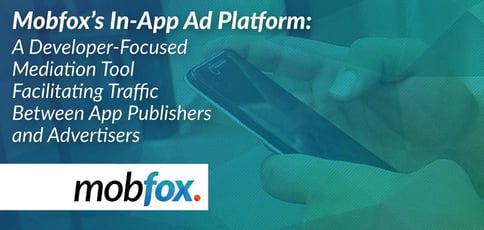 TL; DR: Mobfox is a supply-side mediation platform that streamlines traffic between advertisers and mobile application publishers with the goal of maximizing revenue for all parties. The platform also makes it easy for app developers to insert and manage ads via an automated exchange process. Through a combination of innovative technology and hands-on support, Mobfox is making it easier than ever for professionals in the app world — and soon, the connected TV space — to buy, sell, and manage ad inventory.
One of the most popular sports apps sold via the App Store and Google Play in Spain is BeSoccer's "Resultados de Fútbol," which provides real-time soccer results from primary and secondary leagues worldwide. In addition to more than 1 million users, the app has attracted the attention of advertisers in the Spanish market, who are eager to get in front of its ever-growing audience.
In 2017, looking to increase its ad revenue within the Latin American market, BeSoccer turned to Mobfox, an ad mediation platform designed to maximize ROI. The results were virtually instantaneous: Within the first quarter of 2018, BeSoccer's eCPM — a metric used to measure revenue generated per 1,000 online ad impressions — had doubled.
But that's not all. Within Spain, Colombia, Brazil, Mexico, Peru, and Argentina, BeSoccer's overall revenue increased by 184% in the first quarter of 2018 compared with the fourth quarter of 2017.
"Our supply-side platform facilitates the buying and selling of ad inventory in a very efficient manner," said Kumaran Sambandam, VP of Mobfox Exchange at Mobfox. "We run an auction, in real-time, wherein advertisers bid on various ad formats within apps, and we also implement the placement of the ads."
By streamlining traffic between advertisers and mobile application publishers, the platform maximizes revenue for all parties. Furthermore, the app publisher has full control over which ads get displayed — and, if approved, advertisers may specify the placement of their ads within the app. On the developer side, the Mobfox can be integrated with any app within minutes through the Mobfox SDK, an automated exchange process that makes inventory management a snap.
Ultimately, this clever combination of cutting-edge technology and hands-on support makes it easier than ever to buy, sell, and manage ad inventory.
Maximize Revenue with a Smart Supply-Side Mediation Platform
Over the years, advancements in technology have given advertisers a whole new set of tools to effectively reach their target audiences. Kumaran said the result is significantly improved ROI.
"Digital advertising is measurable, allowing advertisers to really understand what they're buying," he said. "And since the medium is so trackable, they can learn from previous campaigns and implement their findings into their next advertising budgets."
Mobfox is one of the most popular mobile advertising companies within the niche of programmatic advertising — a type of automated online advertising valued for efficiency through the power of automation.
The platform supports app developers and publishers through a digitized, programmatic exchange in which ads are matched with advertisers within milliseconds. The platform also provides global reach, allowing advertisers to reach their target markets in any location.
"At any point of time, there will be more than one advertiser looking to reach a specific target audience," Kumaran said. "We ensure that app publishers only get matched with legitimate advertisers."
Publishers can also block ads from designated sources, such as competitors. For added control, publishers and advertisers can negotiate deals directly through the company's private marketplace, which includes the help of customer support.
Once specified criteria are met, the system generates a deal and the ads are displayed on the app. To increase flexibility for publishers and advertisers alike, Mobfox supports all major in-app ad types — such as video, banner, interstitial, native, and rich-media ads — as demonstrated via its free and lightweight Demo App.
High-Quality Tech Meets One-on-One Customer Support
Kumaran said Mobfox stands apart from the competition in that it offers cutting-edge technology paired with invaluable customer service. On the tech side, the Mobfox SDK features advanced tools in addition to full support of various ad formats.
For example, the Audience Analytics feature gives users an in-depth look at their best customers — and pairs them with similar customers with just one click. GeoEdge, the company's advanced internal detection tool, increases ad quality by filtering out the wrong types of ads for a user's audience.
In addition, Mobfox has partnered with Moat to offer advertisers viewability metrics that ensure verified, high-quality inventory while providing an enhanced method of tracking the effectiveness of their ads.
When it comes to support, Mobfox's standards are equally high. "We're a small, agile, and nimble company, and we are extremely responsive," Kumaran said. "For the amount of revenue we generate — which was about $20 million last year — we are very lean. Our technology is also quite strong, which helps us to operate with efficiency."
Mobfox strives to function as a flat organization with few levels between management and staff, which encourages increased involvement in decision-making processes. This approach makes it easier for customers to be heard, as there is no need to navigate an unnecessary hierarchy to reach someone with the power to effect change.
"We are quite transparent about the way we operate, and we listen to our clients," Kumaran said. "Even our smallest clients are able to get their feedback to decision-makers."
Ongoing Development From an Agile and Nimble Team
When it comes to internal development, Mobfox is laser-focused on keeping up with market trends and responding to customer feedback. "We allocate about 70% of our efforts toward innovation and dedicate a solid 30% to what our clients ask us for," Kumaran said. "We always try to address their needs immediately."
As for that 70%, Mobfox boasts an optimistic company culture focused on collaboration, which Kumaran said helps encourage original, inventive thinking.
"We are never afraid of failures — we take chances, but we always learn from our mistakes," he said. "Historically, whenever we try three or four things, we succeed in one out of three or four, but failure is never considered a disgrace. We stand up for each other's failures, and then when we succeed, we all succeed together."
That positive attitude empowers employees to explore new and emerging areas of interest, such as the connected television space. Kumaran said the company has been focusing on helping advertisers reach audiences via this new medium — and for good reason.
According to recent studies, approximately 13.5 million households have abandoned traditional forms of television services in favor of solutions that connect to the internet. And, as of 2018, an estimated 70% of televisions sold enable users to access the internet and download apps.
As manufacturers and consumers flock toward smart television, so will advertisers.
"Our next major focus will be on connected TV and curated audience segments," Kumaran said. "We are currently working on supporting the technology and then bringing in a lot of the connected TV publishers, which will help advertisers reach audiences across devices, including mobile, tablet, and connected TV."