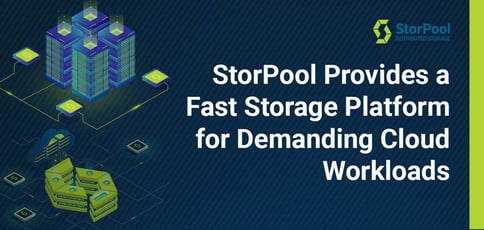 TL; DR: StorPool Storage provides a software-defined data storage platform for medium- and large-sized IT service providers and enterprises. Its distributed storage platform powers and improves cloud workloads with faster speeds and more efficient data storing and management capabilities. Released in 2022, StorPool's v20 launch allowed users to run on premises and on the public cloud with AWS, complete servicing without maintenance windows, and access NFS file storage. With StorPool, companies can save on costs and enhance mission-critical developments by leveraging better data utilization and more reliable uptime performance.
Storage has become crucial to business research success in the past few years. Data is the lifeblood of operations in multiple sectors, including genome research and medicine, and help fuel their operations, production, and advancements. As more companies turn to data for their solutions, storage solutions will need to evolve to accommodate the massive surge in data retrieval and processing.
The cloud helps power the workloads of companies around the world. Its flexibility and scalability allow businesses to handle the most demanding and mission-critical applications and developments. And cloud storage plays a key role in cloud computing by storing data in remote server locations for easy access. For many years, cloud storage was plagued with rigid and complex infrastructure that didn't scale well. When StorPool Storage launched, its team set out to bring the same flexibility of the cloud to block storage.

"We believe the world can be a better place if we store data faster, better, and cheaper because every human activity today is vastly driven by data. We provide a platform for companies moving the world forward to have a 21st-century storage solution because the previous generations were developed in the 60s and 70s," said Boyan Ivanov, CEO of StorPool Storage.
StorPool helps companies build cloud infrastructure systems with state-of-the-art block storage technologies. Its distributed storage system allows users to access flexibility and performance at an affordable price. The StorPool team works with clients to create tailored solutions for their industry needs and company system.
Helping Providers Like Namecheap Save Money and Time
Since 2011, StorPool has delivered data storage for medium- and large-size companies and enterprises within the IT services domain. The company built its cloud storage for the 21st century, bringing in elements of scalability, distribution, and storage software. Businesses can leverage StorPool solutions to develop public and private cloud networks.
"Most of our customers have either scale or complexity in their business and need a powerful storage backend, which traditional storage approaches can't do because they're not flexible. StorPool provides a scalable and reliable storage layer, and that applies for larger or more complex deployments," said Boyan.
StorPool recently worked with Namecheap to help it develop the next iteration of its IT stack. Namecheap had a functional stack, but it ran on bare metal servers. The hosting company wanted a new and improved datacenter design, so it contacted StorPool to build its cloud.
"We understand their needs and the entire stack, not just the storage subsystem and layer, but also computing, networking, and application-level requirements. Coming from that background, we help them to streamline their entire IT stack," said Boyan.
StorPool allowed Namecheap to run a cost-efficient, robust, hyper-converged solution by supplying it with fast, software-defined cloud storage. Since serviceability increased, Namecheap could perform maintenance tasks anytime without needing maintenance windows. The StorPool system also enabled Namecheap to upgrade and change hardware without restrictions. Another highlight is speed, which allowed Namecheap to save on CPU cycles and improve to 60% more compute utilization.
"The quality of service improved significantly for their customers because our solution is considerably more reliable than the traditional hosting and IT stack. It's also much faster. So the end users will see virtually zero downtime and much faster websites and applications," said Boyan.
Introducing New Integrations and Support with StorPool Storage v20
The unique capabilities of StorPool allow the company to serve various companies and accommodate cloud deployment models that take on many different forms. The StorPool team can also do different combinations of environments. For instance, StorPool built a cloud solution for a large-scale infrastructure provider with locations worldwide. In these various locations, the solution would run in either a hyper-converged, disaggregated, or mixed deployment mode. And StorPool was able to accommodate every type of deployment model.
Last year, StorPool released the latest version of its platform to further maximize the value and productivity users can receive from their data. The 20th version of StorPool Storage leverages mature and proven technology and delivers three new advancements: NVMe/TCP support, AWS integration, and NFS file storage. The NVMe/TCP support provides standard protocols and increases performance with blazing-fast speeds and low-latency access to NVMe SSD storage systems.

One of StorPool's biggest achievements is its ability to run on AWS on the release. Boyan told us an AWS engineer had contacted StorPool to build a faster solution than what they had internally. So the StorPool team ported its storage software to run on the AWS system. This feature also gave StorPool customers the ability to run hybrid cloud channels.
"Version 20 was a major version because it gave us the capability to run in the public cloud, but also because we were able to do something that was unachievable. Amazon is a sophisticated company, but they don't specialize in storage. Storage is a deep domain and it is hard to make an extremely good product because it's so complex. And that was, to me, a very important milestone," said Boyan.
The third feature inclusion was NFS file storage. By adding NFS file storage, StorPool can support highly available NFS servers inside its storage clusters for specific use cases.
"Primarily, StorPool has been focusing on block storage level, meaning databases, applications, and virtual desktops that typically require block storage. But we also have fairly capable technology for running file storage, which is not our core market segment. We want to become more versatile and cover more use cases for all customers," said Boyan.
What's Next: Scaling Services Across the Globe
The StorPool team consists of 50 members. Although it is a small company, Boyan said StorPool the entity is as efficient as the software itself. The 50-person staff leverages tons of automation and self-service interfaces to ensure the company runs smoothly despite the team's smaller size. Since its inception in 2011, StorPool has grown into a leading storage vendor with triple-digit growth. A lot of that success has to do with its team.
"We can achieve a high level of results with an efficient staff of people that are very good at what they do and are passionate, which contributes to great results for our customers and a great working environment," said Boyan.
StorPool operates in more than 30 countries on four continents and services mission-critical workloads for many big-name companies, including NASA, NASDAQ, and the European Space Agency. StorPool works deep down in the infrastructure layer to design and build secure and reliable data storage for its customers. And the StorPool team continues to innovate and develop its brand so more people can access its services.
"We are scaling our focus on North America, our visibility, and brand awareness this year. We will also announce another major version, maybe version 21, which will have considerable improvements in the core and technologies that wrap around core and graphical interfaces," said Boyan.