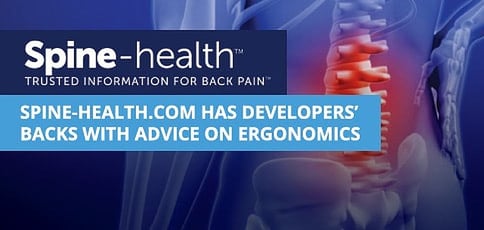 TL; DR: Founded nearly 20 years ago by a group of multi-specialty medical professionals, Spine-health.com is an authoritative site that addresses the challenges of keeping physically fit and comfortable within the confines of a sedentary workplace. Through pointed advice on the use of proper office equipment, instructions on the implementation of do-anywhere exercise regimens, and a directory of specialists to contact should lumbar issues arise, Spine-health helps lighten the burden on the backs of many hard-working IT professionals. Spine-health is a comprehensive storehouse of information on how office workers can make their bodies feel better, and that's why they've earned our Developers' Choice™ award for ergonomics education.
If you're a programmer, odds are good you sit in front of your computer for hours at a time perfecting and compiling projects. Inside the office environment, there is usually little room and time to stretch your legs, much less exercise. For those with years of IT work under their belts, back pain can be a real and sometimes debilitating issue.
Luckily, developers can find relief with Spine-health.com. The site is an authority on the treatment of back and neck pain and related conditions from which so many office workers suffer.
Spine-health was created by a group of medical professionals who believed access to high-quality, authoritative content not only benefits people suffering from neck and back pain, but also acts as a source for the specialists who treat these patients.
With numerous articles on office equipment, exercise, and choosing the right treatment for one's spinal ailments, Spine-health is an invaluable resource to the multitude of IT professionals cooped up in offices all day. Because of the site's outstanding advice and abundance of educational materials, we are proud to recognize Spine-health.com with our Developers' Choice™ award for ergonomics education.
Choosing the Right Office Chair is Crucial to Prevent Back Pain
OSHA defines ergonomics as fitting a job to a person. Sometimes this means literally fitting equipment, furniture, and accessories to body types. Ergonomics in the workplace is not only beneficial to employees, but also to companies. Comfortable and healthy workers can work more efficiently, and well-designed equipment can even save money for innovation in the long run.
Spine-health recognizes ergonomically designed office equipment, like chairs, is essential for the long-term comfort of office workers. Poor posture is one of the major factors leading to neck and back strain, and Spine-health notes it is vital to correctly align body parts in relation to one another to avoid pain.
According to Spine-health, most office chairs do not provide adequate support to the lower back. The unfortunately common forward-leaning posture these chairs create contorts the balance between the abdominal and back muscles, leading to unnatural strain.
A chair with adequate lumbar support keeps IT workers from leaning too far over a computer screen for hours, thus reducing the load on the spine and muscles and allowing the workaholic programmer to more comfortably focus efforts on the project at hand.
Easy-to-Do, Equipment-Free Exercises to Keep You Healthy in an Office
Keeping up with exercise in the office is essential to improve focus and overall health. Spine-health states, because the spine is designed for movement, the limited motion of many office chairs that hinder flexibility must be circumvented with adequate stretching and some light walking. Since office spaces are limited, the most practical exercises are often equipment-free.
Among the more popular methods Spine-health recommends are stretching and back strengthening exercises such as those found in McKenzie therapy. McKenzie therapy is a standardized approach to treating sciatica and works by extending the spine to alleviate pressure on the discs.
Dynamic lumbar stabilization requires the subject to find the neutral point of the spine — the most comfortable positioning — and train the muscles to maintain that position. Many of these back stabilization exercises may be performed while standing up, making them ideal for any office space — even cramped cubicles.
These exercises are quick and easy to perform. They cost nothing, require no equipment, and keep the blood flowing to the brain.
A Directory of Back Doctors & Spinal Surgeons Leads You to Help
In addition to providing users with information regarding office chairs and exercise, Spine-health has a vast directory of doctors for those in need. Spine-health concerns itself with the well-being of users, even those it may not be able to help directly.
When major injury occurs, or when pain accumulates, some IT workers may seek the help of physicians, chiropractors, and spinal surgeons. Spine-health's doctor directory lets users find providers based on location.
Not only are physicians and hospitals listed by state, but a separate profile is supplied for each one, detailing the types of practice and treatments provided, as well as specialist lists and conditions treated. Profiles also include directions, office hours, phone numbers, and insurance information — everything a user would need to take the next step toward treatment.
A Trusted, Comprehensive Educational Source on Spinal Health
The rigorous editorial process of Veritas Health, Spine-health's publisher, ensures content is factual and suitable for real-life medical advice. Spine-health requires all content to be non-commercial, fact-checked by a member of its Medical Advisory Board, and authored by real medical professionals.
While there are numerous health-related websites, Spine-health sets itself apart by providing a comprehensive archive of completely original, 100% peer-reviewed content. Every article is reviewed by at least one member of the Medical Advisory Board before being posted. For painstakingly ensuring all information is accurate and reliable, Spine-health deserves the distinction as one of the top educational web authorities for musculoskeletal health, which is why the site is our choice for ergonomics education.