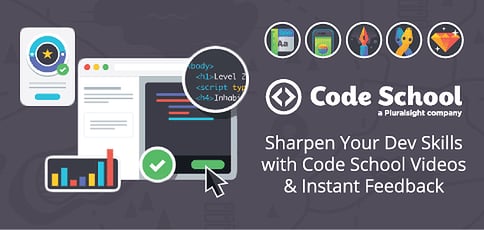 TL; DR: Learn development languages from the comfort of your web browser with Code School. Originally a side project of a Florida dev shop, the online learning program has reshaped how developers master new skills. In addition to video courses themed with zombies, road trips, and video games, Code School offers an interactive learning space with instantaneous feedback. More than 2 million people have taken one of their 60-plus courses, with both professional and wannabe developers using Code School to learn a new language, start a side project, get a promotion, or even change careers.
Who better to teach the CSS tricks of flexbox than Scooby Doo? Of course, Game of Thrones should be the go-to resource for learning ASP.NET, right?
Whether it's teaching Angular 2 through Tron or SVGs with Dr. Seuss, Code School takes inspiration from leading entertainers in pop culture to explain some of the Internet's most difficult technologies and programming languages.
About five years ago, a web development shop in Orlando, Florida, found themselves surrounded by Ruby on Rails website projects. Wanting to encourage fluency in the language, the developers created an online video course — called Rails for Zombies.
"It was this huge hit in this small niche and snowballed from there," according to Marketing Specialist Nick Roberts. Developers kept adding Ruby for Zombies courses, and the demand continued to grow. Code School raised three times more than their goal in a Kickstarter campaign that funded iOS development courses and an in-browser simulator that illustrates what your code is doing as you type.
Now, Code School runs 60-plus courses that span everything from HTML to SQL, with millions of learners having accessed at least one of the courses.
"Most of our users come to us because we take these sometimes intimidating topics and break them down into something you can just click on, watch casually, and have fun with," Nick said.
From Zombies to Monty Python: 4 Top Courses and How They're Created
Until Code School, many of the online learning opportunities for aspiring web developers consisted of intimidating, text-heavy tutorials with snippets of code scattered throughout.
"The barrier to entry was kind of high," Nick said. "We were among the first to have entertaining and gamified videos where you're being asked trivia questions about what you just watched as opposed to reading something and through rote memorization going back and reproducing it. That fun, spirited attitude has been baked into what we've done since the beginning."
Most Code School courses take between three and four hours to complete and comprise several videos each lasting only a few minutes. Instructors talk to the camera in front of a green screen, which is later replaced by various animations, notes, graphics, and examples.
Once the information is shared, videos lead into interactive challenges where learners code directly into the browser. The interface validates the code in real time and provides feedback based on what you input.
"We've gotten pretty good at guessing why you're doing something incorrectly," Nick said, adding that Code School will point you to resources to help you understand your mistake or the concept as a whole.
Code School averages 10 to 12 new courses each year. They pick out subject matter six to nine months in advance based on user feedback and trends in the industry. Instructors — who specialize in the language being taught — work with Code School developers to craft the course and coding challenges.
"We continually maintain our courses and challenges so the things we're asking are still relevant," Nick said. "We work full time to make sure we stay up to date with changes and updates in the language."
1. Rails for Zombies: Where It All Began
The original Rails for Zombies course (offered for free) has spawned an entire Ruby curriculum of 60 levels spread over 10 courses that take learners from language basics to application development and testing.
Matt Orahood started a career in Ruby development after taking several of the courses. "Code School has provided me the foundational knowledge I need to start planning my own web applications," he said in a testimonial. "Solving problems and making lives easier with code is really exciting."
2. JavaScript Road Trip: Journey From Foundation to Frameworks
Nick calls Code School's 17 JavaScript courses their "bread and butter" and the most popular on the site. That's not terribly surprising, given the 2016 developer survey from Stack Overflow showed JavaScript to be the most commonly used programming language around the world — whether you're a full-stack, frontend, or backend developer.
The JavaScript Road Trip takes learners through the national parks to build basic and intermediate skills before jetting off into jQuery and AJAX for added interactivity, along with a few Tron-inspired courses on Angular.js and Angular 2. You can also learn about the JavaScript tools React, Ember, Backbone.js, Node.js, Express.js, and CoffeeScript.
3. iOS Development: Learn Through Video Games, Comics, and James Bond
The iOS development path introduces Swift and Objective-C before showing learners how to create mobile apps for the iPhone and iPad.
As with all Code School courses, learners earn cleverly designed badges when they complete all the videos and challenges. The badges are automatically integrated into learners' LinkedIn profiles. "We didn't think the feature would be very popular, but it has taken off," Nick said.
4. Python: Coconuts Calculations and Spam(alot) Strings
To help you understand how to use Python to store and manipulate data, Code School has students work through the calculations of how many swallows it would take to carry a coconut — inspired by a scene made famous by Monty Python and the Holy Grail.
Once learners understand Python, Code School shows them how the Django web framework can help them build fully functioning and scalable web applications.
Coming Soon: Free Tuition Weekend and Other-Worldy Learning
Several courses in each path are free to use year-round, but Nick said Code School occasionally makes everything free for periods of 72 hours to expose new customers to the resources available to paying members.
"Those are usually pretty popular because if somebody has heard of us or has seen what we've done before, it gives them the opportunity to learn a new skill over the weekend," he said. "Others can get a feel for what we do instead of having to fork out some money up front."
Currently in the works are two courses that cover PHP, according to Nick. Behind only JavaScript and Angular with frontend developers surveyed by Stack Overflow, PHP powers popular platforms such as WordPress.
One course, themed around the 1983 Cold War movie WarGames, will introduce basic code syntax, arrays, conditionals, and loops. The second course, Close Encounters with PHP, lets learners begin working with Composer and experiment with post and get requests.
Development Background Fosters Code School's Fun Environment
In January 2015, the company was acquired by Pluralsight, another online technology education company, but one with more of an enterprise or IT operations bent.
Nick said Code School has been able to tap into Pluralsight's wide author network of developers and executives directly involved with languages and other relevant technologies. Access to core teams at Google and GitHub, for example, has enabled Code School to generate courses in Angular and git to help boost those communities.
"Pluralsight encourages us to try new languages and explore some of those territories that other sites might not be able to do," Nick said. "We're able to take more risks than if we were just a bootstrapped startup."
Through the years, Code School has grown to around 50 employees. Most of the team is Orlando-based and reports to the office three days a week, working from home the remaining two days.
According to Nick, Founder Gregg Pollack's experience with web development consultancy made him realize that "every day you're in the office is just another opportunity to have a meeting," he said. "If you don't let people come in, they have the quiet time to just concentrate and knock stuff out of the park."