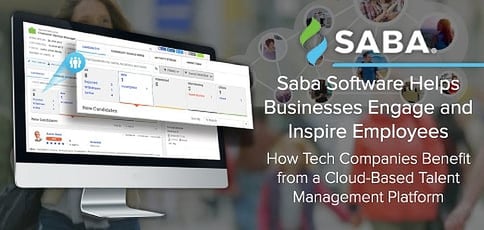 TL; DR: It's long been known that a happy workforce leads to higher productivity and larger returns for businesses. And nowhere is this more apparent than in the tech sector, where operating with efficiency and agility are fundamental requirements for success. For more than 20 years, Saba Software has been helping organizations gauge employee satisfaction and performance to better leverage their human resources. Today, Saba's cloud-based Talent Management Platform and team of experts are furthering this two-decade mission by employing metrics and industry know-how to boost the employee satisfaction and engagement rates that allow businesses to flourish.
In 1997, Bobby Yazdani and a few friends were huddled in a small San Francisco garage discussing the keys to running a successful business. The group reasoned that the most important factor in such an endeavor was to prioritize the human element.
A rising venture capitalist, Bobby wanted to start a software business with the earnings from his investments. And focusing on human resources as the key to maintaining a thriving operation seemed like the perfect angle. Thus, Saba Software was born.
The first product the team rolled out was the Learning Management System (LMS), still in use by some of today's largest corporations. In the following years, Saba would become one of the fastest growing software companies in the world, enabling organizations to connect employee performance with company goal setting and career development.
This fusion of learning and performance made a more complete talent management system, which was further expanded upon in 2009 with the launch of Saba Cloud.
"They were one of the early pioneers in the learning space, and learning is a key component of talent management," said David Mennie, VP of Product Marketing and Strategy.
Over the years, Saba Software has implemented several new additions to the platform, which help businesses with talent acquisition, employee retention, and collaboration. Saba's talent management platform was launched as a fully unified system in 2013, making it easier than ever for businesses to engage employees using a comprehensive cloud-based system.
Fusing People-Centric Learning and Performance-Based Engagement
As evidenced by Saba's many years of growth, talent management consists of multiple facets related to identifying valuable employees, engaging them with feedback, nurturing their talent, and setting business-related goals. While Saba would release its Performance platform in 2005, a parallel company, Halogen Software, had already been engaged in a similar endeavor.
"Halogen has been in the talent business for about the same time, focusing primarily on performance management," David said.
Having strengths in different key components of talent management, both companies saw the opportunity to be better together and discussed plans for a merger.
In May 2017, Saba and Halogen would finally join forces, becoming one of the largest talent management companies in the world, serving customers in nearly 200 countries. Together, the new Saba plans to change the face of talent management by providing a comprehensive fusion of high-impact learning, ongoing performance, and real-time feedback and engagement insights.
"Engagement is now a board-level conversation and many CEOs are extremely concerned about it," David said. "Engagement is not only about keeping employees connected to their work and what's most important to them personally, but it's also about retaining a company's most valuable asset — the talent."
David said several companies have unearthed alarming statistics regarding engagement, with some finding that up to 50% of their employees are actively seeking an outside job. With the risk of losing so much of one's workforce, businesses are more concerned than ever with learning how to keep their top talent.
These statistics are especially concerning in IT fields, where jobs are filled by highly specialized professionals. For example, if a small company lost its sole developer, the data analyst in the next office over would likely be a poor substitute. Most likely, the company would be forced to spend a significant portion of its budget on finding a replacement for that specialized talent.
Quantifying Employee Satisfaction and Optimal Business Operations
Engagement is measured in part by employee satisfaction. To retain talent, businesses must make the position — and company culture — sufficiently enticing. David told us the most important factors in doing so are offering people more opportunities for personal growth and development, connecting each employee with the overall business strategy and goals, and making sure they are rewarded and recognized for their contribution.
However, companies must get a feel for current employee satisfaction to formulate the most appropriate plans of action. Because talent, satisfaction, and performance are abstract in nature, quantifying them in business terms can be quite difficult.
For Saba, these metrics take multiple factors into consideration. For example, job satisfaction can be measured using several data points including regular pulse surveys, the frequency and quality of check-ins between managers and employees, feedback exchange, and the connection between coworkers.
"Connection with your manager, connection with your peers, and connection with your employees are some of the highest indicators of job satisfaction," David said.
Aside from observational indicators, satisfaction can be linked to hard statistics such as high rates of retention and productivity output. When employees feel connected and cared about, they are much more likely to stay with their employer, as opposed to a work environment that treats them more like another cog in the machine.
Another important way companies can quantify and enhance performance is by viewing business goals through the lens of tracking progress.
"Connected employees perform better, and that drives the bottom line," David said. "Simply setting goals in a way that is actually connected to the corporate goal lets employees know that what they are doing is actually moving the business forward."
David told us this leads to a 30% better return on company performance. By having the best people do the best job, companies are able to achieve — and exceed — those business goals.
Helping Clients Make Informed Decisions with Data-Infused Insights
Saba's mission is to help businesses make data-informed decisions that lead to effective talent management. As such, a variety of tools are used to gather information on performance. With Saba Performance, businesses can use real-time feedback to simplify performance reviews and more readily recognize good performance. Businesses can also incentivize goals, implement action plans, and help employees maximize their potential.
Based on these factors, the Saba Compensation module can be used to recognize performance and as another tool to retain top talent. Saba Org Planning also features tools to help model various budget scenarios, organizational changes, and allow a business to be much more strategic around planning for growth. On the other side of the coin, Saba Recruiting uses a proprietary recommendation engine that connects to job boards and social media pages to scout for ideal candidates.
While data is easy to obtain in a typical work environment, the rise of remote work has made doing so more tedious.
"If you're an employee and you know how you're impacting the corporate objective and you're getting feedback, you are connected to the business," David said. "With remote employees, it's more important since they don't have as many direct interactions with their teams."
This challenge is especially evident in IT fields, where remote work is now more of a rule than an exception. With Saba Pulse 360, employee feedback can be captured in real time by a number of short surveys. Modeled after the proven NPS methodology, The Saba Net Performance Score takes these pulse survey results and combines them with impression data — that is anonymous feedback and ratings from peers, managers, and direct reports on the areas an employee is doing well or could improve — to focus on that employee's growth and development.
David said the human element of engagement is very important in these situations, as machines can merely give recommendations based on algorithms. The decisions regarding recruitment, compensation, and related factors are still ultimately in the hands of the organization — Saba simply empowers businesses to make those data-informed decisions.
Saba and Halogen: "A Cross Pollination of IP" Leading to Innovation
Since merging with Halogen in 2017, Saba's goal has been to perfect this platform by fusing the strengths of both companies. Rather than simply interconnecting the two platforms, Saba and Halogen are engaged in what David calls the "cross-pollination of intellectual property."
For example, many of Halogen's leading Performance capabilities in the areas of goals, competencies/skills, and one-to-one meetings have been brought over to Saba Cloud in the past two releases. Likewise, Saba Pulse 360 capabilities centered on engagement insights have been introduced to Halogen customers in a new offering called Halogen Pulse.
"We've been trying to make the best get better and bring innovation to both of our customer bases," David said. "It's the tale of two businesses from several fronts — from the focus of learning and performance, and from the fusion of mid-market and enterprise."
Saba was created to streamline the employee training process with LMS. While learning is still a major component of Saba, its long-term progress has been toward making a more complete talent management platform. Not only does Saba fuse learning and performance insights, but also allows employees to give the company feedback, granting them a voice, as well as multiple growth opportunities. By keeping their top talent engaged and continuously developing, businesses are better able to achieve and maintain success.
Advertiser Disclosure
HostingAdvice.com is a free online resource that offers valuable content and comparison services to users. To keep this resource 100% free, we receive compensation from many of the offers listed on the site. Along with key review factors, this compensation may impact how and where products appear across the site (including, for example, the order in which they appear). HostingAdvice.com does not include the entire universe of available offers. Editorial opinions expressed on the site are strictly our own and are not provided, endorsed, or approved by advertisers.
Our Editorial Review Policy
Our site is committed to publishing independent, accurate content guided by strict editorial guidelines. Before articles and reviews are published on our site, they undergo a thorough review process performed by a team of independent editors and subject-matter experts to ensure the content's accuracy, timeliness, and impartiality. Our editorial team is separate and independent of our site's advertisers, and the opinions they express on our site are their own. To read more about our team members and their editorial backgrounds, please visit our site's About page.