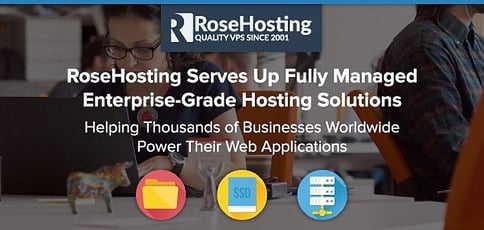 TL; DR: Founded nearly two decades ago, RoseHosting became the first company in the industry to offer its customers access to commercial Linux virtual servers. Today, the host continues to set itself apart from the competition by delivering enterprise-grade hosting solutions with a focus on hands-on support to thousands of global organizations. Through its powerful datacenter located within 100 miles of the US's population center, RoseHosting's low-cost, high-performing VPS, dedicated server, and cloud hosting solutions are helping businesses around the world power their web applications and turn profits online.
Sitting in St. Louis in 2001, Bobi Ruzinov knew the pickings were slim when it came to hosting options available to customers. The hosting industry was just starting to grow up. But, from Bobi's perspective, it wasn't happening quickly enough.
"The market was pretty limited in terms of what was being offered," he said. "The choices were shared hosting or dedicated servers, and there was this void in between. People were fed up with shared hosting and its shortfalls, so there was a market for something in the middle of all that."
Bobi saw the writing on the wall and figured it was time to start offering Linux virtual servers to stand out from the standard offerings of the local hosting market. So he put a team together and founded RoseHosting.
"We were the first company to start offering Linux virtual servers in the way they are known today," he said. "We were then using what was available for commercialization — basically employing Linux-Vserver as a virtualization technology."
In June 2001, RoseHosting went public with its services. As Bobi told us, customers were very disillusioned by the significantly higher prices for dedicated servers at the time, and RoseHosting provided the necessary middle ground.
"People with shared hosting accounts who had outgrown them wanted something more, but didn't have the budget for it," Bobi said. "And this was just the thing for them."
Over the years, RoseHosting evolved with the changing technological landscape and now powers the sites of thousands of organizations worldwide with top-tier VPS, dedicated server, and cloud hosting solutions. But it's not just the host's industry-leading hosting plans that are grabbing the attention of these businesses. RoseHosting is customer-focused and dedicated to zeroing in on exactly what's necessary for a modern organization to succeed in the competitive online business space.
Linux VPS, Dedicated Server, and Cloud Hosting Fit for Scaling
RoseHosting offers a number of different hosting services for organizations based on size and need. The company's shared hosting plans are a perfect place for emerging online businesses to get started. These plans offer advanced functionality with a graphical user interface and control panel that is accessible through a web browser. Support is available 24/7 with normal response time for tickets in just a few minutes and for live chat instantly.
Free weekly backups are included for faster and more efficient disaster recovery. Clients also get unlimited DNS hosting and enterprise-grade SSDs with 10 times higher disk I/O performance.
For businesses that have outgrown the shared hosting environment, RoseHosting makes it simple to migrate to its virtual private servers. The host's Linux VPS packages are fully managed, meaning customers not only get all the services with the shared plans, but are also provided with help configuring servers, installing software, and monitoring the health of the virtual environment. For its Custom VPS, RoseHosting offers free items, including 512MB of RAM, 10GB of SSD storage, 1 CPU Core, OS Template (CentOS 7), and 1TB of bandwidth.
RoseHosting also offers an affordable line of dedicated server packages for businesses that need to maximize the performance of their web applications while handling huge traffic demands. The company's dedicated servers are run on the Linux distribution of their choice and are fully tested before installation. Companies can get running on these servers within three to five business days. Once set up, users enjoy 24/7 monitoring and a web-based remote reboot feature at no additional cost.
Providing Value Through Customization and Avoiding the Oversell
Not all business missions are the same, and a company's needs can vary greatly from one organization to the next. Bobi told us the team at RoseHosting is aware of this, which is why the company designed its virtual servers to be tailored to a wide range of use cases.
"Virtual servers are so universal and so widely accepted that we have single-person bloggers all the way up to Fortune 1,000 enterprises as customers," he said. "This is because our virtual servers provide a highly customizable environment."
As a result, RoseHosting's most popular product offering is virtualization, according to Bobi. And most customers take advantage of the hybrid approach virtualization can offer.
"We have large customers that have 20 to 30 machines," he said. "Eventually you get the dedicated server and all the resources of it, but their virtual servers are the only ones running there. So they still use all the resources, but they have the added benefit of easy backups, isolation, easy portability in case of disaster recovery, and things like that."
Bobi told us most of RoseHosting's customer base is made up of small- and medium-sized businesses that run one to two virtual machines. He said one is sometimes used for testing purposes and the other for production. Businesses can also take advantage of the isolation VMs provide and employ one for user interface and another for a database.
Even though RoseHosting offers clients top-quality virtualization options that usually come at a higher price point, the company works hard to avoid the oversell.
"Overselling is the biggest evil in our industry," Bobi said. "It gives hosting, in general, a bad name that is really unfair to the hosting companies that don't do it. We have not done it since day one. It's unfair. It doesn't work well. We are really proud that we have never been guilty of overselling."
Instead, Bobi told us the #1 quality RoseHosting is sure to advertise is efficiency. The nearly two decades in operation have given the company a unique vantage point to know what its customers need and what's effective.
"We've had our own way of doing business and support in the backend since day one," Bobi said. "This way, we have time for everything and everyone."
Differentiators: Low Cost, A-La Mode-Support, and Strong Partnerships
With this stable customer faith, Bobi told us RoseHosting's retention rates are sky high.
"We have customers that signed up in 2001 that are still with us. That's a long time," he laughed. "You don't have that if a customer is dissatisfied. That's just not happening."
Although RoseHosting's services may appear expensive at first glance, the feature set and level of expertise at customers' disposal are hard to beat in the industry. According to Bobi, sticker shock shouldn't be a deterrent for companies that want to succeed in today's digital-centric business environment.
"You can't really be low-priced and offer this kind of service," Bobi said. "We are one of the more expensive providers, but taking into consideration the level of service, the level of managed support that we bundle with our plans, we are still the absolute most affordable managed host on the market."
From the beginning, RoseHosting's goal was to provide the best managed service and unbeatable support to its customers. This level of service is incorporated into every plan the host offers without exception.
"This is very different than the rest of the market where most of the larger cloud providers are totally unmanaged, or to get managed service you have to pay a lot of extra fees, and they are quite expensive," Bobi said. "With us, the plan is what you pay."
When it comes to troubleshooting customer problems, RoseHosting maintains its code of efficiency. According to Bobi, this is a result of its team's less-than-five-minute response time to issues and questions via RoseHosting's different channels.
"Live chat is instantaneous, obviously," he said. "Our tech support is so good that we manage and fix issues for customers that no one else would touch where they were hosted previously. Things like troubleshooting, even checking and fixing their scripts, and stuff like that — nobody else does that! But we do, so it's a very different experience."
Bobi told us RoseHosting's tech support helps solve technical issues, but one of the main benefits is a positive impact on bottom lines and operational costs. So, even if customers are paying a few dollars more for hosting services, the ROI is significant.
"At the end of the day, what it boils down to is big savings due to lack of need for additional resources, their own support personnel, and the high uptime guarantee," Bobi said.
VIP Managed Support Services Are the Future of the Hosting Industry
Now that RoseHosting has nearly two decades under its belt, the company is seeking to forge ahead with new service options for its customers while avoiding ineffective and passing fads.
"We have never been too bothered by the current trends and buzzwords," Bobi said. "Instead, we focus on providing an awesome service that no one wants to leave simply because there is nothing better out there."
Bobi sees cloud hosting as one of those fads. While many in the industry are turning to the cloud, he predicts that managed VPS services are really the wave of the future.
"Cloud hosting is not the best thing, in my opinion," he said. "A standard virtual server on one machine is, in my opinion, a lot better that any cloud hosting will ever be. The thing is, cloud hosting is more of a commodity, and I see that, in a few years, only a few players will remain in the cloud hosting industry. Any of the big players in the market, such as Amazon Web Services, Google Cloud, or Digital Ocean, that have large rounds of investments coming their way will probably be able to still offer cloud service."
RoseHosting still offers cloud hosting, regular virtual servers, and KVM virtualization since there is a current demand, and Bobi said the company is planning to continue to do so in the foreseeable future — but with a major difference.
"As hosting becomes more and more a commodity, what will matter is the managed support services," he said. "People will pay for that. You can buy a ton of sugar, but it's just sugar. You buy a cake, and it's more expensive, but, hey, you get a cake and not just sugar."
To ease the setup process for some clients in an all-in-one platform, RoseHosting has rolled out One-Click Install (OCI) cloud hosting.
"We developed our own system that is installed on our virtual and cloud servers," Bobi said. "Any customer that signs up has a really easy-to-use control panel, and they can install the applications they want with just a single click."
For customers wanting an even faster response from support services, RoseHosting is also starting to introduce a VIP support service. Customers with the VIP support option will have tickets boosted to the top of the ticket queue.
"We're always trying to improve our services through better hardware, virtualization, more space, and RAM," Bobi said. "There is a lot of small print in this industry, but not with our hosting. What you see is exactly what you get — and we think it's the best."
Advertiser Disclosure
HostingAdvice.com is a free online resource that offers valuable content and comparison services to users. To keep this resource 100% free, we receive compensation from many of the offers listed on the site. Along with key review factors, this compensation may impact how and where products appear across the site (including, for example, the order in which they appear). HostingAdvice.com does not include the entire universe of available offers. Editorial opinions expressed on the site are strictly our own and are not provided, endorsed, or approved by advertisers.
Our Editorial Review Policy
Our site is committed to publishing independent, accurate content guided by strict editorial guidelines. Before articles and reviews are published on our site, they undergo a thorough review process performed by a team of independent editors and subject-matter experts to ensure the content's accuracy, timeliness, and impartiality. Our editorial team is separate and independent of our site's advertisers, and the opinions they express on our site are their own. To read more about our team members and their editorial backgrounds, please visit our site's About page.