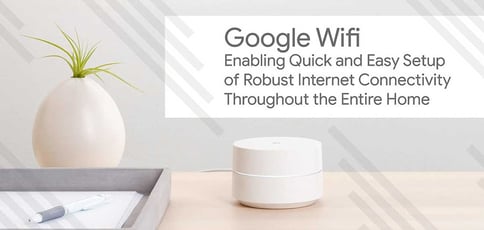 TL; DR: Much like water and power, internet connectivity has become a standard utility in many homes. To improve this routinely used service, Google is delivering out-of-the-box whole home wireless networks that enable stronger connections and faster speeds on every household device, everywhere in the home. With a focus on digital wellness and easy management through the Google Wifi App, it's easier than ever to gain control over your online life.
Congratulations! You've scored a well-paying job in a new city and have bought yourself a four-bedroom, three-bathroom, single-family home. It's fully remodeled, with state-of-the-art appliances, fresh paint, and new wood floors. There's only one problem — all the light fixtures are empty, except for a single bulb in the master bedroom.
Would you solve this problem by buying a brighter bulb and expecting that light to radiate throughout the house? Of course not. But, according to Sanjay Noronha, Product Manager for Google Home Connectivity, that's precisely what we've been doing in an attempt to improve internet connections throughout our homes.
"Instead of a brighter bulb in one room, you'd need to put small light sockets in every room with multiple bulbs that you could control individually to spread light through the entire home," said Sanjay. "Realizing this, the light bulb went off for us, for lack of a better pun. We knew that instead of a stronger router, homeowners needed a mesh networking system that was user-friendly, super easy to set up, and did its job of providing ubiquitous coverage to the entire home."
Google jumped on the opportunity to help end users enable robust home connectivity by supplementing the company's OnHub product with Google Wifi, a system of wifi points placed around the home to deliver powerful connectivity to every room and device. The technology, which features out-of-the-box functionality and management via an easy-to-use app, enables stronger connections and lightning-fast speeds across the entire home network. With digital wellness options and other flexible settings, the technology is helping users take control over their online lives.
Stronger Connections and Faster Speeds on Every Household Device
If you're looking to throw an impressive backyard party when the weather warms up, there's more to consider than food, drinks, and trendy popsicle-shaped pool floats. Between lighting, sound systems, and even outdoor theaters, smart technologies are finding their way into our outdoor spaces — and many depend on wifi to function correctly.
Sanjay said the top benefit Google Wifi brings to homes is its ability to provide strong, reliable connectivity in any household space — including basements, attics, and backyards. "We spend so much time online that having solid wifi coverage throughout the living space is no longer just nice to have: It's a necessity," he said.
But it's not all fun and games. Because high traffic on a single radio channel can slow down network speeds, Google Wifi regularly scans its environment and switches to a different channel if it detects interference. The product also includes underlying security features built from the ground up.
"We have rethought how to make a router secure in terms of the operating system, software, firewall, and the software upgrades that we roll out very regularly to ensure the best performance, best features, and top-notch security that our users have come to expect and deserve," Sanjay said.
To that end, Google Wifi systems won't even activate unless they're running trusted software verified by Google, ensuring the safety of your network and those who use it.
Enjoy Immediate Out-of-the-Box Functionality
Google believes users shouldn't need a background in technology to enable high-tech connectivity throughout the home. That's why the company designed Google Wifi to be a self-improving system that learns to optimize performance from the moment it's activated and stays current with changes in software to ensure compatibility with new devices.
"The product's simplicity and ease of use are evident from the moment you open the box to many months later, when you're still happy with it," Sanjay said. "Google regularly updates the software with the newest features and performance enhancements, so it keeps getting better.
Sanjay said features like this often come to life in response to customer feedback. "We pay very close attention to what our customer service representatives hear from our customers and what we see in reviews," he said.
Google doesn't just take those suggestions and run. When the company brings user suggestions into production, it takes the time to let them know. "If we do get a direct suggestion from a user or set of users and we end up implementing it, we file a ticket to that user automatically and say, 'Thanks to your suggestion, here's the cool feature that we implemented,'" Sanjay said.
For the aesthetically concerned, Google designed the Wifi points to be small yet extremely powerful. This means they can easily be placed in plain sight where they neutrally blend into your decor. The added benefit is that with the radios out in the open, they work better than being hidden in a closet which is typically the case with traditional routers and their intimidating visible antennas.
Get Direct Access to Your Google Wifi System with the Google Wifi App
Google makes it easier than ever to set up and manage your wifi system from any mobile device using the Google Wifi app, which allows users to access their wifi system, monitor wifi usage, test the speed of service, create a guest network, and troubleshoot issues. The flexible app enables users to make detailed adjustments or just check in on their system if they'd like to.
Sanjay said the app serves as a significant differentiator compared to complex router setups. "We at Google have robust authentication solutions and a good grasp on developing user-friendly apps," he said. "We knew we could create a very simple process, not only for setup but for interaction throughout the life cycle of the product."
Those insights inspired Google to build a simple app that Sanjay said guides you through setup step by step, and makes the process fast and simple. "In the end, you're online typically in less than five minutes after unpacking a Google Wifi system, and usually, it's a matter of 7-8 minutes until you're up and spreading connection through your entire home," he said.
The company is laser-focused on bettering the product and helping the product team grow and evolve. Sanjay said the company aims to follow the smartphone development model, in which each new software release essentially provides the user with a new-and-improved product. "It delivers a lot of user satisfaction knowing that your investment keeps getting better over time," he said.
Google has also developed a broad portfolio of hardware products that work together seamlessly. "We're thrilled to be able to provide users with a solid foundation for the fully connected home experience using the Google assistant, Google Wifi and all the other products that we're developing," Sanjay said.
Google Home devices support a massive ecosystem of third-party devices to make your smart home experience seamless and useful. It syncs with Philips Hue, a wireless smart home lighting system that's soared in popularity in recent years. The system works indoors, but could also be installed outdoors, say in a utility shed, to bring ambiance to your backyard space via the seamless wireless coverage extension.
Digital Wellness: Gain Control Over Your Online Life
Technology is meant to make our lives easier and more enjoyable, but that's not always the outcome. A recent Duke study showed that increased use of technology is linked to mental health issues in at-risk individuals, and others demonstrate that limited screen time can lead to improved cognition in children.
Google has also turned its attention to developing a new set of features that enhance digital well-being. "In addition to providing coverage, security, and ease of use, Google Wifi can help users manage their online lives," Sanjay said. "For example, we allow users to group devices into user categories and set up scheduled internet breaks for particular users."
Google Wifi also enables users to block inappropriate content from individual devices automatically. "These are just simple, thoughtful tools that go over and above the base benefits of the router system itself," Sanjay said.
Considering the system's ability to spread powerful wifi connections through the entire home, we'd argue that the whole system goes above and beyond the unreliable home services we've grown accustomed to.