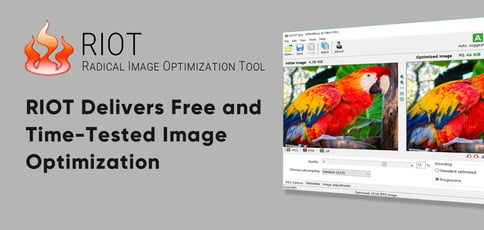 TL; DR: The Radical Image Optimization Tool (RIOT) is a free program for Windows designed to efficiently optimize images for the web. The software, released two decades ago, still attracts users with its intuitive, side-by-side comparison feature and plugin capabilities. Developer Lucian Sabo told us he's working on a number of improvements in his free time that will keep RIOT relevant for years to come.
In the ever-evolving technology space, it's normal to want to chase after everything that's shiny and new.
But it's often wiser to gradually add the latest technologies to a digital toolbox that's packed with tried-and-true solutions.
The Radical Image Optimization Tool (RIOT) is one of those mainstays in the graphics utilities and freeware space, having demonstrated its worth to users for more than two decades.
There's a reason it has stood the test of time: The image optimizing program for Windows features an intuitive user interface that displays side by side comparisons of original and optimized images.
Lucian Sabo, the developer behind RIOT, originally created the tool to help digital camera owners compress large JPEG files for use on the web.
"There was a real need for image optimization at the time — and no free, fast, and efficient tool for getting the job done," Lucian told us. "So my goal was to create a free, small, portable, and fast visual image optimizer for the web."
The result was a simple and lightweight yet powerful solution for image compression. Today, the application is available both as a standalone program and a plugin that's compatible with multiple popular image-editing programs, including IrfanView, GIMP, and XnView.
It is simple enough for everyday use but appropriate for advanced control over the amount of compression, the number of colors, and metadata settings, among other parameters. Moving forward, Lucian told us he's working on a number of improvements that will keep RIOT relevant for years to come.
A Pioneer in the Graphic Utilities and Freeware Space
Lucian said he started writing the first lines of code for RIOT at a time when digital cameras were becoming popular tools for capturing web imagery (rather than scanning in physical images). Resources like memory, disk space, and CPU were quite limited back then. Bandwidth was also more expensive than it is now.
"I had a web design agency, and we also offered hosting for our customers," he said. "At the time, one of the biggest mistakes newbies made was using big, unoptimized images in webpages downloaded by 56K modems. That was one of the main causes of poor website loading times."
Lucian used to take photos for websites using a Sony 2 megapixel digital camera with a floppy disk for storage. When multi-megapixel cameras hit the scene, the resulting JPEGs became extremely large.
"That was the time when normal people started to need image optimization tools like RIOT," Lucian said. "My inspiration was the 'Save for Web' feature in the graphics program Ulead PhotoImpact, which was later abandoned after Corel acquired it."
Realizing that a standalone tool would leave something to be desired in terms of user-friendliness, Lucian chose to offer an integration with IrfanView, an image viewer he used frequently. Windows Photo Viewer, in contrast, failed to support several popular image types.
"IrfanView was very excited to integrate my tool into the program as a plugin, and it was done quickly," Lucian said. "The whole idea was to use IrfanView to open your images — which people already did because it was great at supporting many formats and opening files quickly — and then send them to RIOT for optimization."
Users can also leverage IrfanView to make adjustments, such as cropping and color enhancements, before optimizing the final product in RIOT.
Comparison Panels, Resampling Filters, and Automatic Mode
Lucian has worked to evolve the free software over the years based on feedback from his user community and his personal vision for the software. "I try to keep a balance between what I think is the right path for RIOT and what the users request," he said.
For example, after multiple requests from IrfanView fans, he added a feature that allows users to save images to a target file size by adjusting compression parameters.
"That feature was really well-received by the IrfanView community, and because IrfanView was one of the most popular viewers worldwide, RIOT became instantly popular, too," Lucian said. "I also created a standalone tool after the integration to IrfanView, which later became more used than the IrfanView plugin."
A few years later, Lucian wrote a plugin for GIMP, a graphics editor commonly used for image editing, retouching, drawing, format conversion, and other specialized tasks. "Soon, the author of XnView, another major image viewer, wrote a plugin for RIOT integration," he said. "Now, there is also a third-party plugin RIOT to be used with Paint.NET."
Today, Lucian spends his days as Lead Software Architect for F6S, a London-based global founder community. All work on RIOT is done in Lucian's spare time, but there are several improvements he would like to make.
"Over the years, the industry has undergone major changes, including a shift in CPU architecture to 64 bits and the trend of professionals switching to Mac or Linux," he said. "RIOT is still compiled for 32 bits, and it only runs on Windows. For now, RIOT can run on 64-bit Windows systems using backward compatibility with macOS."
Lucian said that the tool was originally designed for professional use, but because of these industry shifts, it's better suited for users who want a convenient way to optimize their personal photo collections. For that purpose, the software still has passionate fans.
"Thanks a lot from Uzbekistan!" said RIOT user Shukhrat in 2019. "It's the most simple and advanced image optimization tool that I've known. Good luck, and keep going!"
Some of Lucian's favorite features in RIOT are ones he says are lesser-known.
"The automatic mode is very handy at choosing conservative settings that usually work well, but RIOT users can considerably reduce the size of some PNG images by manually tweaking the quantization and number of colors and using external optimizers," he said. "Also, it has a nice selection of resampling filters suitable for various types of images. Most programs don't offer any options for quantization or resampling."
Keeping RIOT Relevant for Generations to Come
When he gets the chance, Lucian said he would like to bring RIOT up to date in a few areas, including releasing a 64-bit version, making JPEG and PNG compression improvements, and adding multicore and multithreading support.
He would also like to include enhancements for high DPI scenarios and add read and write support for WebP, an image format featuring both lossy and lossless compression. There's also the potential for a command-line version of RIOT for Linux, as well as an image optimization server.
"The near-future plan is to actually take some time to work on some features where RIOT has fallen a bit behind," Lucian said. "RIOT won't probably see spectacular development, but I am trying to keep it relevant for years to come in my limited free time."