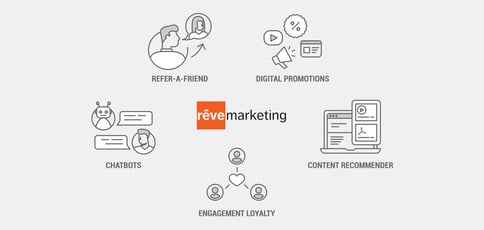 TL; DR: Rêve Marketing, founded in 2008, has been helping B2B and B2C marketers manage data and create personalized consumer experiences for more than a decade. The company's customized, made-to-order solutions boost engagement and conversions using declared data while abiding by strict privacy guidelines. Now, with tools like Mulch, marketers can grow conversions with content-based recommendations — for free.
Between a creative working environment buzzing with competitive energy and the chance to earn a pretty penny, there's a certain allure when it comes to marketing as a career choice. But if you're looking for a job that will soothe you into a state of bliss, you should run in the opposite direction — fast.
According to participants in a recent Workfront survey, careers in marketing can be incredibly stressful. A whopping 80% of respondents said they are "seriously overloaded with work," 71% reported feeling "burnt out," and 66% said they expect stress levels to rise in the future.
But Rêve Marketing — named after the French word for dream, rêverie, — is looking to change that.
"Through our technology, we aim to make marketers' dreams come true," said Vivek Lakshman, Co-Founder and VP of Product at Rêve Marketing. "That's the big vision we've been chasing. It is our job to create customizable technology that delivers true value to our customers."
Today, the company's declared data platform helps both B2B and B2C marketers collect and manage actionable data, communicate efficiently with customers, and create personalized experiences that lead to conversions. But Rêve Marketing always has an eye toward the future.
"Clients can use our solutions over the long term, customizing them, building upon them, and integrating them with databases and other technology platforms," Vivek said.
The company's personalized, made-to-order solutions use declared data to boost engagement and conversions while abiding by strict privacy guidelines. And now, with tools like Mulch, marketers can also grow conversions with content-based recommendations at no cost.
A Pioneer in Helping Brands Boost Conversions via Social Amplification
Rêve Marketing was founded off the back of SocialTwist, which Vivek said was the third largest social sharing platform in its time.
"We launched more than 10 years ago with the idea to help brands reach out to and monetize the fan base they were collecting on Facebook and other social channels," he said. "Oftentimes, they had a lot of fans, but they didn't have a clue what to do with them. That's where SocialTwist came into the picture."
With SocialTwist, brands could not only amplify their messages through a network of followers but also a premium referral service. "For example, one of our customers was Capital One," Vivek said. "Using our referral system, one of the bank's existing fans could recommend one of the bank's products to their families and friends through a number of social channels, including Facebook, Twitter, and so on."
The bank could then recognize and reward successful brand advocates, further driving employee goodwill. While social media was great for spreading a brand's message, Vivek said email was the most significant channel in terms of conversion traction.
"Ultimately, using whatever channel was most effective, our platform would take care of a brand's existing customers, bring in new customers, and then amplify the band's message through a constant acquisition channel," he said.
SocialTwist also helped marketers boost engagements and conversions via a social couponing program similar to the company's referral system. "A fan could refer a coupon to a friend or family member, and if someone made use of that coupon, the fan would get to unlock a higher-value coupon as a reward."
Delivering Customized, Made-to-Order Solutions in a Flash
SocialTwist also focused on engagement loyalty, which differs from traditional customer loyalty programs, such as frequent flier points, that companies use to reward high spenders. With engagement loyalty, brands track and reward the interaction signals customers are sending out.
"Customers can engage with a brand in many ways, whether it's by reading a newsletter, participating in a referral program, or watching a video," Vivek said. "All of these signals can be used to assign points, which brands can convert into monetary rewards or use to enhance existing rewards."
Vivek told us that all of the companies SocialTwist served had unique marketing infrastructure, departmental processes, legal requirements, and regulatory considerations — so the company was used to offering some level of customization.
But the team wanted to offer more, making it even easier for a particular brand to leverage custom solutions — and in half the time it would take to develop them organically. And that's when the company evolved from SocialTwist to Rêve Marketing.
"We wanted to make our product customizable on a mass scale, so we disintegrated it into modules and components," Vivek said. "Then, based on each customer's unique requirements, we assembled products to order."
The do-it-for-me solution, which plugs seamlessly into existing marketing stacks, is often invaluable to marketers who are running short on the time and resources needed to get their jobs done.
"Most brands leverage a hybrid setup of tools that exist in the MarTech world, and Rêve Marketing's solutions plug into those systems without any hassle, integration wise," Vivek said. "We do all of the heavy lifting to make this customizable program come to life quickly."
Better Personalization Through High-Quality Declared Data
Vivek told us that today, there is enormous pressure put on brands to personalize everything — from ads and content to the products themselves. But determining what a customer might be interested in based on behavioral data isn't always an easy task. After all, there's a fair amount of guesswork involved.
"Imagine that I bought a pair of shoes for my sister online as a birthday gift," he said. "This was a one-off event; I don't want to continue to see ads for women's shoes. And that's where the guessing game happens, where algorithms assume I'm interested in women's shoes."
That's where declared data comes in. Also known as zero-party data, this information is explicitly shared by customers, allowing brands to speak directly to their interests.
"If a brand were to ask me about my interests, perhaps my top three products or gender preferences, they would be more likely to know I'm not in the market for women's shoes," Vivek said.
To stay competitive, Rêve Marketing empowers brands to leverage zero-party or declared data built from direct interactions with consumers. Not only is this data more accurate, but brands have explicit permission to use it.
This is an important consideration at a time when it's becoming more difficult for marketers to leverage first and third-party data for personalization while remaining in compliance with privacy laws. To that end, Rêve Marketing ensures that its platform provides flexibility to satisfy brands' individual corporate policies while complying with laws to protect visitors' personal data, such as the General Data Protection Regulation (GDPR).
Delivering Content Assets via Recommendation Engines
Moving forward, Rêve Marketing is placing a significant emphasis on Mulch, the company's content recommendation tool. Designed for enterprise-level and SMBs alike, the tool helps activate content and boost sales via content-based recommendations. Companies can use both zero-party and third-party data to deliver these curated data content assets.
"A lot of content recommendation engines today focus on changing the content itself," Vivek said. "Maybe a banner or other detail changes when a customer from a certain industry visits a site, for example. Our job is not to disrupt the website itself, but to deliver assets."
Whether a brand wants to feature PDFs, videos, white papers, case studies, or other nuggets of information, Mulch makes it easy to seed a website with personalized content. The tool is available for free with limited features or for a charge, which unlocks access to an AI-driven engine, customizable premium content gating, and a content hub, among other perks.
"Mulch uncovers that gold mine of information hidden in various pages and behind several gates, and helps clients find it quickly based on recommendations," Vivek said. "Using declared data, the system will know that a reader is in the finance industry, for example, and provide white papers related to the finance vertical. Obviously, that's much more useful than directing the reader to a research paper on healthcare."
In addition, Vivek said the company plans to focus on helping B2B and B2C brands deliver personalized experiences via its chatbots. These online assistants help site visitors find relevant content, resolve support issues, and locate and purchase products.