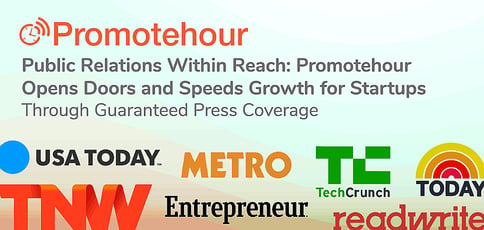 TL; DR: Promotehour, a PR agency designed for startups, is helping small business owners gain the press coverage they need at prices they can likely afford. To date, more than 200,000 entrepreneurs have leveraged the company's effective, targeted messaging to increase site traffic and drive sales. With plans featuring a money-back guarantee and lifetime access to a curated database of 7,000 journalists, Promotehour is aiming to reduce the risk inherent in public relations investment.
Like any successful public relations agency, Promotehour studies its competitors.
In doing so, the company has noticed a common thread: sky-high prices (think millions annually, in some cases). That's one thing for well-established businesses looking to skyrocket into giants, but what about the little guy struggling to take root?
"PR is quite expensive," Promotehour Co-Founder Jit Salunke said. "Some agencies charge between $5,000 and $10,000 a month or more with required annual retainer contracts. But since most startups haven't raised that much funding, this puts PR agencies out of their reach."
With the help of Mona Soundankar, Jit founded Promotehour in 2014 to give those businesses the chance to thrive. At the time, Jit and Mona were offering consulting services in digital marketing for startups.
"Generally, when startups launch, they will try to get promoted through different directories and startup communities," Jit said. "The problem was there was no single curative list of those directories. So we created our own."
Jit said the free resource has been popular over the last few years and was originally the main offering on the Promotehour homepage. Since then, the company has expanded its portfolio greatly. "We realized that we could also help startups with marketing services and public relations in a broad sense," he said.
To that end, the Promotehour of today helps more than 200,000 entrepreneurs receive the press coverage they need to increase site traffic and drive sales. With low price points, money-back guarantees, and lifetime access to a curated database of 7,000 journalists, the company is standing by its original mission: to help steer media attention to small firms and do so affordably.
The Goal: To Make Marketing Affordable for Emerging Businesses
Promotehour provides a choice of three pricing plans, each featuring a one-time charge. The company's introductory $79 plan, for example, includes Startup info submission to 100 startup directories, links to live submissions, and a report with screenshots verifying the submissions. The plan is intended to save approximately 20 hours of time, boost search rankings, and improve credibility.
For $599, Coverage PRO includes the same features in the introductory plan plus outreach to 100 journalists and 500 media sources, content creation, email pitches, and organic press coverage in one to three outlets. "We handle the entire campaign: We write the press release for them, we brainstorm the PR angle, and we identify 100 relevant journalists and reach out to them," Jit said.
Offering the most comprehensive set of features, Coverage GRAND includes the same benefits as the PRO plan plus a campaign analytics report, outreach to an additional 100 journalists, and press coverage in two to four outlets. The package is available for a one-time cost of $1,119.
Over the years, Jit said the plans have helped a number of startups gain coverage in prominent media outlets, including Entrepreneur, Digital Trends, TechCrunch, TheNextWeb, and VentureBeat. "The coverage helps startups get customers, increase investor interest, attract talent, and ultimately boost overall success," he said.
Press Coverage Within 30 Days or Half Your Money Back
Jit said working with Promotehour involves a few simple steps. "Our service is totally turnkey," Jit said. "We ask our customers to provide a bit of information, and then we can handle everything from there."
After signing up for a submission or coverage plan, the customer fills out a short questionnaire that Promotehour uses to understand what the startup does, the problem it solves, its target audience, and competitors in the space. Promotehour then prepares a press kit containing story angles, pitches, and resource pages.
The company presents the final package to relevant journalists through personalized interactions, puts startups in touch with interested journalists, and even follows up with those who don't respond. And, because Promotehour acknowledges that startups are ultimately at the mercy of journalists when it comes to editorial decisions, the company provides a 50% money-back guarantee.
"That's pretty unique — it's something a lot of PR agencies don't do, especially at our price point," Jit said. "We try as much as we can, but at the end of the day PR is a high-risk marketing activity, so if we are not able to get you the coverage you want, a 50% refund will be the worst-case scenario."
According to Jit, the company's success rate is currently about 60% or better.
"I was just going through the revenue the other day, and for the last $100K of revenue we refunded around $10,000 — so, 10% in that case," he said.
Failure to secure immediate coverage doesn't lead Promotehour to abandon a client. "We tell them, 'If you have any updates in the future, just let us know and we will put the press kit in front of the journalists again,'" Jit said. "It takes time, but I think every startup is interesting enough to get coverage somewhere," he said.
Effective Messaging That Drives Site Traffic for 200K Founders
Obtaining press coverage is a matter of sending appropriate messages to the right media outlets at the right time. Promotehour knows how to do that cost-effectively through a process it refers to as "Lean PR."
Rather than requiring annual retainer contracts and charging clients upward of $5,000 per month, the company makes pitches to top media contacts as well as niche outlets directly related to each startup. "For example, if you build a productivity app, we will pitch to the likes of TechCrunch, Lifehacker, etc.," Jit said.
While the company broadcasts press releases to relevant journalists, it doesn't rely on syndication alone to increase online visibility. Jit told us such coverage rarely appears on the homepages of news sites, and Google's Panda 4.0 algorithm made unoriginal content (such as press releases syndicated via multiple outlets) rank lower than ever before.
That's why, through its Coverage PRO and Coverage GRAND plans, the company creates and distributes custom press releases and pitches to key journalists. For example, Promotehour helped Meshfire, a company that uses artificial intelligence to increase social media followings, establish authority through a guest post on VentureBeat.
The company also helped Twitter management and marketing service SwiftSocial write a unique article and send personalized emails to the news portal Inman, ultimately landing news coverage.
"I think it's all about motivating media outlets to write," Jit said. "We have seen the rewards that come out of our press coverage as founders begin to gain recognition."
The Jona App: A Curated Database of More than 7K Journalists
We've all heard that success depends not on what you know, but who you know. It follows that close relationships with the right journalists can prove invaluable for startups desperate to get their messages out to the masses.
Promotehour's exclusive app, Jona, provides startups with direct access to those relationships through a database of contact information for 7,000 journalists from more than 1,000 media outlets. If you're looking to take the app for a spin, the company's Free Plan includes limited access to the Jona database, unlimited search, and information for 30 contacts during a seven-day trial period.
For $30 a month, the company's Pro Plan delivers unlimited access to the media database, including unlimited search and contacts. The plan also includes assistance with public relations strategies. At the top of the range, Promotehour's VIP Plan provides lifetime unlimited access and one PR campaign for a one-time fee of $299. In addition to these plans, anyone who signs up for the Coverage PRO or Coverage Grand public relations plans will receive unlimited lifetime access to Jona.
The app enables startups to use keywords to track down journalists who specialize in their industry, organize them by adding their contact information to various lists, and then export the lists as CSV files for later reference.
Promotehour's goal is to provide an affordable solution for founders and marketers looking to pitch their article ideas to specific journalists.
"Let's say you're a health startup," Jit said. "For health startups, the journalists who write about health are the most relevant, so you would be able to pull a curated list for journalists who write about that particular topic."
Jit told us Jona's $30 plan is a bargain compared to many alternatives. "With some PR agencies, it costs $150 to get the contact information of 100 journalists," he said. And with plans to continuously add more journalists to the list, Promotehour is looking to provide startups with even more value.
In that way, the company's initial mission hasn't changed one bit: "We're trying to provide a complete range of affordable PR solutions for startups," Jit said.