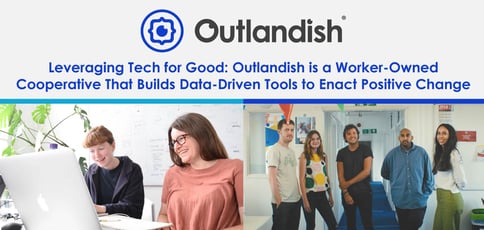 TL; DR: Outlandish, based in London, is on a mission to make the world a better place by developing data-driven apps, dashboards, and monitoring solutions designed to advance social change. As a worker cooperative, the organization is owned by members with a focus on honesty, transparency, and agile methodologies. Outlandish is also part of the force behind CoTech, a network of cooperatives looking to create a better and fairer technology sector in the UK.
The big names in today's tech industry are constantly racing to the finish line in an attempt to achieve the most growth, gain the most notoriety, and earn the highest profits. It's a battle fought with consolidation and cutthroat competition in the name of revenue.
That's what makes the approach taken by tech cooperative Outlandish so, well, outlandish. The UK-based tech organization is more concerned with making the world a better place than it is with lining the pocketbooks of corporate leaders.
It sounds almost impossible — but it's true. Outlandish is wholly owned by its workers, and the profits it generates are invested in developing data-driven dashboards, applications, and monitoring solutions that aid in social change.
"We work with large national and international charities and NGOs, such as the United Nations, Greenpeace, and the World Health Organization (WHO)," said Polly Robbins, Community Manager at Outlandish. "We specialize in taking large amounts of data and making it easier for researchers, academics, and aid organizations to determine where needs lie — as well as the outcomes of their interventions."
The cooperative focuses on leveraging agile development techniques to deliver practical technical solutions tailored to fit the needs of each client. Typically, that means turning complex data into actionable insights that further humanitarian efforts.
In addition to its daily missions, Outlandish contributes to Co-operative Technologies (CoTech), a network of cooperatives in the UK tech sector that prioritizes the needs of end-users over private profits. Ultimately, the goal is to help more people reap the benefits of a democratic working environment.
Web Apps, Data Dashboards, and Monitoring Tools That Make an Impact
Outlandish was founded in 2010 by four friends on a mission to create technology that makes people's lives easier. "Two of them had worked for the BBC's tech and web departments, which at the time were a bit clunky — it was often difficult to get innovative projects sorted out," Polly said.
The trio knew they could find a more efficient way to turn ideas into products without the restrictions often inherent in large corporations. After starting with web development, they began to explore new ways to search and display data.
The BBC's digital learning team was one of their early clients, among other educational organizations.
"We found better ways to categorize the BBC's learning resources and tag them more usefully so people could find information more effectively," Polly said.
Known as Outlandish LLP and Outlandish Ideas before it became Outlandish, the group started out serving quite a few educational clients before focusing primarily on NGOs and charitable organizations, such as the Institute of Race Relations, International State Crime Initiative, Mary Ward Centre, and multiple others.
Today, Outlandish is a team of seven cooperative members and a number of freelancers who research and design innovative and effective technical solutions that save clients time and money. For example, the company has worked with the Start Network, a group of international aid organizations and NGOs, to redesign an online mapping tool used to identify those in need of relief funding.
"Using the mapping tool, we are able to display how funding is allocated to disaster emergency zones," Polly said. "Rather than multiple aid organizations responding to the same emergencies, they can operate more cleverly."
Owned by Members, Invested in Social Change
Polly told us that Outlandish explored a few different business models before finding its ideal setup as a workers' cooperative, in which every employee has the opportunity to receive an equal share of ownership and decision-making power. The group is not beholden to external investors or shareholders and does not accept venture capital.
The fact that Outlandish employees are stakeholders in the company provides a distinct level of accountability.
"Because everybody who works for the organization owns it, it wouldn't be in anybody's interest to screw up a project and think, 'It's not my problem, I'm going to get another job next year," Polly said. "It creates a culture where we all take a lot more responsibility for the quality of the work that we deliver and for seeking out new projects and innovations."
The team depends on a system of dynamic governance known as sociocracy to make key business decisions and ensure a harmonious, fulfilling, and productive working environment.
"As an Outlander, you will work in an environment that encourages proactiveness, responsibility, creativity, and progress," the cooperative's creed reads. "No idea is off limits; you just need to get every one of us to agree that we can do it."
This philosophy leads the team to pursue projects they are collectively passionate about. Polly said the group's interests often lie in finding creative ways to manage massive amounts of data in the name of social impact. For example, the company recently worked with WHO and UNICEF to make a large volume of data on global water sanitation more accessible for researchers and organizations in the form of an interactive, graphic-rich website.
A Focus on Transparency, Honesty, and Agile Methodologies
Outlandish is closely aligned with the philosophies of many of the organizations it serves, particularly when it comes to openness, communication, and accountability.
"We are radically transparent," Polly told us. "We are happy to share how much we spend on rent, how much we earn, even how much we spend on our bar bill, and how we justify it. That's something that you don't always see in the tech sector."
The group's commitment to honesty is largely a product of its cooperative model. Unlike many companies that pay their developers entry-level wages and pocket the rest, Polly said Outlandish isn't in the business of profiting off hefty markups.
It also doesn't scoop up every available project in an attempt to make a quick buck. In fact, the Outlandish team is happy to challenge its clients — often to the client's benefit.
"If we are asked to build a project, and there's something similar out there that already exists, we won't try to reinvent the wheel — we don't see the value in that," she said. "We'd much rather introduce people and say, 'Would you consider working together?'"
At the end of the day, the cooperative's goal isn't exponential growth or unbridled power. Part of the joy in working for a fairly small organization, Polly said, is the intimacy of a family-like environment with shared interests and achievements.
CoTech: Helping to Increase Cooperative Services Across the UK
That said, Outlandish is always seeking new opportunities to advance the interests of humanitarian organizations, cooperative working communities across the UK, and even small businesses.
Recently, the organization has been working on a project that will help make the University of Cambridge's data on the genome sequence of the malaria parasite more accessible to academics and researchers.
In addition, Outlandish is collaborating with the European Union on Project COLA, an innovative effort focused on expanding possibilities of cloud-computing services for small businesses and public sector organizations. Outlandish, in particular, is working on Kubernetes-based hosting with container orchestration based on the application level metrics collected by Prometheus.
The organization is also a major contributor to CoTech, a network of cooperatives looking to foster a better and fairer technology sector in the UK. Alongside this, Outlandish has set up SPACE4, where other co-operatives and tech-for-good outfits come and use workspace, run and participate in training and events, collaborate on ideas and projects, and provide outreach projects to the local community.
"We've helped to start about 10 coops in the last two years, and we have a whole host of different people and organizations running events which are relevant to what we do, whether that's tech, data, advocacy, or social and political organizing," Polly said.
"We've helped to start about 10 coops in the last two years, and we have a whole host of different people and organizations running events which are relevant to what we do, whether that's tech, data, advocacy, or social and political organizing," Polly said.