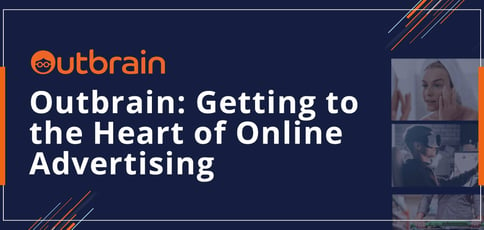 TL; DR: Outbrain empowers brands to promote content on some of the web's largest media sites while helping more than 1 billion people find content and ads that speak to them. Founded in 2006, the company was a pioneer in native online advertising and continues to lead the industry through the current mobile revolution. Moving forward, Outbrain aims to use its years of expertise and a focus on continuous development to drive further advancements in online content distribution and discovery.
Print advertising has generated some iconic imagery over the last century — spanning from Uncle Sam's widely recognized 1917 "I want you!" recruitment call to kitschy, "Mad Men"-era ads and the mustachioed celebrities of the early '90s "Got Milk?" campaign.
But while design and messaging evolved over the decades, the industry as a whole did not. Advertisers, publishers, and consumers were long familiar with the ad game and knew exactly how to play it. So when the rise of the internet flipped mass communications on its head, the ad industry was forced, however reluctantly, to change course.
Advertisers and publishers got a shaky start online with flashy banners and pop-up ads until Outbrain was founded in 2006. The company pioneered a new form of online, feed-based advertising designed to help replicate the experience of turning a physical magazine page and discovering an article or product.
"Outbrain was the first innovator in the native advertising and content discovery space — we came along three or four years before any of our competitors," said Yaron Galai, Co-CEO and Co-Founder of the company. "We pride ourselves on being ahead of the curve with our inventions."
Today, Outbrain continues to develop news feed technology that allows over 1 billion internet users to make more than 340 billion-plus content discoveries monthly. At the same time, the native ad server enables marketers to leverage content across the entire customer journey — and allows publishers to earn money online.
Overcoming Online Ad Challenges on the Open Web
Yaron said two things came to mind when he and Co-Founder Ori Lahav set out to found Outbrain almost 15 years ago.
"The first one was it was difficult to discover good, personalized content online," Yaron said. "Blogs and online news articles appeared in reverse chronological order, which didn't make sense to me. I wanted to read the most interesting stuff, not necessarily the most recent."
The second concern was related to Yaron's previous startup, Quigo (acquired by AOL in December 2007). At Quigo, he and his team invented the field of contextual advertising.
"We invented contextual advertising — what's mostly known today as Google AdSense," Yaron said. "And what was frustrating to me was that, though many of the ads were generating revenue for someone, they weren't valuable for the user."
At Outbrain, Yaron and his team aimed to solve these problems by providing personalized content discovery that embraced advertising as part of the experience, rather than as an interruption. The solution was native advertising: The use of paid ads designed to mimic an online media format's editorial flow.
In 2008, Outbrain developed the first algorithm-based content recommendation platform before launching the industry's first self-serve solution in 2012. The innovations continued in 2014 with the release of the first content-marketing API for programmatic buying. In 2018, the company introduced Sphere, the first invitation-only native advertising network.
Through the years, Outbrain also grew with the strategic acquisitions of Visual Revenue (2013), Revee (2016), Zemanta (2017), and AdNgin (2018). The company also recently acquired Ligatus, a leading European native advertising platform popular with many of the country's top publishers.
Personalized Native Ads and Content Discovery
Outbrain now offers an entire portfolio of smart ads, video storytelling, audience discovery, and channel selection for advertisers, as well as content management, control, and monetization for publishers. The company serves as the liaison between consumers, advertisers, and publishers.
"One way we differentiate ourselves is to always place the customer atop the triangle of constituents with a personalized and enjoyable user experience," Yaron said. "We also ensure the world's most respected publishers always trust us. We power the newsfeed on sites for CNN, the Washington Post, BBC News, and many others."
Outbrain's feed technology also benefits advertisers, marketers, and anyone looking to attract an audience by driving return on ad investments on the open web. The platform allows them to reach consumers at every stage of the buyer journey, from building awareness to fueling conversions and improving web monetization.
Publishers enjoy a customizable exploration and discovery feed that boosts audience engagement and helps achieve monetization goals. In addition, Outbrain is the only end-to-end ad server that manages both the serving and selling of native ads.
"Publishers can think of our technology as similar to a social media newsfeed in a form that they can deploy themselves," Yaron said. "All the functionality that you might get in an Instagram feed — all the personalization, various formats, the carousels, and things like that — Outbrain provides them via newsfeed technology out of the box."
The native ad server offers flexible placements, sidebars, "read more" notices, and text-only recommendations so publishers can choose from a range of creative combinations.
Staying Ahead of the Curve with Continuous Deployment
Yaron told us Outbrain pays careful attention to feedback from thousands of customers in the publishing and marketing space, which is used in tandem with the team's expertise to inform future development.
"It's a combination of both," he said. "On the development side, we push frequent updates of our product to production — live updates, about 250 times every day. We follow a continuous delivery model, a subset of agile development, when updating our production code with new features and functionality."
Over the past year, the team has focused on incorporating valuable automation into the platform to make it increasingly user-friendly.
"Return on ad spend is important anytime you're talking to advertisers," Yaron said. "A big product push for us recently has been automating the whole process for ease of use. That way, our algorithm almost guarantees a positive return on ad spend for the marketers using it."
The company is always mindful of the customer experience when adding new features or updating existing ones — because without happy customers, the system simply wouldn't be sustainable.
"I think companies outside of Outbrain tend to forget this because the consumer is the only constituent that's not sitting at the table," Yaron said. "But for us, customers are at the core of everything we do."
Further Embracing the Mobile Shift
As for what the future holds, Yaron said the Outbrain team will continue focusing heavily on the mobile revolution and its implications for native advertising.
After all, more than half of Outbrain's business takes place within the sprawling newsfeeds on mobile devices.
"In general, one of the trends we're most excited about is the shift in internet consumption from desktop to mobile," he said. "In the desktop world, you don't have to be as disciplined about providing value to the user because there is more space. But mobile screens are a great canvas where every pixel counts for the user, so there has to be an increased focus on the user experience.