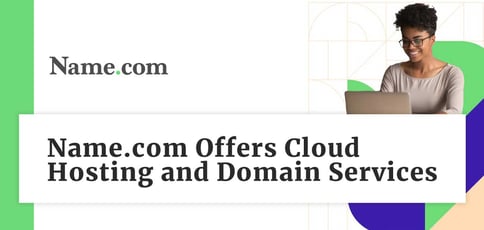 TL; DR: Name.com distinguishes itself in the domain industry by continuing to innovate products and services, and co-brand with best-of-category providers. From domain name registration to web hosting, Name.com meets the needs of entrepreneurs and web professionals looking for dependable resources to create their web presence. New top-level domain extensions, a domain reseller API, and a DigitalOcean hosting partnership are among the most recent offerings Name.com provides its customers. Name.com's established value — which relies on customer feedback — has attracted more companies and individuals seeking to take their business online.
In the highly competitive hosting industry, many providers choose a niche or cater to a particular segment of the market. Customers shopping for hosting bring certain expectations — chief among them the availability of domain registration.
But Name.com is much more than a registrar, although helping with domain selection and management is its specialty and has been among its core offerings since the company launched in 2003. Name.com's business model includes value adds that are relevant to users and provide entrepreneurs with a wide range of related — and necessary — online service options.
Today, the company also offers hosting, email, and SSL services. And it partners with DigitalOcean to provide cloud hosting and with Google for custom Gmail accounts.

Name.com's underlying philosophy is to give users a single pane of glass for all under-the-hood web hosting services associated with user domains. That's why it provides one intuitive interface where customers can set up the tools and services they need to launch and manage their websites.
This concept of an all-in-one solution is attractive to power users who spend a lot of time in dashboards, but it's also a good idea for entrepreneurs who own a single website. Name.com reaches web professionals and individuals starting online businesses and side hustles. It also caters to brick-and-mortar companies scouting for internet real estate. The company believes that anyone setting up a website can benefit from its easy-to-access suite of tools.
A majority of Name.com's customers are web professionals, according to Ashley Barton, the company's Marketing Director. That's because a domain focus is integral to business operations. But Name.com aims to expand its impact with new tools and hosting options that appeal to current and potential customers and help them grow their web presence.
Reaching Web Managers with Services, Domains, and Partnerships
Name.com's subscription-based pro hosting tools for organizations and consumer-facing websites primarily focus on developers and a more technical audience. Many of the individuals who need websites, in contrast, are less familiar with the hosting and web management technologies.
Name.com hopes to interest a wider audience looking for more approachable hosting options by adding beginner-friendly website building options, including WordPress installation, which users can install instantly with minimal technical experience.
Some users start with Name.com tools and then determine later that they need outside help, Ashley told us. That's where Name.com can help new customers discover additional tools or resources.

"Our base is naturally a bit more technical right now," Ashley said. "In terms of our road map, we are looking to round that out and offer more products where we can get a little more balanced for our customer base and serve everyone — from a novice to a technical expert."
The company is building strategic partnerships with other service providers that improve how Name.com customers do business online. Adding new features and offerings is another part of the Name.com strategy. As it expands, Name.com hopes that new website owners, as well as professional web managers, will appreciate the changes.
Building best-of-breed partnerships is one way to bring customers the highest quality service, Ashley added. DigitalOcean's new partnership with Name.com allows users to quickly add droplets — a feature advanced users may appreciate — and build and manage virtual machines.
Name.com's parent company owns nearly 300 new top-level domains, which helps customers looking to differentiate their online brands. Specialized domains such as .autos or .sale make website names easier to remember and typically stand out from traditional domain extensions.
And Name.com's domain reseller API will start gaining attention from pro domain resellers.
Entrepreneurs and Remote Work Environments Boosted Popularity
Name.com believes that maintaining its domain dominance and expertise differentiates it from the competition and makes its products especially valuable for people launching online businesses.
The company saw a dramatic uptick in interest and sales during the COVID-19 pandemic. That was due to a significant boost in remote work and a desire to start websites and online side hustles.
That's why Name.com plans to leverage its experience and established presence in the domain space to continue innovating. It frequently invites customers to provide feedback, which helps the company introduce products its customers need.
Name.com offers credits in exchange for feedback, and allows customers to try out new products and share their thoughts with the team. According to Ashley, customers enjoy that cooperative approach.
"We have a pretty active group and a loyal customer base, which is great. They're often willing to engage with us in terms of user interviews and also surveys," Ashley said. "That is actually what led us to the DigitalOcean integration. We also have a group of beta users specifically for that program."
Name.com: Innovating in the Domain Space Since 2003
Few online companies can say they've been around for nearly two decades. Name.com hopes to leverage its established reputation in the domains and hosting space, and continue building on its other success.
Name.com believes it can remain a top choice as businesses grow and new web management needs arise. It can accomplish that, in part, by turning to customers for insight on what to launch next and how to stay relevant.
Listening to users and seeking to understand their journeys is a fundamental focus for Name.com in the future. It intends to maintain its strength in top-level domains and establish relevance in other areas.
Comparing websites to real estate, a domain registrar that owns several hundred new top-level domains has a lot of potential to shape the neighborhoods and boulevards of tomorrow's internet. Name.com believes its domain expertise is a significant differentiator that can carry the organization — and its customers — forward.