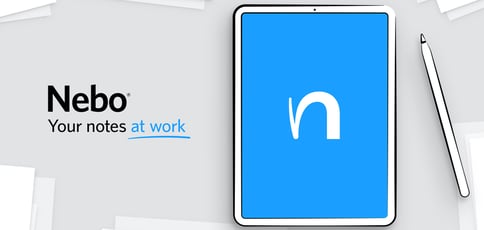 TL; DR: Nebo, MyScript's interactive note-taking app, brings the natural flow of handwriting to iOS, Android, Chrome OS, and Windows devices that are compatible with active pens. The application is powered by the company's Interactive Ink technology that allows users to write and edit on a touchscreen and convert the content to typed letters. With Nebo, MyScript ultimately aims to bring the best qualities of traditional ink to the digital world.
When Tim Cook introduced the Apple Pencil alongside the first-generation iPad Pro during the Apple Special Event on September 9, 2015, I immediately bought into the hype.
The idea of writing and drawing on an iPad with the precision of a pencil — instead of the usual method, the digital equivalent of finger painting — was immediately appealing. With the added bonus of a 12.9-inch Retina display and optional keyboard/cover, I was sold.
For a few months, I dabbled with drawing, note-taking, and even adult coloring book apps. But as the initial magic wore off, I began to wonder if the Apple Pencil served much of a purpose — especially considering the cost of the whole setup.
Four years later, Nebo, an interactive note-taking app from MyScript, has changed my mind. The ability to turn sloppy handwriting into streamlined, editable text with the double-tap of a finger is as gratifying as it is functional, making the software a true game-changer for digital ink.
As it turns out, that was MyScript's intent from the beginning stages of Nebo's development. The company recognized that while pen-enabled devices, such as iPad Pro, Galaxy Note, and Microsoft Surface Pro, were becoming more commonplace, they weren't providing satisfactory experiences.
"When we launched Nebo in August 2016, our goal was to introduce our latest technology, MyScript Interactive Ink, which offers outstanding handwriting recognition and provides the most natural writing experience," said Denis Manceau, CSO at MyScript. "With it, your ink is fully editable using intuitive gestures, it is as responsive and reflowable as typed text, and it is multimodal, letting you mix typed and dictated text all at once."
20 Years of Research in Electronic Ink Technology
Nebo launched in 2016, but MyScript was founded back in 1998 by a group of developers convinced that handwriting was the most efficient way to capture information, to learn, and to think. When combined with artificial intelligence (AI), they believed it could even shape the future of how we interact with machines.
The Nantes, France-based company celebrated its 20th anniversary last year, with 120 employees honoring two decades of research on neural networks, AI, and UX, as well as innovation in multilingual handwritten text recognition and digital ink management.
"If 20 years of successfully implementing our technology across various use cases have taught us anything, it is that having the best technology is not enough — value comes from solving real users' problems," he said. "Our challenge is not only to keep our technology at the highest level but also to develop a comprehensive approach to satisfying their needs."
Nebo leads the industry when it comes to its handwriting-recognition software, which is available in 66 languages. While many apps have emerged in response to increasing demand for digital note-taking aids, he said it's rare to find one that offers anything genuinely disruptive to the market.
"Our competitors are focused on paper replacement and annotation of digital content just to move people from paper to digital devices," he said. "Nebo is the only note-taking app focusing on productivity gains, as MyScript Interactive Ink brings handwriting to the core of digital content creation."
Pen, Meet Keyboard: The Freedom to Use Multiple Input Methods
Nebo comes packed with a robust set of features, from interactive diagrams, equations, and annotations to easily export options via an intuitive interface. Because MyScript Interactive Ink is the underlying technology behind all of these features, the app is able to process and switch between multiple input types flawlessly.
"Whether I type, handwrite, or dictate my content, our engine does not deal with it differently: It is editable with intuitive gestures, reflowable, and formattable," Denis said. "This makes Nebo unique as the most productive note-taking solution in the market."
With simple and clear tutorials that flatten the learning curve, Nebo is surprisingly easy to use, especially considering its power. It's easy to convert even the worst handwriting to text with a double-tap, delete anything by scratching it out, and seamlessly switch from keyboard to digital pencil.
Whether you're working in the longhand writing mode or with type, you can easily use your digital pencil to apply font styles. Simply draw a square around a word to highlight it, underline a word to make it appear in bold, or start a list by jotting down a few bullet points.
But Nebo's features go far beyond styling, enabling users to create clear diagrams and even solve complex mathematical problems — just jot down a handwritten equation, tap twice, and you'll have an answer. Need proof? I used my Apple Pencil to write down an equation said to "stump the whole internet," and Nebo solved it — correctly — with two taps of my finger. Genius!
Note organization is also a breeze, with accessible commands that empower users to organize elements on a page and even reorder pages within entire notebooks. Finally, because Nebo easily converts notes into Word, text, PDFs, and HTML formats, the app eliminates the need to retype handwritten notes.
Boosting Productivity Through Innovation
Ultimately, the company's goal is to help users be more productive by integrating note-taking into their digital workflows.
"We invest heavily in user research and design to drive our priorities forward, not only in terms of pure innovation but also the benefits our technology should bring to end-users," he said.
When it comes to company culture, the success of the entire team is more important than the success of any individual. Still, each employee enjoys the chance to do what they love — whether that's coding, design, research, testing, or communicating — and build a career out of their passions.
"The phrase that defines us well, and of which we are most proud, is "One team,'" he said. "In brief, it means we work hand-in-hand toward the same goal."
The company has all the markings of a modern startup, including a Happiness Team, focused on organizing events and celebrations; team-building activities, such as water-skiing, cooking lessons, and laser tag; free food and drinks, and generous health and well-being benefits. By maintaining premium working conditions, the company can attract high-quality employees and help them unlock their full potential.
In terms of internal innovation, MyScript's development road map is primarily shaped by user feedback and emerging industry research.
"Our UX research team spends lots of time and resources trying to understand our users' problems and how Nebo could provide them with a solution," Denis said. "We definitely try to think ahead, and we are attentive to new trends in the technology industry, especially when it comes to neural networks and AI."
Furthering the Role of Handwriting in Our Digital Lives
MyScript introduced several Beta features for Nebo in 2019, including Draft and Lasso, which allow users to create sections within documents and select and move content, respectively.
As for what the future holds, MyScript will continue to release innovations that help users integrate digital ink into their workflows to an even greater extent. Stay tuned: The company plans to release detailed information at the Mobile World Congress on February 24, 2020, in Barcelona.
"In 2020, we will focus on letting everyone get a chance to enjoy the handwriting experience that Nebo offers, and find out how handwriting can be fully immersed in our digital daily lives," Denis said.