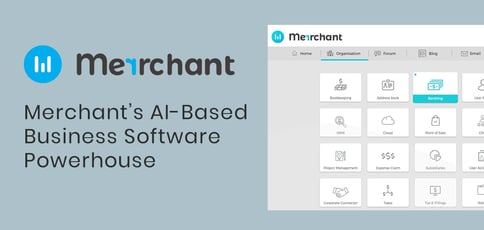 TL; DR: Merrchant's cloud-based business software suite is gaining popularity over tools like SAP and Oracle NetSuite due to its reliability and cost-effectiveness. The all-in-one platform, developed by Raletta, features an array of must-have enterprise resource planning, customer relationship management, and human resource management technology, among other functions. Ultimately, Merrchant's fair pricing, tailored solutions, and around-the-clock support provide a nurturing atmosphere in which large enterprises can grow and thrive.
In 1884, Karl Elsener and his mother, Victoria, designed and sold to the Swiss Army a foldable multitasking knife capable of opening canned food and disassembling rifles. Since then, the Swiss Army knife has become a metaphor for any affordable yet precisely engineered utility with multiple uses.
Many of today's enterprise resource management (ERM) solutions, such as SAP and Oracle NetSuite, could easily be dubbed the Swiss Army knife of business software if not for one limitation: astronomically high prices.
Merrchant's AI-based powerhouse of a software suite, on the other hand, remains true to the pocketknife metaphor in terms of both functionality and price point. Navrajvir Singh, CEO of the company, said he designed the platform to make it easier to manage the ins and outs of the business world.
"We were frustrated with how difficult it was to use separate websites for different business functions," Navrajvir said. "We recognized there was an opportunity for us to address the issue with an affordable, customizable suite of accounting and business operation modules."
Today, Merrchant has earned the trust of more than 500 clients across the globe — many of whom rake in more than $10 million in revenue per year. The all-in-one software package helps them manage nearly every aspect of their businesses — from human resource management (HRM) to enterprise resource planning (ERP) and beyond.
In addition to comprehensive, cutting-edge technology and fair pricing, Merrchant's tailored approach and around-the-clock support provide an environment in which enterprises can reach new heights.
An All-in-One ERP, CRM, Payroll, and HRM Solution from Raletta
Merrchant falls under the umbrella of parent company Raletta Technology Private Limited, a premier India-based organization that provides a diversified range of internet products and services. Established in 2015, Raletta has spent its years customizing software for businesses across the globe and is proficient in building AI-based software capable of all types of corporate functions.
Navrajvir told us that Raletta recognizes that many startups and small businesses are comfortable with basic software like QuickBooks and Xero. Thus, Merrchant is catered to customers who have advanced to a medium to large business size and are typically seeking customizable accounting software that can be integrated with other business functions.
The platform's easy signup and login functionality empowers these clients to manage unlimited accounts quickly and easily. It's packed with tools for tasks that the company considers the backbone of any enterprise — including everything from bookkeeping and a CRM to performance trackers, task managers, and payment gateways.
The cloud-based business operating system is compatible with all devices and operating software and comes in three packages designed for medium, large, and mega-sized enterprises. Customers may upgrade their plans at any time.
All plans include the platform's complete suite of apps and on-site training. To access a dedicated technician for email and phone support, customers will need to sign up for the Big Business plan. The top-tier Mega plan includes all available features plus the option to customize the platform as needed.
Rather than forcing users to sign up for a subscription plan, as many of its competitors do, Merrchant charges customers a straightforward, one-time payment with no hidden fees or gimmicks.
An Array of Simple and Reliable Cloud-Based Features
Merrchant's base-level product contains a rich feature set, including an open API, email integration, internal chat, multilanguage support, and robust reporting tools. It also features data encryption and backups, bank statement reconciliation, purchase order generation, and time tracking.
In addition, the company offers robust lead generation via an algorithm in the company's CRM. According to Merrchant, this AI-based feature can be tailored to an enterprise's business needs and can result in a decrease in lead generation costs of up to 60%. The company even has a team of professionals who assist customers in using the software.
"In this new digital era, many users have been getting leads online through various brokers, such as Facebook, Google Ads (formerly AdWords), and other platforms designed for search engine optimization," Navrajvir said."Our developers coded our software specifically for this function. Most of our customers are using our lead generation tool — and they're thrilled with it."
Merrchant designed its CRM module to help enterprises convert interested leads into paying customers with helpful tools that segment them by funnels, stages, and teams.
Key features include search engine optimization and marketing, social media and influencer marketing, mobile messaging, data analytics, content marketing, social advertising, and an intuitive ticket desk that makes tracking and responding to customer questions a breeze.
In addition to robust features, Merrchant serves up educational for businesses and entrepreneurs via the Merrchant blog. The resource, managed by Shristi Patni, Chief Content Officer at the company, includes articles from industry professionals on popular topics such as money management, cybersecurity, and SEO.
On the education front, Raletta also offers valuable internships in Indore.
Tailored Solutions Backed by 24/7 Knowledgeable Support
Navrajvir told us that what truly sets Merrchant apart from its competitors is user-friendliness and 24/7 support at unbelievably low prices.
"That's another benefit — we can provide you with a dedicated technician who is available full time," he said. "It's a close relationship, and our customers are always thankful that they're speaking to the same person each time they call. It saves them a lot of time."
In addition to top-notch support, Merrchant's tight-knit, 50-person staff is passionate about providing customers with manageable prices. That's especially helpful today, as many CFOs are forced to focus on cost-cutting measures to curb the economic effects of the COVID-19 pandemic.
"Our team is small but efficient, and that's how we are able to offer such affordable prices," Navrajvir told us. "While some competitors charge $20,000 per year at a minimum, our plans start at $9,000 for a lifetime — not yearly — cost. That makes a huge difference when it comes to ROI."