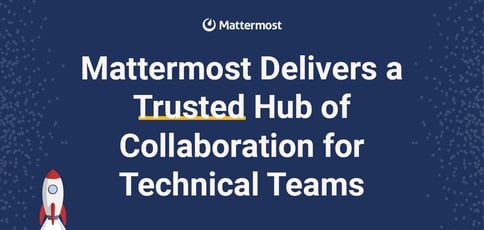 TL; DR: Mattermost provides a secure collaboration platform for technical teams to communicate and manage workflows in complex environments. Its open-source framework allows developers and companies to modify source code and customize the platform to fit their networks. Mattermost's three primary solutions include Channels, Boards, and Playbooks, which enable users to maximize productivity and align goals. The open-source software company recently released a solution for Microsoft Teams that gives companies access to its topic-focused and workflow-centric experience through Microsoft 365.
The use of collaboration tools has been on the rise for several years, especially since the COVID-19 pandemic. Teams use these tools to communicate, share to-do lists and tasks, manage projects, and streamline workflows. It would hardly be possible to find a company that isn't leveraging some form of a collaboration platform, whether it's Slack or Google Workspace.
Teams have seen productivity and the fostering of knowledge sharing increase by implementing collaboration tools into their operational processes. But most of these collaborative tools work best for all-employee environments and are not tailored to fit the needs of specific teams. This is where Mattermost comes in. Mattermost is the #1 alternative to Slack for developers. It offers a secure collaboration platform for technical teams working within complex environments.

"We're going to be an environment where folks can deploy us into their custom security and compliance requirements, integrate us with custom toolchains, and modify a lot of user interfaces for their specific workflows. A place for vital mission-critical collaboration scenarios," said Ian Tien, CEO & Co-Founder of Mattermost.
Mattermost provides an open-source resource designed for specific workflows and developer operations. Complex environments need specialized tools, and Mattermost meets developer needs by giving them tailored tools. Entities within various industries, including government, healthcare, and banking, leverage Mattermost's integrations and features to secure collaboration, accelerate productivity, and resolve incidents. And because Mattermost is open-source, users can modify it to fit their industry and workflow needs.
Delivering a Range of Workflow-Centric Features for Technical Collaboration
Mattermost offers three different levels of plans. Its base plan is free and can be self-hosted since its software is open-source. The other two tiers are professional and enterprise. But what separates Mattermost from its competitors is that the platform is topic-focused and workflow-centric. A lot of other collaboration tools focus on meetings and communication. Mattermost delivers not only a channel for communication but also allows developers to prioritize projects and tasks for every step of the developer life cycle in a secure environment.
"It's about being trusted. So you've got open-source and audible code, complete data control, and nation-state-level security. A lot of these organizations that are our customers are mission-critical and vital parts of the economy and the world," said Ian.
Flexibility value is also another highlight of the Mattermost platform. Its flexible and customizable nature goes beyond the bounds of all-employee applications, allowing companies to tailor their experience for their complex environments. Users can modify its platform to fit their needs, whether for security and compliance or user experience goals. Mattermost also enables companies to deploy on the cloud or through self-hosted means.

"We deploy today on AWS, Azure, and Google Cloud from their marketplaces. So you don't have to know anything about SQL databases in the backend. You can just go click a button saying what size server you want and go from there," said Ian.
The Mattermost platform features three key solutions named Channels, Playbooks, and Boards. Channels gives users the capability to communicate freely in a secure way. Communication is topics-focused, and developers can use Channels to message, meet, talk, and screen share throughout the application life cycle. Playbooks help teams follow along with checklists and stay on the same page. Boards use kanban-style boards to help users organize projects and align goals even in the most restrictive environments.
Microsoft Teams is a popular collaboration tool within many organizations. Although it is excellent for chat communication, developer teams don't find it as beneficial for their workflows and team management as other employees do. So Mattermost partnered with Microsoft to release a Microsoft 365 integration for its platform. Technical teams of at least 500 members can now leverage Mattermost for Microsoft Teams to receive an extended customization experience catered to dev collaboration.
Accelerating Communication Output for Military-Grade Use
A major selling point of Mattermost's platform is its security. Its level of protection can best be displayed through its success in helping one of its government clients. A secure network is imperative for military communication, which involves confidential information.
Before Mattermost, a group of Air Force teams had to print out physical copies of mission details and store them in binders because they couldn't find a secure mobile network and platform to host their materials. But the print-outs proved to be a pain point and a time constraint.
"What they needed was secure communication. It had to work over cellular and wifi products. It had to be available and secure on their own devices but also follow these protocols," said Ian.
The system also required the ability to operate independently from the Air Force system while staying connected to its legacy backends. Since Mattermost's source code is available to modify, the group was able to customize its communication using Channels to accommodate military protocols and its framework. With a traditional SaaS product, these teams wouldn't have been able to modify the code, deploy in restricted networks, or secure it behind several different protocols.
"The only way to do this was with open-source. They had to have the source code to modify it. They had to be able to understand and vet it for security," said Ian.
In four months, the Air Force was able to set up and stabilize their digital flight authorization workflow. The teams could quickly build digital mission binders from various locations and across devices. The information access also accelerated four times, allowing teams to see flight details two hours in advance instead of the previous 30-minute time frame.
"The US government needs to be able to innovate. They need to be able to build software that makes them more productive. And they're relying heavily on open-source platforms like Mattermost to achieve that," said Ian.
Leveraging the Flexible and Contributing Nature of Open-Source
Mattermost's open-source foundation has helped drive not only the company forward but its customers and community as well. It gives Mattermost the ability to collaborate with the open-source community and provides customers the chance to integrate their own modifications into the Mattermost platform. Because of its open-source code, users can go above and beyond with how they leverage the collaboration platform compared with other SaaS tools. The Mattermost team also invites the open-source community to co-build with the company.
"We have a user forum that probably gets one million views a month, where they can request features, upvote them, and debate them. So it's all transparent in public," said Ian.
Ian also spoke about the passion of the open-source community and how it helped contribute to changes in the Mattermost software. He said when Mattermost first launched, the team didn't have the time to implement translation software for international users. So one user reached out to Mattermost and suggested a Spanish translation infrastructure they were building. Mattermost ended up incorporating their 10,000-line contribution into the platform.
"So there are many examples of this spirit and passion for contributing, being a part of the community, and having an impact that's unlike any experience you can have anywhere else from building a product to seeing the results of contributions," said Ian.