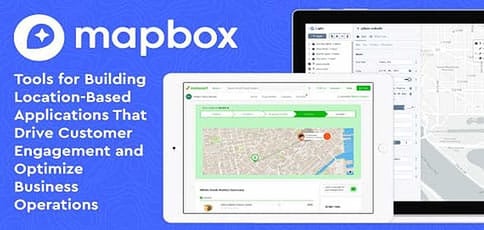 TL; DR: As consumer and business data accumulates at an ever-increasing pace, knowing where a transaction took place is as important as knowing when it occurred. Mapbox helps bring those two components together. More than 1.1 million mobile and web developers count on Mapbox to deliver location data and tools for adding maps, search, and navigation features to their apps. The company draws on a data pipeline of more than 350 million monthly users to power its self-learning location platform while enabling businesses and organizations to integrate location and operational data to boost insights and drive efficiencies. And as new markets for locations services emerge, Mapbox is there to support the transition to autonomous navigation and develop augmented reality technology to enhance experiences.
When Mapbox started working with multimedia messaging platform Snapchat to build Snap Map, Mapbox Director of Business Intelligence and Data Visualization Matt Irwin assumed the project would benefit mainly teenagers trading pictures and messages.
"But then, Hurricane Harvey happened, and I found myself watching Snap Map instead of CNN," Matt said.
Snap Map lets users share their location on a Mapbox-enabled map. When Hurricane Harvey hit southern Texas in August 2017, Snap Map had been online for about two months. The disaster revealed Snap Map as much more than a picture and messaging tool from Snapchat. That's because, in addition to serving as a bonding experience for teenagers, Snap Map itself has turned into a vehicle for global communication.
Snapchat developers used Mapbox's Studio product to design Snap Map, supplementing it with terrain, road, label, and point-of-interest information from Mapbox Outdoors and high-resolution satellite imagery from Mapbox Satellite. Tools for optimizing Snap Map for mobile use ensured the feature would be snappy on small screens while geocoding functionality associated users' GPS coordinates with street addresses.
My Story, Snapchat's most-used feature, lets users assemble "Stories" — collections of ephemeral "Snaps" — to share with friends. Our Story extends that idea, collecting and categorizing Stories and displaying the results globally on Snap Map. As Harvey unfolded in the Houston metro area, Snap Map offered a multi-paned window into the disaster.
"There were hundreds of posts coming from Houston," Matt said. "You had videos of people in their houses with water coming in through the front door, videos of people wading through the streets, people being rescued, hunkering down in shelters. It was a new, raw kind of reporting with no filter. CNN actually used it on the air."
Mapbox sources and serves global mapping data and provides tools for adding map, search, and navigation features to more than 1.1 million mobile and web apps. All told, Mapbox-powered apps reach more than 350 million monthly users and counting.
"What I thought was a novelty had suddenly become a very serious notion — and a perfect illustration of what Mapbox can do," Matt said. Snap Map now commands over 100 million monthly users and has its own website.
Visualizing Location and Intelligence Data Helps Improve Insights
Mapbox operates redundant data centers across the globe and uses proprietary rendering technology to deliver its location data and visualization tools to its customers. As a result, the platform performs well even in low-bandwidth situations. Customers construct interactions between Mapbox and their own business data.
"When you tell a data story right, someone makes a decision or comes to a conclusion that has real-world product or revenue implications," Matt said. "That's why 10 of the top 20, and 50 of the top 100, business intelligence players now use our platform — and we only started serving the space about 18 months ago."
Data visualization platform Tableau deeply integrate with Mapbox to give its customers total control over the look and feel of their maps. One Tableau customer — a grocery chain that wanted to offer delivery service to its customers — used Mapbox tools to derive service areas based on drive time to analyze the potential customer volume of each of its stores. Another built a visualization for analyzing sales by product and zip code.
Gym franchise Anytime Fitness uses Mapbox within Geoblink, a real estate and retail analysis platform, to determine optimal placement for facilities, analyze competitor locations, and understand metrics like average foot traffic, demographic profiles, and total spend per target demographic.
Businesses and organizations also access Mapbox directly. In the aftermath of Hurricane Harvey, Catholic Charities, the third-largest disaster-response non-governmental organization (NGO) in the US, used Mapbox to target its response, overlaying maps of Houston-area flood inundation zones with its own socioeconomic and demographic data. "Catholic Charities was able to target zones that had a preponderance of households with elderly family members, infants, and people of lower socioeconomic status," Matt said. "And that meant more effective relief delivery."
And Catholic Charities is applying what it learned from Harvey to better prepare for disasters to come. "Now they're looking nationwide at areas that will be vulnerable in the next storm," Matt said. "And they're doing the same thing for earthquake zones, tornadoes, and even the hail corridor in the middle of the country."
An AR Platform for Next-Level Navigational Experiences
Underlying all this functionality is a location services platform that learns based on the requests of its more than 350 million monthly users.
"What makes us different is the way we leverage our user data pipelines to improve our core product," Matt said. "We don't know specifically who our users are. All we know is where they are and where they're moving. That's how we can tell you there's a traffic jam on Interstate 5 — or that a piece of road just got built in rural China that the world didn't already know about."
As the automotive world prepares for a transition to autonomous driving, Mapbox is working with Tesla to power a next-generation navigation and maps engine in Tesla's state-of-the-art electric cars. These high-precision maps will incorporate trajectories inside individual lanes and improve on Tesla's ability to plan routes based on charging stations and level of battery charge.
The technology, which is built on Mapbox's Directions APIs, can also change route recommendations in real time based on changes in traffic patterns. "We not only know what congestion on the roads looks like, we know how it affects the route we recommend you take," Matt said. "In addition to Tesla, we work with logistics companies and on-demand services like DoorDash and Instacart — companies that need to move people from point A to point B as fast as possible, or do that with massive numbers of vehicles."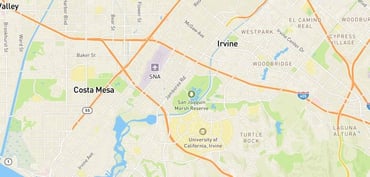 But that's not the end of the story. Mapbox is working to apply deep learning and computer vision to the navigation space to create maps that incorporate a 3D-style augmented reality (AR) viewpoint.
In the near term, before truly autonomous driving becomes possible, car directions might appear on a screen in front of where a turn needs to be made. Using a phone screen as an AR portal opens up additional possibilities.
"With AR, we're taking navigation out of the web browser, out of the car, and starting to cross that line between real world and the web world," Matt said. "Imagine holding up your phone and looking at a piece of property you're thinking about buying and seeing a pointer to the nearest coffee shop or the nearest school. Those are the kinds of line-blurring experiences our self-learning AR technology is helping to make possible."
Mapbox: Building Blocks for Business-Critical Location Services
Mapbox offers a highly customizable environment that permits a practically limitless variety of style and use cases. Hurricane Harvey demonstrated the versatility of Mapbox integration through Snapchat's Snap Map and by helping Catholic Charities identify those most in need of assistance.
"We think of ourselves in the same way that platform engineers think of Amazon Web Services," Matt said. "Developers come to us for tools that work like building blocks, that are powerful and flexible and that they can put together in ways that let them do what they want in their apps."
Fitness app Strava, for example, obtains location data from Mapbox — and returns it via anonymized pipeline. The drone manufacturer DJI uses Mapbox to power its drone mission planning and piloting software. Scoots, a San Francisco-based pay-by-the-hour scooter company, uses Mapbox to help its scooters avoid hard-to-climb hills. And American Airlines uses Mapbox to track baggage.
The New York Times used Mapbox to map some 2017 election results in Virginia. "They used our styling tools not only to show who won and lost, but who got clobbered," Matt said. "They did that by symbolizing massive margins with bigger and bigger circles. It helped convey the regional implications of the results without distorting the impact of narrower victories. And, by comparing those results with the 2016 presidential election, they then investigated changes in political sentiment over time."
And no matter what the future brings, Mapbox is ready. "We concentrate on delivering data and services efficiently and on building a comprehensive and flexible toolkit," Matt said. "So much is experience-driven when it comes to connecting with today's consumers. Companies are looking for next-level touches they can use to drive engagement and learn about what works. And we've shown — and continue to show — that we can do that."
Advertiser Disclosure
HostingAdvice.com is a free online resource that offers valuable content and comparison services to users. To keep this resource 100% free, we receive compensation from many of the offers listed on the site. Along with key review factors, this compensation may impact how and where products appear across the site (including, for example, the order in which they appear). HostingAdvice.com does not include the entire universe of available offers. Editorial opinions expressed on the site are strictly our own and are not provided, endorsed, or approved by advertisers.
Our Editorial Review Policy
Our site is committed to publishing independent, accurate content guided by strict editorial guidelines. Before articles and reviews are published on our site, they undergo a thorough review process performed by a team of independent editors and subject-matter experts to ensure the content's accuracy, timeliness, and impartiality. Our editorial team is separate and independent of our site's advertisers, and the opinions they express on our site are their own. To read more about our team members and their editorial backgrounds, please visit our site's About page.