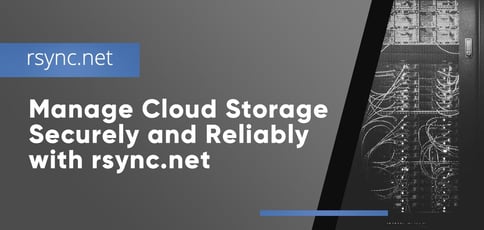 TL; DR: rsync.net is a global cloud storage platform for offsite backups that is built and maintained in-house to ensure complete independence. The company, which became a standalone firm in 2006, remains one of the only cloud storage providers that allows customers to point thier backups to a real Unix filesystem. With five global locations, rsync.net is also an adept partner in data security and regulatory compliance.
Many IT providers feel like they have to do it all, offering clients hosting, domain names, ecommerce, marketing, and site-building solutions, among other products and services. But while a smörgåsbord of menu options gives customers a taste of everything, there's something to be said about doing one thing and doing it well.
Rather than chase after each new trend and technology, some companies purposefully narrow their focus. With more time and energy to dedicate to one or two products, these companies are able to reach their full potential — and help their customers do the same.
rsync.net, a provider of cloud storage for off-site server backups, is a good example of this approach.


"rsync.net began providing cloud storage for off-site backups in late 2001 under JohnCompanies, our original corporate parent," said John Kozubik, Founder of rsync.net. "By 2006, we became a stand-alone firm dedicated to off-site backups only. We provide this simple product and nothing else."
This laser-like product focus allows rsync.net to build and maintain its global cloud storage platform in-house rather than resell other hosting products. With complete control over its platform, rsync.net gives customers the flexibility to use whatever tools they see fit.
In addition, rsync.net's UNIX filesystem is built on top of the ZFS Filesystem for data security and fault tolerance purposes. The platform is accessible via any Secure Shell Protocol (SSH) or Secure File Transfer Protocol (SFTP) tool, and customers can use it to run several UNIX commands.
Ultimately, rsync.net removes complexity from the off-site backup creation process through both its easy-to-use product and support from a team of knowledgeable engineers.
Use Any SSH Tool to Access a Standard UNIX Filesystem
JohnCompanies, an internet service provider, was founded by John himself in 2001 to fill a hole in the market for affordable, enterprise-grade virtual private servers. The product rsync.net now provides was a feature provided with the company's VPS offerings.
"Our customers had asked for, and we provided, rsync backups to separate systems," John said. "After I sold JohnCompanies in 2004, I decided to create a new company that provided only the off-site backup facilities. We think of this product as cloud storage now."

John told us he believes that the product rsync.net delivers — essentially an empty UNIX filesystem that users can access via any SSH tool — is as relevant today as it was 10 years ago. He said that fact will remain true in the future, as well.
"My mission at rsync.net is to give users an empty UNIX filesystem that they can do whatever they like with," John said. "This is a very specific vision that tightly restricts what we offer and what can be done with our platform. For instance, we do not offer a web interface to our storage and we do not have an app that you can use on a mobile device."
According to John, the product isn't an alternative to Dropbox-like file hosting services used for sharing and collaboration.
"But if you want all of the freedom and predictability that comes along with a home directory, some credentials, and an SSH login, rsync.net can feel like home to you. In a world of object-based storage and cloud-specific APIs, many users — and organizations — find it delightful that something like rsync.net exists."
Staying Ahead of Next-Generation Backup Technology
John said rsync.net's tightly focused vision makes for a simple end user experience.
"Complexity leads to unexpected interactions, mistakes, and downtime," John said. "Complexity is also less secure: We offer an extremely limited attack surface by running only OpenSSH (an open-source implementation of the SSH protocol) and answering only Transmission Control Protocol port 22."
Over the years, the team at rsync.net has witnessed — and successfully navigated — quite a few industry shifts. John said two of the most significant are the emergence of ZFS and the creation of next-generation server backup tools that run over SSH and SFTP.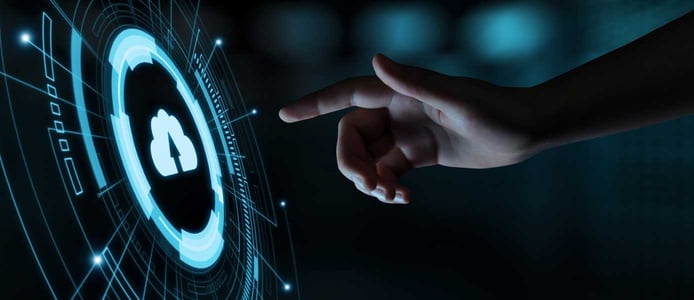 "ZFS is an elegant and performant file system that's well-suited to 21st-century workloads with hundreds of terabytes and billions of files," John said. "We were already seeing the limits of the Unix file system (UFS2) with our workloads before we switched to ZFS — and they weren't pretty."
With ZFS, rsync.net can safely use large groupings of drives as large as 16TB. The company can also handle enormous file systems safely and easily while enjoying impressive features.
"We've leveraged ZFS in obvious ways — like using RAID-Z3 to safely link drives into huge filesystems," John said. "For the end user, however, it is the snapshot feature that really shines. Every rsync.net customer can configure point-in-time snapshots of their entire account that are immutable (read-only), giving them protection against ransomware, rogue actors, and accidents."
A Focused and Selective Dev Approach
Over the years, the rsync.net team has also navigated the changing market for backup software by providing open standards and compatibility with a wide range of tooling.
Users can integrate rsync.net with existing Linux, UNIX, or macOS operating systems in minutes. They can also access the filesystem with any SSH tool and transfer their data to and from their rsync.net account to any other cloud service.
"In 2021, the easiest integration with rsync.net is to simply rsync your files over SSH to your account here," John said. "However, if you want robustly encrypted remote backups for which only you hold the keys, there is now an excellent utility known as Borg that runs over SSH."
John recommends that users who want to move data between cloud services and their rsync.net accounts use the command line program Rclone. He frequently points users looking for highly secure backup programs to Restic. Another helpful tool is git-annex, a distributed file synchronization system written in Haskell that John says remains interesting and relevant.
"All of these tools work over SSH or SFTP and represent real benefits, in terms of features and performance, over old data transfer standbys like rsync, scp, and sftp," John said. "I think that following trends in the hosting and startup development spaces has served us very well. For instance, it allowed us to recognize the importance of Borg and Rclone very early, and we've onboarded thousands of customers specifically for those use cases."
In addition to trends, rsync.net also uses customer feedback to inform its product development. The company implemented its support for git Large File Storage (LFS) in response to user suggestions.
"We are, however, very selective in what we eventually implement," John said. "There isn't a month that goes by that we don't get a feature request for WebDAV in some flavor or another, and it's just not a possibility. And that's fine."
Expanded Git Functionality
The team at rsync.net is excited to be expanding the platform's git functionality.
"Users have always been able to run git over SSH," John said. "The ability to run the git command at rsync.net gives you full control over cloning, mirroring, and managing your git resources —wherever they may be hosted."
The company is now adding features that make that process easier to adopt.
"As mentioned, we are adding LFS support to our git implementation so that large file storage assets can be properly backed up to rsync.net," John said. "In addition, we are adding GitHub, Bitbucket, and GitLab API tools to our environment so that users can properly back up wikis, issues, and other associated content."
Finally, the company will begin allowing users to store access keys in their rsync.net accounts and specify scheduled backups of their git repositories performed by rsync.net.
"So, in the near future, rsync.net will be a one-stop shop for securing and archiving all of your git assets — wherever they are stored."
Advertiser Disclosure
HostingAdvice.com is a free online resource that offers valuable content and comparison services to users. To keep this resource 100% free, we receive compensation from many of the offers listed on the site. Along with key review factors, this compensation may impact how and where products appear across the site (including, for example, the order in which they appear). HostingAdvice.com does not include the entire universe of available offers. Editorial opinions expressed on the site are strictly our own and are not provided, endorsed, or approved by advertisers.
Our Editorial Review Policy
Our site is committed to publishing independent, accurate content guided by strict editorial guidelines. Before articles and reviews are published on our site, they undergo a thorough review process performed by a team of independent editors and subject-matter experts to ensure the content's accuracy, timeliness, and impartiality. Our editorial team is separate and independent of our site's advertisers, and the opinions they express on our site are their own. To read more about our team members and their editorial backgrounds, please visit our site's About page.