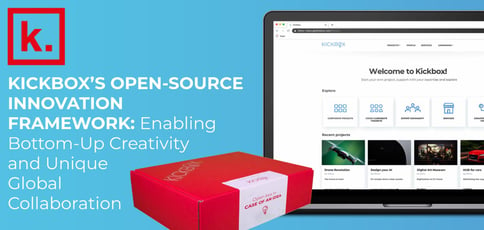 TL; DR: Convoluted systems and hierarchical structures can stop innovation in its tracks. Kickbox, an open-source enterprise innovation framework, was created to enable organic growth from the bottom up, where creativity is most likely to take root. Thousands of organizations, including Switzerland's primary telecommunications provider, Swisscom, use the tool to inspire new products, services, and workflows. Now, Kickbox.org, a nonprofit, collaborative community, is ensuring that the framework evolves as a shared resource through free tools like the Swisscom KICKBOOK, a comprehensive intrapreneurship guide born from the experience of countless innovators.
In an institutional setting, a mandate for free-flowing creativity is a tall order, if not downright impossible to fulfill. After all, innovation is the product of an inherently natural process — more of a wildflower, if you will, than a selectively-bred rose.
That's the dilemma Mark Randall, then Chief Strategist at Adobe, faced when tasked with developing and managing an internal innovation program for the company's global operations. His solution was Kickbox, a methodology designed to increase the effectiveness, speed, and outcomes of innovators while reducing costs.
The framework was useful within Adobe, but it burst to life once it was released in the open-source wild. In an unbridled, community environment, the methodology truly thrived, allowing Adobe to emulate a sense of entrepreneurship previously limited to startups.
"Mark realized that enabling people to move forward with their ideas meant creating an environment independent of the processes already in place," said Ralph Hartmeier, Co-Founder & CCO at GETKICKBOX powered by Swisscom digital.
Before joining GETKICKBOX, Ralph served as the Open Innovation Developer at Swisscom, a prominent telecommunications provider in Switzerland. Swisscom was one of the first companies to adopt Kickbox as an open-source innovation technique — and it did so with impressive results.
"Mark called us up one day and said he had never seen such an effective implementation of Kickbox," Ralph said. "We took over from there and started running Kickbox at Swisscom. During the last few years, we've professionalized and adapted it to enable the transformation of employees at Swisscom and many other companies."
Nurturing Business Transformation at Swisscom and Other Orgs
Swisscom found such success with Kickbox's open-source solution that the company was compelled to give back. It did so through Kickbox.org — a collaborative nonprofit association that curates, distributes, and supports Kickbox, ensuring it continues to expand and evolve as a community resource. The Swisscom Kickbox team and thousands of organizations and innovators power the nonprofit to the benefit of entrepreneurs everywhere.
That means that today, Swisscom toes the line between the open-source and commercial worlds.
"There's a bit of balance required when working for an open-source movement (Kickbox.org), for our commercial (GETKICKBOX), and working for our Kickbox program at Swisscom," Ralph said. "We wear a lot of different hats."
The open-source movement shares back the KICKBOOK while the commercial offering from Swisscom under the brand of GETKICKBOX consists of three key elements. A physical toolbox is available for distribution containing the open-sourced KICKBOOK, helpful tips, and templates for getting started.
There's also a white-label online platform with valuable reporting tools to make innovation measurable and access an experienced peer community.
"The good thing about open source is that you really can give something to everyone," Ralph said. "For example, we have always been passionate in our belief that students should be able to easily validate their startup within five years easily without paying too much. At the same time, if a corporation wants more from us, they cannot only rely on open source, so they can get our commercial offering."
The Swisscom KICKBOOK: A Free Handbook for Intrapreneurs
One of Kickbox's most recent innovations is the Swisscom KICKBOOK, a guide designed to help intrapreneurs evolve their ideas from rough drafts to polished designs. It is available as a free PDF download.
The book is based on lessons learned by the Swisscom team and includes input from more than 100 other entrepreneurs, consultants, and innovation managers. In compiling the content, the team also organized multiple workshops to generate and document valuable insights gleaned from thousands of real-life projects.
In addition, KICKBOOK features more than 20 online elements, including "Ask Mark" videos featuring the sharp insight of Mark Randall and "Extra Miles" with in-depth content tailored to the intrapreneur.
"We wrote KICKBOOK starting with our internal team and then opened it up to feedback from innovation experts and peers," Ralph said. "We were overwhelmed by what we received, and it was a lot of work to include all of the information. But it was definitely worth it to get this feedback in."
After approximately the fifth draft, Swisscom knew it had a valuable asset, but decided to offer a PDF for free in the spirit of open-source. Since doing so, the company has received even more input from the open-source community — which has inspired Swisscom to keep up the hard work.
"We are waiting a few months because it's a huge task to implement this active and passionate feedback about Kickbox," Ralph said. "But we plan to release a new KICKBOOK at some point, possibly as early as 2021."
Inspiring New Products, Services, and Workflows
In its short lifetime, Kickbox has inspired thousands of companies in a myriad of ways. But Ralph said they all share a common connection.
"It's really about empowering bottom-up, rather than top-down, innovation," he said. "A lot of times, corporate innovation involves a strategy department saying, 'OK, we need to focus on FinTech. Let's get a team on it.' But then the people identifying problems and seeking to validate their ideas don't have a chance because those ideas are disrupted before they even get started."
With the Kickbox method — as originally envisioned by Mark Randall — intrapreneurs can both spark and act on their creative ideas without hierarchical interference. And that's a powerful thing, resulting in dollars and hours saved, faster innovation, better collaboration and, ultimately, a higher return on investment.
"The first goal that we definitely help achieve is business impact," Ralph said. "In our case, at Swisscom, we have had 15 cases where Kickbox has led to new products, new services, and eventually new money."
The second goal, he said, is transforming workflows; giving employees new methodologies to thrive in the digital age. "We give them tools they can actually take into their own hands and apply in the workforce," he said.
Scaling Up Internal Efforts and the Open-Source Movement at Large
Moving forward, the Swisscom Kickbox team is laser-focused on taking its operations to the next level. The organization is hiring staff to support and scale its commercial offering while also growing its open-source community.
"Our belief is that we should move away from constantly reinventing the wheel," Ralph said. "The community's so strong, and it's so fun to work with other innovation managers, that we really want to help people collaborate more."
That's particularly true today — when many of us are isolated at home, trying to comply with social distancing guidelines while finding new ways to attract business.
"This program is awesome, especially in times like now, where everything is remote," Ralph said. "We can send toolboxes directly to the home office of employees, and they can start building upon their startup ideas — that's really powerful in terms of employee motivation."