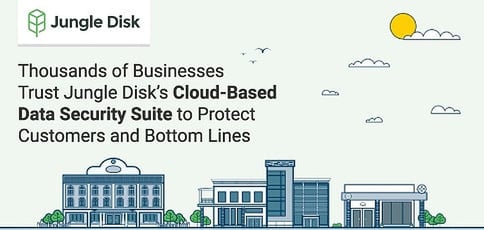 TL; DR: Stories of malware attacks on organizations have saturated the headlines in recent years, proving that the web can be a dangerous place — especially for small- and medium-sized businesses without large IT teams. And, since 2006, Jungle Disk has been helping SMBs fight these threats. The company was one of the first to leverage Amazon's S3 storage systems, which enabled it to deliver enterprise-grade cloud technology to a wider customer base. We recently sat down with CEO Bret Piatt, who told us how Jungle Disk's backups for workstations, servers, QuickBooks, and email are helping SMBs stave off the threat of data loss to keep bottom lines and proprietary information intact.
Every type of physical storage media eventually fails, including the expensive, high-end SSDs used in many datacenters. An increasingly common term, data rot refers to the gradual — and inevitable — deterioration of data housed on a drive or other media. It's no wonder, then, that knowledge of backup procedures is now considered a component of basic computer literacy.
Even fully functional and well-maintained storage devices can become corrupt or infected with malware, rendering the stored data useless or irretrievable. With the increasing scrutiny over the longevity of physical storage media, many businesses have turned to cloud-based services like Jungle Disk to prevent data loss and keep websites operational no matter what.
Founded in 2006, Jungle Disk was among the first companies to utilize Amazon's S3 storage.
"This is when Amazon had launched its storage service, called S3, and it was designed for developers," said Bret Piatt, Jungle Disk President and CEO. "Jungle Disk was created using S3 to make it easy for a non-technical developer to use cloud storage."
Jungle Disk's backup drive appears as regular storage media on the user's computer to make it blend in with the rest of the OS. What looks like just another external hard drive is actually the user's important files stored on a powerful cloud storage system.
In 2008, Jungle Disk was acquired by Rackspace, a prominent cloud computing company.
"This was back when Rackspace was the market leader in the managed hosting scene," Bret said. "Jungle Disk was Rackspace's first foray into providing software."
This acquisition also allowed Jungle Disk to focus on providing SMB-centered services while Rackspace handled the needs of larger enterprises. Eventually, in 2010, Jungle Disk moved its HQ to San Antonio, Texas, where its team of security experts currently serves more than 25,000 businesses across the globe.
Helping SMBs with Comprehensive Web Security Strategies
Traditional physical backup methods have been the standard for many years since storage media is cheap and easy to find and use. At the same time, this type of storage media is always subject to data loss.
CDs can shatter, USBs can get lost, and hard drives can fail in a number of ways. Aside from physical damage, data can be compromised through file corruptions or malware. A particularly insidious form of malware, ransomware holds the target computer hostage, demanding payment in exchange for data restoration. Since it became part of the threat matrix, ransomware has affected many agencies and financial institutions, leading to significant data loss and downtime.
"Back when we started, a lot of folks didn't know what Bitcoin was, and they were getting ransomware pop-ups on their computer asking for them," Bret said.
The recent popularity of BYOD (bring your own device) and remote work pose a higher risk for data compromise — something as simple as a misplaced USB or connecting a work laptop to public wifi could leave a company's data open to attack from web criminals. With so much information at stake, it is imperative for businesses to stay one step ahead of the trouble and invest in cloud-based backup.
Data loss and downtime can be especially devastating for SMBs, as few have dedicated security teams equipped to handle such issues.
"Jungle Disk provides storage and does scheduled online backups and data synchronization — all the file-based data protection that businesses need to manage unstructured data," Bret said.
Making the Transition from Traditional to Online Backup
As businesses became increasingly fearful of data loss, the use of cloud-based services soon became the preferred method of prevention. Cloud backup boasts several advantages over traditional means, including automation, greater security, and the peace of mind of knowing your data is safe.
Datacenters make use of redundancy to protect data in the event of hardware failure. And backups made with Jungle Disk are accessible from just about any device, meaning clients can check on and access their data no matter where they are.
Data loss is emotionally and financially devastating, especially for SMBs operating within tight margins. Even the slightest amount of downtime created by data loss can spell disaster for a small business. And the reassurance of having a backup in the cloud provides comfort.
"The question I often ask folks now is 'On a scale of one to 10, how sad would you be if your laptop was stolen?'" Bret said. "Now, I still get some people who are a nine or a 10, and I get some other folks who'll answer one or two."
In Bret's hypothetical scenario, a user of cloud-based backup would lose productivity and property, but the data itself would still be safely encrypted and inaccessible to web criminals trying to get their hands on it.
Working with SafetyNet to Protect 20 Million US Organizations
Jungle Disk recently acquired SafetyNet, a major player in QuickBooks backup solutions.
"Folks used to run QuickBooks in their offices, and now folks are moving toward using QuickBooks as a Software-as-a-Service (SaaS) solution," Bret said. "Their financial records are no longer stored on a computer inside of their office and instead are stored in Intuit's SaaS platform."
While this is a more secure approach to using QuickBooks, data breaches are always a possibility, and backups are still recommended to keep sensitive financial information safe.
By acquiring SafetyNet software, Jungle Disk aims to protect the assets of as many SMBs as possible.
"We serve businesses all over the world, but our primary market is the US," Bret said. "In the US, there are over 20 million small businesses and sole proprietors, and about 60 million people work for those businesses — over half of the US labor force."
Because QuickBooks is so popular, a large number of these businesses benefit from QuickBooks backup solutions like those offered by Jungle Disk. SafetyNet's QuickSave feature allows users to take snapshots of their QuickBooks accounts in a matter of seconds. These snapshots are then encrypted and stored in an archive for safekeeping.
Evolving Alongside Tech Trends to Safeguard Business Assets
Because so many businesses run exclusively online, data loss could spell disaster for modern SMBs, whose main revenue streams depend entirely on the site being safe and operational.
"Going forward, I think we're going to see more data traction and more small business owners really starting to rely on their websites for revenue," Bret said. "If you're a small business owner, you may have been using an eBay store in the past, but now SMBs are moving to a more customized web hosting solution."
As a result, these businesses rely more than ever on cloud backups to safeguard their sites and their vital business assets.
Jungle Disk was born from the need to more securely preserve important business assets. As such, its use of Amazon's S3 cloud and SafetyNet's QuickBooks backup software means that client data is protected by some of the best professionals in the business. Because all physical media eventually loses data integrity or stops working altogether, the cloud is the safest place to store one's data. Although the cloud is powered by physical servers, Jungle Disk uses redundant configurations to account for any hardware failures. At the same time, one's data is easily accessed through desktop, laptop, tablet, or smartphone and can be viewed wherever and whenever necessary.