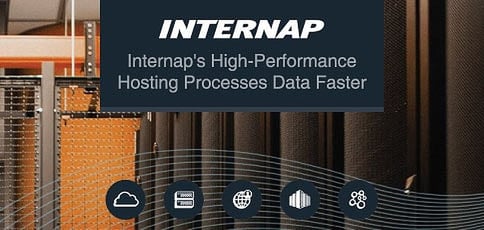 TL; DR: Internap provides Internet infrastructure that is scalable, fast, and smart. With their patented route optimization technology, they make sure you can process data quickly, accurately, and securely. Internap offers a wide range of hosting options, customized to the individual needs of a business. From top-of-the-line bare metal running OpenStack to cloud hosting, colocation, and IP services, Internap runs them all in state-of-the-art datacenters around the world. Internap knows how to provide businesses with the tools to grow and the space for more growth — because they've been doing it for 20 years.
When you visit a car dealership, you know you are on the salesman's turf. His job is often to make you spend as much as you can afford and to keep you happy until the paperwork is signed. Only after that transaction might you discover that you spent too much on a car that was too big and that has features you don't need. Want to try to take the car back and get one that is more your size and speed? Tough luck.
The hosting industry can sometimes operate in the same way: You pay too much money for too much (or too little) space and too many features, some you may never use. What you need are options that are tailored to your needs at any given time.
This is where Internet infrastructure provider Internap comes into the equation. What makes the company unique is that they have multiple hybrid hosting offerings, including colocation, cloud, and dedicated server options. All of these options are scalable and housed in their state-of-the-art, secure datacenters around the world.
At HostingCon, we caught up with Internap's Pete Bell, Senior Vice President of Global Sales, and Michael Higgins, Senior Vice President of Marketing and Customer Services, who explained what makes Internap different from other Internet infrastructure companies.
"We're a little unique because of our hybrid datacenter offerings," Michael told us. "We offer customers an evolution opportunity. They're in managed hosting today, and they want to evolve into colocation, or the Cloud — we do it all. "
Internap also takes pride in going beyond just storage with a special focus on performance output. They can boost performance with a dynamic system that instantly adapts to a customer's ever-changing needs.
Bare Metal Running OpenStack Is Power Mixed With Flexibility
The term "bare metal" evokes a sense of strength, power, and sleek simplicity. A more apt term would not be found to describe Internap's signature server line.
The sheer power with which Internap's bare-metal servers run is impressive enough, but add OpenStack cloud software and it becomes an industry force to be reckoned with.
"We are the only company running bare metal with OpenStack," Pete said.
Internap commissioned a performance test pitting their bare-metal IaaS platform against Elastic Cloud Compute (EC2) from (AWS) to see which could most efficiently handle the most robust data set. Operating ParStream's real-time analytics database, their bare-metal platform proved to be the superior product.
Bare metal had superior data import throughput (584,733 records to 444,604), a metric used to gauge data ingestion. Bare metal also had faster response times to queries with no filter conditions set (0.413 seconds to 0.851) and with multiple filter conditions set (0.462 seconds to 0.765 seconds). Better performance in these metrics also led to bare metal's superiority in cost per 1,000 queries with no filter ($0.41 to $0.66) and with multiple filters ($0.46 to $0.60).
As an example of just how important bare metal could be to a business, Pete brought up the case of a travel agency Internap met with.
"Here's a travel agency that is small but trying to grow," he said. "You don't have the budget to compete with an Expedia or a Travelocity, so how do you differentiate yourself?"
"Your website has to be better, easier to use, and has to be faster."
The travel agency was disappointed with using AWS and getting just 300 to 400 IOPS (Input/Output Operations Per Second).
"They spent all this money, all this developer time and had very little to show for it," Pete said. "We met with them, gave them a proof of concept, and told them to take their workload and put it into our bare metal for a month. Just try it."
The result?
"They're running 5,000 IOPS now," Pete told us.
The ability to dynamically allot bare-metal servers worldwide is a service only Internap offers.
Internap's Focus on Big Data Helps Companies Make Decisions Quickly
With nearly every company today using data and analytics to make quicker business decisions, Internap is finding their services in high demand. Internap can process all of that data quickly and securely, equalling faster response times for their customers.
Companies can devote a big chunk of their IT budgets to dealing with big data, using the analysis to show customer buying trends, patterns, and preferences. Even though the data set might be enormous, thus requiring a large amount of space, much of it can be discarded after the information is analyzed. This matches up perfectly with a dynamic, scalable system. A company can use any or all of the resources they need to with Internap, then scale back down immediately once the numbers have been crunched.
This allows even the smallest companies to harness the same firepower that larger companies devote to their data streams. Internap also has futuristic datacenters all over the world, so your data is where you want it when you need it.
Internap has plenty of options that perform well with big data, and a company can even mix-and-match to provide further flexibility and performance. From dedicated servers to colocation to the Cloud, Internap is providing some of the most effective and powerful ways to process your big data quickly.
Internap's Patented MIRO Technology Picks The Fastest Route From Click to Screen
Internap's Managed Internet Route Optimizer (MIRO) is another feature exclusive to the company. The patented technology automatically picks the fastest route through their server database to accelerate the performance of an application or site.
"We are checking every 60 seconds to see who has the fastest path back to a site," Pete told us. "If you can save 15 to 30 milliseconds every time — times 50 back-and-forths — that is a pretty significant difference in user quality."
The effect MIRO can have in reducing latency while accelerating performance is just part of the reason why it was added to the Smithsonian's permanent technology exhibit in 2000.
Futuristic Datacenters Make Sure There Is No Movement Of Infrastructure
The last thing a customer wants to hear is that a datacenter is out of power and out of space. Internap has made theirs future-proof.
"We offer a modular design that lets the customer go from four kilowatts to 12 kilowatts in a rack and stay in the same datacenter," Michael said, "and we support 20KW a rack."
Internap's modern datacenters are built with performance in mind. They are also built with the real world in mind. With concurrently maintained databases and dual backups, as well as redundant electrical and cooling systems, Internap's datacenters are reliable and secure.
"Zero downtime in 2014. Zero downtime in 2015. 100 percent uptime," Pete said. "We did lose power from the utilities — everybody does — but the datacenter works as advertised. Not one outage took anybody down."
Internap is also making geography a focal point of their operation. They have datacenters all over the world, giving every customer the ability to grow a footprint anywhere. With 10 datacenters in North America, two in Europe, and three in Asia, Internap can process a company's data closer to where it originates or where it is most needed.
Internap Knows How To Scale — They've Been Doing It For 20 Years
Internap began in 1996 in Seattle, had an IPO in 1999, and patented MIRO in 2000. They have been acquiring assets to expand their footprint and service ever since.
Over the past 20 years, Internap has been growing in a direction dictated by their customers' needs. The common thread that runs through all of their services is performance.
That performance can be attained with bare metal, IP, the Cloud, and datacenters. Combining those with the ability to process workloads in different countries enables businesses to perform at the highest level on a global scale. Internap can take a business through the entire process.
"You can go from a baseline server, like AWS, to a server with the ability to go to 1.2 to 1.3 million IOPS," Pete said. "We can take a customer through the whole journey from relatively high performance to mind-blowing performance."
Internap's goal is to be more responsive to customers' real questions: What are the problems they run into? What is better than what they're doing now? Why would they change?
By taking this responsive approach, as opposed to that of a salesman, Internap is able to attract customers with a wide variety of needs. Whether it be a small travel agency or a large healthcare corporation, Internap has the ability to crunch the data.
Although, if you just want a nearly unlimited amount of server space or cloud space, they can certainly do that, too.
Advertiser Disclosure
HostingAdvice.com is a free online resource that offers valuable content and comparison services to users. To keep this resource 100% free, we receive compensation from many of the offers listed on the site. Along with key review factors, this compensation may impact how and where products appear across the site (including, for example, the order in which they appear). HostingAdvice.com does not include the entire universe of available offers. Editorial opinions expressed on the site are strictly our own and are not provided, endorsed, or approved by advertisers.
Our Editorial Review Policy
Our site is committed to publishing independent, accurate content guided by strict editorial guidelines. Before articles and reviews are published on our site, they undergo a thorough review process performed by a team of independent editors and subject-matter experts to ensure the content's accuracy, timeliness, and impartiality. Our editorial team is separate and independent of our site's advertisers, and the opinions they express on our site are their own. To read more about our team members and their editorial backgrounds, please visit our site's About page.