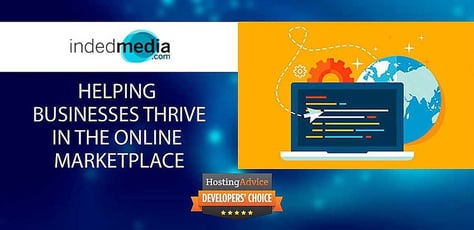 TL; DR: Hosting companies are expected to have customer support departments to help clients deal with issues. But IndedMedia goes beyond that expectation by offering a holistic support experience throughout its operation. The host considers both customers and employees members of its family and exemplifies that in every step from development to problem-solving. IndedMedia's strong relationship with its customers solidifies its standing as a trusted host and drives its work ethic today. In recognition of the company's dedication, IndedMedia has earned our Developers' Choice™ Award for delivering hands-on support.
A great hosting company doesn't have to be big to succeed, but it does need to be responsive to customer needs. IndedMedia prides itself on being nimble and sustainable, and it achieves those objectives through superior customer service. It desires to be genuine over gargantuan.
"IndedMedia is a small hosting company, and we do not aim to be one of the bigger ones," said Eduardo González, IndedMedia CEO. "Instead, we aim to be the most human company in this business."
Based in Spain, IndedMedia was launched in December 2011 and initially entered the market as a VPS host. What started as Eduardo's pet project steadily grew into a full suite of hosting products over the years.
"When IndedMedia launched, I wasn't thinking about building a hosting company. I was coming from other hosting companies, and I was very disappointed with the service level of their support and the time they took to answer questions," Eduardo said.
So Eduardo decided to build a VPS server to host the sites of friends and of a handful of companies whose owners he knew — allowing him to enter the hosting market with a small investment. As it turned out, he had a good thing going.
"I never expected IndedMedia to grow as it did," Eduardo said.
The company's dedication to keeping clients happy — and supporting them every step of the way — attracted more customers. It now offers shared, VPS, and reseller hosting along with dedicated servers across Europe and Canada.
And while IndedMedia has seen its fair share of expansion, that growth never comes at the expense of providing responsive, equal service to all of its customers. For that dedication, IndedMedia has earned our Developers' Choice™ Award for delivering hands-on support.
Choosing Competitive Problem-Solving Above a Race to the Lowest Price
Some companies design their processes and tools so that team members don't have to be as involved with customers. But IndedMedia thrives on interaction with the people it serves.
"We see many companies that are totally automated — including automated answers to user questions — which lack the customer focus and personal attention we like to give," Eduardo said. "I wanted to fill the holes I found in support at other companies."
IndedMedia's mission isn't to offer the cheapest hosting or the most expensive technologies. Its vision is far more focused. The company aims to solve the problems it sees customers encounter — whether that means upgrading hardware or improving workflows.
It adapts products to customers, not the other way around.
"The biggest changes at our company have been driven by customer demand," Eduardo said. "We don't try to be competitive in price; we try to be competitive in problem-solving."
Sometimes, that means looking into what other companies are doing and how their customers are responding. Getting a glimpse of the competition can reveal other issues that customers experience and pave the way for better solutions.
"In the hosting space, we always need to keep an eye on other companies — what do they do, how do they work, and what problems their customers find," Eduardo said. "To stay competitive, we always try to solve the problems we see in other, normally bigger, companies."
For IndedMedia, finding workable solutions for common business problems and delivering dedicated customer service go hand in hand. And it is always focused on finding new customer needs and challenges.
Growing Along with the Businesses it Serves
IndedMedia works on consistently expanding and updating its services with careful consideration of the impact. The company conserves its resources for making changes that have the most benefit to customers.
The list of products IndedMedia offers has steadily increased over the years. For example, its dedicated servers now come in a wide range of configurations, from low-cost servers to super-powered SSD.
"The philosophy is to provide products that a growing customer may need at any time," Eduardo said. "We always think of our customer as if they were us; we try to grow together. For example, a customer who starts in a PrestaShop eCommerce storefront may grow to require powerful solutions like VPS or a dedicated server."
The end goal is to ensure that when a new feature or product is deployed, the company has the means to manage the extra work without compromising service quality. That's where it brings the greatest value to customers, Eduardo said.
"I think the best benefit for companies that join IndedMedia is the time saved when they find a problem, face a challenge, or have a question," he said. "We offer products that other companies do, but the support treatment is a feature that nobody can copy."
Security and Customer Input Inform Every Decision
Two main factors drive innovation at IndedMedia — how secure a solution is and how well it addresses customer feedback. Security is paramount, and safety measures include everything from comprehensive SSL certificates to daily backups and a rescue mode for accessing discs when a server error occurs.
"When we plan to change any product or to add a new one, we always talk to our experts in systems administration and evaluate the pros and cons," Eduardo said.
"We like to live for the moment. Beyond ensuring the best possible service, we don't plan for the long term. We work in the present, and, sometimes, the present requires thinking in the short term because we discover a feature we like — or a new challenge."
Hearing what customers have to say enhances decision-making, as do market studies. At IndedMedia, the profit margin is not as important as how adding a new service will affect customer service and satisfaction, Eduardo said.
As a dynamic company that adapts to requirements and requests, IndedMedia doesn't like to look too far into the future. Instead, it keeps tabs on trends and forecasts while understanding that in the tech world, things can change rapidly.
"We like to live for the moment. Beyond ensuring the best possible service, we don't plan for the long term," Eduardo said. "We work in the present, and, sometimes, the present requires thinking in the short term because we discover a feature we like — or a new challenge."
IndedMedia Helps Companies Address Any Problems that May Arise
In the hosting world, efficiency often comes at the expense of service. But even the most efficient systems have issues that impact customers. The key to handling these events is good communication.
"We find lots of companies talking about 99% uptime — and we have majority 100% uptime — but we acknowledge that we're working with machines, and machines fail," Eduardo said.
When the company experienced a major problem with one of its servers, its customers appreciated the staff's prompt communication about the issue and trusted that they were working on resolving it.
"We immediately sent an email to our customers explaining what was happening and what we were doing," Eduardo said. "Some customers came back to us saying things like, 'Don't worry, we know you are fighting with it,' and 'Come on guys, you can do it.'"
When talking to friends at other hosting providers, Eduardo expresses his appreciation for IndedMedia's customers, whom he says are the best in the world. That positive relationship can be chalked up to the core values upon which the company was founded.
"What I think contributes to that success is our team's human touch and the fact that I always remember why IndedMedia exists," Eduardo said. "I found hosting companies that never solved my problems, and, when I called them, they never knew who I was. We know each one of our customers. IndedMedia is not a company with customers; IndedMedia is a family."