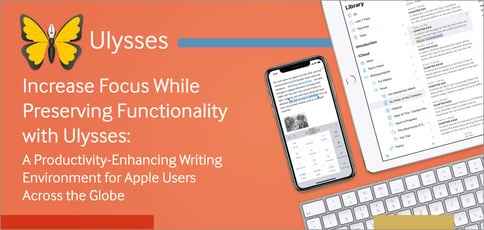 TL; DR: Ulysses, a markup-based, distraction-free text editor for Mac, iPhone, and iPad, provides an immersive writing experience through a clean interface. The app's full suite of organization and management solutions helps increase focus and productivity without sacrificing functionality. With new tools for WordPress integration and synchronization across devices, Ulysses is continuing to ensure users have the latest tools for optimal writing experiences.
Sitting down to write the next great American novel — or even just a blog post — used to be a far different experience than it is today. Just two decades ago, writers could log on to their comparatively simple computers, open a word processor, and let their imaginations take over.
No matter what industry you're in, chances are your workday involves a lot of writing. But today, we're lucky to write a sentence without an email, pop-up notification, or formatting task interrupting the process. This influx of technology, though helpful in many applications, can ultimately bring creative momentum to a screeching halt.
Enter Ulysses. The distraction-free writing application for Mac, iPhone, and iPad provides a focused writing experience combined with effective document management, seamless syncing options, and a flexible exporting process. The program's markup-based editor also allows users to concentrate on writing and save formatting for later.
"Ulysses is about productivity," said Rebekka Honeit, Communications & Marketing at Ulysses. "We have created an environment that allows you to write more text through an immersive approach. At the same time, the application features outstanding organizational and writing tools — essentially everything you need to write well."
The platform's minimal interface keeps advanced organization and management solutions hidden until the writer needs them, providing a clutter-free yet robust user experience. With new tools for WordPress integration as well as synchronization across devices, Ulysses is continuing to ensure users can quickly and easily optimize their writing processes.
A Clean, Intuitive Interface Customizable to Your Taste
Rebekka said the history of Ulysses dates back to 2002 when Co-Founders Marcus Fehn and Max Seelemann set out to create a writing app dedicated to creatives and novelists. Marcus, in particular, worked as a web designer and was interested in writing a novel. When he couldn't find a word processor that fit his needs, Marcus teamed up with Max, a budding programmer, and the pair created their own software, which became the first text-processing software on the market aimed specifically at creatives.
Marcus and Max officially founded the company, based in Leipzig, Germany, in 2011. There, the pair used their background in creating writing software to develop a one-stop writing environment for Mac, iPhone, and iPad. The new platform included a simple plain text editor plus effective document management features, seamless syncing capabilities, and flexible exporting tools that transform plain text into stunning PDFs, blog posts, and ebooks in just a few clicks.
With Ulysses, the goal is to focus entirely on writing and editing. "Ulysses was one of the first apps with a full-screen mode that removes all features, leaving only text, to create a distraction-free environment," Rebekka said. "This full-screen mode was later adopted by many other applications in the document management and writing world."
Users have many options to customize their writing environment: They can choose between various color schemes, write in dark mode, choose their favorite fonts, etc. Even though it is a markup editor at heart, Ulysses supports the embedding of images, footnotes, annotations, and much more.
A Full Suite of Organization and Management Solutions
While Ulysses was once built for creative writers, Rebekka said the company's user base has broadened significantly to include anyone who writes, whether professionally, as a hobby, or as a student. That's partially due to the fact that Ulysses provides so many exporting and sharing options. Writers can export files as PDFs, Word documents, and HTML documents, and easily publish to WordPress or Medium.
Rebekka said the company serves many novelists, academics, marketers, bloggers, and business people, as well as some users you may not expect. "We know of pastors who use Ulysses for writing sermons," she said. "They write at home on their Macs and later take their iPads to church for preaching."
Ulysses continually releases new organization and management solutions intended to serve its growing and diverse user base. In March, the company issued a number of helpful new features for writers of all kinds, including a split editor and new keyword management features to help users organize their writing.
Those who use Apple's Dark Mode now have the option to turn on the feature during the export preview. This way, writers can get a glimpse of what their final content will look like without straining their eyes in dark environments.
Another notable feature — though not entirely new — is the ability to set writing goals, including desired text length, which can be defined through a variety of measuring units, including word count, lines, paragraphs, pages, reading time, and speaking time.
"You can set a goal for how long your text should be, and Ulysses helps you track how far you've gotten to achieve this goal using simple visuals," Rebekka said. "Your goal might be to put down 20,000 words until a defined deadline, but you could also aim for a three-minute speech. You may even strive for building a habit by setting a goal to write a certain amount of words every day."
Leverage the Power of Synchronization Across Devices
Everything a user creates in Ulysses is stored in the app's unified library, allowing them to manage projects of all types and sizes. And, thanks to integration with iCloud, items in the Ulysses library are automatically saved and synchronized to all connected Apple devices.
"One thing people like a lot about Ulysses is the synchronization feature," Rebekka said. "It works so well that you can write wherever you are, on whatever device, and that work will carry over to your other devices. If you're at the metro station and have an idea for your novel, you can just continue where you left off using your smartphone."
If you're looking to take the distraction-free editor for a spin, Ulysses offers a free 14-day trial period. The app can be downloaded at no charge from the App Store and Mac App Store. After the trial period ends, users will be required to sign up for a monthly or yearly subscription, featuring lower rates for longer commitments. In addition, students are eligible for discounts on six-month plans.
Fees are minimal considering the app's built-in features and synchronization capabilities. "If you write a lot or even for a living, you deserve to use the best tool available," Rebekka said. "If writing is more fun and you're more productive, it's worth the investment."
Decision-makers at Apple seem to agree. In 2013 and 2015, Ulysses was honored with Apple's Best of Mac App Store award. The trend continued in 2016, as the company scored both the Best of App Store award as well as the prestigious Apple Design Award.
Continued Innovation to Ensure Optimal Writing Experiences
Ultimately, Ulysses believes writing is about words — not formatting. That's why, unlike tools like Microsoft Word or Google Docs, Ulysses does not offer What You See Is What You Get (WYSIWYG) functionality.
Using markup syntax allows text to be formatted once exported. This may sound tricky, but it's not. With just a few characters, users can specify headlines, bold text, images, footnotes, and links — all without lifting your fingers from the keyboard.
Rebekka said the platform is intended to grow and adapt to user needs. "Ulysses is an exceptional app, but there's no perfect app," she said. "We still have a couple of features we would like to implement to make the experience even better."
Technical progress and user feedback, Rebekka said, will have their share in shaping the company's development road map, ensuring continual improvements.
"We aim to stay on top of our game and make the best writing software for Apple platforms we possibly can," she said.