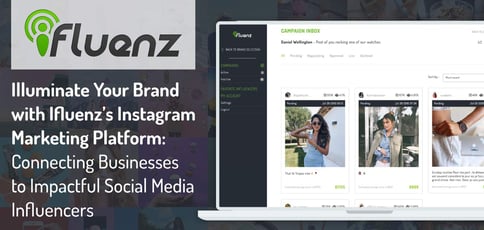 TL; DR: The Ifluenz influencer marketing platform empowers small businesses, brands, and marketing agencies to connect with credible Instagram personalities who can affect the buying decisions of their highly engaged followers. The company makes this modern form of advertising fast, effective, and affordable, helping promote brands and boost sales. With an upcoming focus on providing brands the additional content they need to shine, Ifluenz is working to make it easier than ever to run, manage, and scale every aspect of influencer marketing campaigns.
In an age of consumer skepticism toward advertising and marketing, brands have found a way to reinstate authenticity and trust.
Meet the social media influencer, a new breed of spokesperson who has the credibility to reach relevant audiences, build trust, and boost engagement through original content. They can be celebrities, bloggers, social media sensations, advocates, experts, or thought leaders, but they all share one thing in common — highly effective powers of persuasion.
Of course, with every new financial opportunity comes shady individuals looking to take advantage of the system by exploiting its weaknesses. In this case, they come in the form of fraudsters who purchase fake followers. According to cybersecurity firm Cheq, this phenomenon is expected to cost businesses an agonizing $1.3 billion in 2019.
The makers of the Instagram influencer marketing platform Ifluenz know this, and that's why the company puts its influencers through the wringer with a strict vetting procedure designed to root out bad actors.
"We built a massive repository of top-quality influencers through an in-depth, data-driven screening process," said Lassana Dioum, Manager at Ifluenz. "Our algorithms determine whether they have high engagement rates, if their audience is relevant and active, etc. — we analyze a huge spread of data to make sure each influencer is of high quality, and if not, they will not be able to register on our platform."
The company, founded in 2014, works to connect credible online personalities with small businesses, brand marketers, and agencies looking to affect the buying decisions of their highly engaged audiences. Over the years, the company has honed the process to ensure it's as fast, effective, and affordable as possible. With a forward-looking focus on providing brands with additional content to complement the messaging of their influencers, Ifluenz is looking to offer an end-to-end solution for this modern and increasingly popular form of advertising.
Reach Credible Personalities with Highly Engaged Audiences Worldwide
It's no secret that Instagram is an extremely popular social media network. A whopping 1 billion people use the app every month, with 63% of users logging in at least once per day. By 2020, researchers estimate that users will spend an average of nearly 30 minutes per day on the platform, which has a potential advertising reach of more than 850 million users.
As such, the social media platform has become an essential network to marketers — which may explain the rapid growth Ifluenz has experienced. "When we launched the platform in 2014, we had 200 influencers," Lassana said. "Now we have 25,000, and if you search Google for keywords like 'Instagram Influencer Platform,' we're typically among the top results worldwide."
Lassana told us that the company's main objective is to make advertising more enjoyable for audiences, brands, and influencers alike. Some of the world's most recognizable companies, including Uber, Porsche, and Universal, now use Ifluenz to reach the right audience for the best results possible.
For example, when Uber wanted to advertise its transportation service in a range of new areas, the company turned to the online personalities at Ifluenz to reach geo-targeted audiences. After six posts, Uber was able to reach an audience of 356,000 followers, who contributed more than 25,000 likes and comments.
Influencers with at least 5,000 followers and highly engaged audiences can make the most out of their followers by registering with Ifluenz for the opportunity to collaborate with a wide range of brands. Once they pass the rigorous screening process, influencers are required to select the type of campaigns they are interested in, review briefs from brands, and propose a paid collaboration.
"Then, the brand has the opportunity to approve the post," Lassana said. "If the brand is not satisfied, it can ask the influencer to alter the content as well as negotiate the price. Of course, we secure the payments from the brand to make sure the influencer does indeed post, and we release the payment seven days after."
Making Influencer Marketing Fast, High-Quality, and Affordable
Lassana told us that Ifluenz is continuously working to streamline its influencer marketing campaigns to ensure they're cost-efficient, intuitive, and produce undeniable results. He said that Ifluenz is faster than its competitors due to an effective communication process between registered influencers and brands.
"With our platform, you can access registered influencers really quickly," he said. "Typically, when a brand creates a campaign, they start receiving proposals the same day."
The process eliminates time spent searching for influencers, contacting them, and negotiating back and forth via email. "And, with our in-depth certification process, brands can hire the most relevant influencer for their needs and make sure the influencer will have no fake followers whatsoever," Lassana said.
A clear view of fair market prices ensures that Ifluenz is also budget-friendly. When influencers register, they are asked to indicate the minimum amount they will accept for collaboration with a brand. The company then processes pricing data to create an average market price.
When the brand creates a campaign, they will be presented two rates from each interested influencer: an objective market price and the minimum price from the influencer. "Usually, influencers try to match our pricing, but sometimes, if they're looking for more deals, they will present themselves at lower rates," Lassana said.
According to Lassana, Ifluenz is also incredibly focused on quality in a bid to retain brands and keep them happy. "We take great care to ensure that brands receive a good return on investment," he said. "That's why we are so strict about not accepting low-performing influencers."
Coming Up: Satisfying the Demand for Additional Brand Content
Lassana told us that Ifluenz is laser-focused on developing new tools and features that will help brands and influencers enjoy lucrative relationships.
To that end, the company recently introduced the Instagram Influence Calculator, a free program that allows anyone to calculate their strength as an internet persona just by entering their Instagram user name. Users are limited to checking 10 accounts, and the accounts must be public.
Moving forward, Lassana said Ifluenz is working to develop a mobile app to accompany its existing desktop site, which is currently mobile responsive. The company is also working on a program to create content that brands can use on their sites and social media accounts to complement their influencer campaigns.
"A lot of our brands get into influencer marketing, and we want to promote their website or Instagram page, but they don't have great content to offer," he said.
Since there's such a high demand from brands looking for an efficient way to create this content, Ifluenz is going to step in, leveraging the talents of its influencers.
"We believe this will be a great feature and a way to add value for our clients and users," he said.