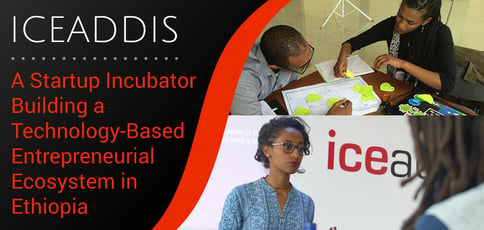 TL; DR: iceaddis, Ethiopia's first innovation hub, is working to foster technology-based entrepreneurship through its support for startups. The organization's ice180 incubation program provides mentorship, coaching, training, and network exposure to high-potential ventures with the goal of solving problems affecting local communities. With future goals to expand regionally and leverage the resources of public-private partnerships, iceaddis aims to make a real impact on economic growth in Ethiopia.
Internet penetration — the percentage of a country's population that uses the web — varies widely across the globe. As of 2019, Kuwait boasts the highest rate (99.6%), while North Korea lies at the opposite end of the spectrum, with virtually no internet due to the country's authoritarian rule.
Africa has the lowest internet penetration by geographic region, at about 40%. Within the continent, Ethiopia's 18.6% internet penetration rate pales in comparison to Kenya's 89.8%, partially due to a heavily regulated telecommunications market and state-ordered internet blackouts.
But Ethiopian tech entrepreneurs are choosing to look at the positives. An 18.6% internet penetration rate, for example, still equates to over 20 million internet users considering the country's population of more than 110 million residents. And with promising regulatory reform on the horizon, booming industry growth is a real possibility.
As tech-based entrepreneurship continues to solidify its position on the nation's agenda, iceaddis, Ethiopia's first innovation hub, is working to foster a vibrant ecosystem for local startups.
"We are essentially a one-stop shop for tech startups," said Markos Lemma, Co-Founder & CEO of iceaddis. "We provide technical tools, market-related data, coworking spaces, and an incubation program that serves as a gateway for starting a tech company."
The incubation program, ice180, provides mentorship, coaching, training, and network exposure to high-potential ventures to help address problems affecting local communities. With sights set on regional expansion and plans to leverage the resources of public-private partnerships, iceaddis ultimately aims to accelerate economic growth in Ethiopia.
Delivering Coworking Space, Workshops, and Consultancy
Markos established iceaddis, based in the capital city of Ethiopia, Addis Ababa, in 2011. At the time, just 0.4% of Ethiopian residents had access to the internet and its significant benefits in terms of economic growth, transparency, and information access.
From the start, iceaddis aimed to spur innovation by bringing together researchers, entrepreneurs, and developers to promote technological solutions to local challenges (ice, after all, stands for innovation, collaboration, and entrepreneurship).
The innovation hub became the first of its kind in Ethiopia, where it worked to build a community of tech entrepreneurs from scratch.
"In the very beginning, we examined the role of startups in the Ethiopian economy and what types of products, services, and emerging markets we could pursue to address local challenges," Markos said. "We have the vision to build a technology-based entrepreneurship ecosystem in Ethiopia, and that's what we've been working on during the last year."
The Ethiopian market presents multiple challenges startups must overcome. Kenya, in comparison, is a leader in financial innovation on the continent. The country's groundbreaking mobile money service, M-Pesa, has enjoyed massive success, boosting financial inclusion.
Challenges around telecom infrastructure, financial regulation, and federal business policies have stalled similar progress in Ethiopia — as have high internet prices.
"For a 1 Mbps DSL internet connection, Ethiopia's prices are among the most expensive in the world," Markos said. "Fortunately, mobile access is more affordable, and it's getting cheaper, with some providers cutting costs by approximately 50% in the last few months. This will help internet penetration increase."
The ice180 Program: Helping Address Local Challenges
On average, iceaddis sponsors 10 startups annually through its ice180 incubation program, which aims to facilitate the ideation, prototyping, development, and scaling of promising Ethiopian startups. Each startup receives program support for 180 days, or approximately six months, consisting of mentorship, training, personalized coaching, and networking.
Services also include product development support, admin support, pitch competitions, product launches, events, and fundraising. Coworking spaces are available with amenities such as coffee, tea, kitchens, lockers, unlimited internet, lounge areas, and a patio. All services are provided for free for members of the incubator program, under a few conditions.
"In general, we require two things from startups at the end of our flagship incubator program," Markos said. "For one, they need to actually launch their products or services to market within the 180 days. And the second thing is investment readiness — the companies must be ready to pitch the product to a potential investor once it is finished."
The company continues to track startups after they've graduated from the program, but for now, efforts are primarily focused on getting startups off the ground, rather than accelerating them.
"We're not currently providing services for improving company growth," Markos said. "We would like to, of course, but the market is not ready yet — there's still a huge need for incubation services."
To date, the iceaddis community consists of 43 startups, five ventures, and more than 10,000 individuals. It has helped several businesses thrive. Among them are 50Lomi, and enterprise resource planning platform; 3BL, a for-profit organization that pipes water to rural homes and farms; and AddisInsight, a digital news platform.
Advocating for Regulatory Reform and Investment Opportunities
Markos told us that Ethiopian Prime Minister and Nobel Prize winner Abiy Ahmed, elected in 2018, has made great strides in terms of economic and political reform.
"The new administration has shifted the general direction and mentality in the last two years, and one of the first reforms addressed the telecom sector," he said. "We still have a long way to go, but there has been some progress."
In June 2019, the Prime Minister announced that Ethiopia will sell a 30% to 40% share of its state-run telecom monopoly, Ethio Telecom, while breaking up the company in a privatization strategy. The 2020 Ethiopian general election is set to take place on August 29 of this year, which may pave the way for more reform.
Markos said he hopes to see progress in terms of ease of business for Ethiopian entrepreneurs. For example, current policies around business registration make closing one startup and starting another unnecessarily cumbersome.
"Entrepreneurs need to see if they have a product-market fit, and if not, they want to move on to the next thing, but closing a company is very difficult — sometimes the process can take up to three years due to federal policy," he said. "This is something the Prime Minister is beginning to address."
In the meantime, iceaddis is working to create funding opportunities for the tech startups it supports, as the investment network in Ethiopia is limited.
"There are micro-financing opportunities for $1,000 or so, and bigger investments from private equity companies — but they usually start at $1 million and are focused on the agro-processing and manufacturing sectors," Markos said. "Our tech startups are looking for anything from $10,000 to $250,000, and no one is providing that service right now."
To overcome these challenges, iceaddis leverages foreign investors and also encourages bootstrapping — a method of starting a business without external help.
"That's why one of our main requirements is that they have to launch their products within a short period of time — so they can start making money on their services," he said.
Up Next: Regional Expansion and Public-Private Partnerships
The organization has a busy future ahead. Iceaddis is currently planning to expand with the launch of icehawassa and plans for additional locations as the telecommunications sector continues to grow.
Iceaddis is also exploring public-private partnerships as sustainable opportunities for entrepreneurial incubation and acceleration in the region.
"Apart from that, we are hoping to end up with some unicorn startups in Ethiopia," Markos said. "That's our utmost vision at all times as we continue to support startups in the country."