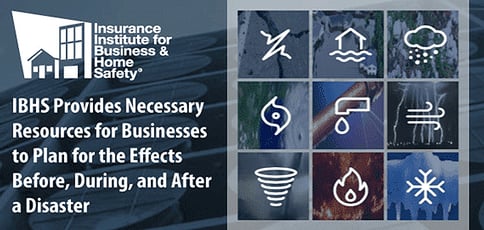 TL; DR: Often, businesses can do little to prevent a natural disaster, but that doesn't mean they can't prepare. The Insurance Institute for Business & Home Safety (IBHS) makes it easy for small businesses to create and implement a continuity plan through its Open For Business-EZ disaster preparedness kit. The toolkit guides users through eight modules to develop a detailed plan that will allow them to get up and running quickly after disaster strikes. And businesses that open shortly after a disaster not only see increased traffic and revenue but also boost morale and help their communities overcome challenges to recover faster.
The 2017 hurricane season hit the Southern US hard. But while meteorologists and storm-chasers worked overtime trying to make sure everyone was prepared, many business owners still weren't.
According to research by FM Global, two-thirds of the $1 billion-revenue companies in Texas, Florida, and Puerto Rico surveyed said they experienced an adverse impact on their business. And of those, nearly two-thirds said they weren't prepared to handle the effects of a hurricane.
Whether it's a hurricane in Florida, tornadoes in Oklahoma, wildfires in California, or freezing temperatures cutting off water and electricity in the Midwest, disasters affect the entire country.
There may not be much business owners can do to prevent disasters, but they can take action to mitigate the negative effects on their business. The Insurance Institute for Business & Home Safety (IBHS) helps those companies create a step-by-step, customized disaster plan.
Gail Moraton, Business Resiliency Manager at IBHS, said that 1 out of every 4 businesses that close during a disaster never reopen. And for the three that do, reopening may take from a few days to several months.
After hurricane Harvey hit Texas, local IBHS engineers were out surveying the damage and noticed that many local small businesses — like diners and grocery stores — had little to no damage but couldn't reopen to help their communities because they had no power. "If they'd had generators, they could have served the public and made a good name for themselves because they were available," Gail said.
Had they taken the time to create a plan, they could have purchased generators, stayed open, and positively impacted their communities.
"Small-business owners wear many hats, but creating this plan is one thing they can do slowly or delegate to a team member," said Gail. "Do a little bit each week, and you'll have a plan within a month or two."
Business Continuity Plans are Necessary for Every Industry
One myth about business continuity planning is that some businesses don't need it, but that is a false assumption. From the local greasy spoon to a regional auto dealership to a national chain retailer, every business should have a plan in place.
On its website, IBHS offers a risk assessment tool that allows business owners to input their zip code and get a list of disasters that are most likely to impact their community. Even if a company isn't in an area susceptible to hurricanes, tornadoes, or extreme weather, lower scale issues, like electrical or technology disruptions, are still a threat.
"A car accident could down a power line and your business has to shut down for three to four days because you don't have electricity," Gail said. Or a contractor in a neighboring unit might accidentally break a water line, requiring water to the whole building be shut off for the rest of the day.
It's impossible to predict every interruption that might happen, but having a plan can ensure protection of the most important business functions. Employees are able to consult the plan to see what needs to be done, when, and by whom. It allows each team member to know what to do so that business can continue as normal — or as close to normal — as possible.
Open For Business-EZ® Toolkit and Mobile App Simplify Planning
IBHS offers its free Open For Business-EZ® Toolkit which takes users through the entire process of creating a continuity plan. "With the OFB-EZ, businesses don't need to have employees who specialize in continuity planning," Gail said.
As users work through the eight modules, they learn how to discover the unique risks to their business and how to overcome them when disaster strikes. Since some events, like hurricanes, major storms, and wildfires, are anticipated, businesses can take three sets of actionable steps as early as five days before an incident.
As Hurricane Irma was approaching Florida in 2017, Gail said the IBHS office in Tampa, Florida, started implementing its plan. "At five days out, we did small things like clean out the refrigerator and turn it to the coldest temperature. We took our laptops home and checked to ensure we could access the data on the servers," she said.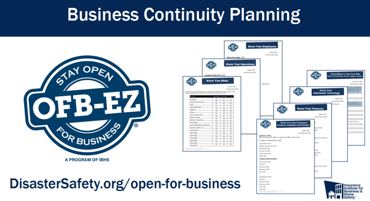 The final modules in the OFB-EZ toolkit are dedicated keeping a plan up-to-date, practicing the plan, and assessing it after a real-life event. After the Tampa IBHS staff returned to the office, Gail said, "there were very few things we had to amend because our plan worked so well."
In addition to using the OFB-EZ to create digital and physical copies of a plan, business owners can download the mobile app that stores it on a mobile device and can access it if internet service is interrupted. It's password protected and only available to those with whom the data is shared, so the risk of a breach is minimal.
Helping Companies Serve Their Communities Faster After Disasters
The median cost of downtime is $3,000 per day for businesses impacted by disasters. Having a continuity plan not only decreases the amount of revenue the business loses, but also helps the community come together to reconnect and rebuild.
There may be a dozen coffee shops in town, but the one that reopens the day after a hurricane hits the area has an opportunity to connect the community in the wake of the disaster — while also keeping rescue workers and residents fueled with their daily dose of caffeine.
Resuming business as soon as possible also decreases the risk of losing market share. If a local hardware store opens its doors 48 hours after a hurricane, and the hardware store down the street takes four days, it is clear which one will win over new customers.
Successfully carrying out a continuity plan can also boost employee morale and increase consumer confidence. Customers will see that the business had the foresight to plan for a disaster, and they'll come to trust them to provide necessary products and services.
Gail said when Hurricane Irma hit, the Tampa IBHS offices were closed for three days, but business continued seamlessly because it had a plan in place.
"A good business continuity plan can make temporary changes for some businesses – such as employees working remotely – completely transparent to customers which was the case for IBHS when Irma came to Tampa," she said. "Everything continued because we prepared and practiced."