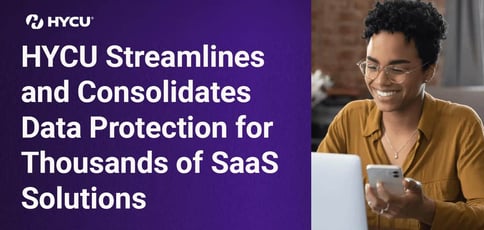 TL; DR: HYCU provides companies with a Backup-as-a-Service platform that detects vulnerabilities and protects their entire data estates. The dynamic platform can scale to safeguard tens of thousands of SaaS products and data sources while delivering a streamlined and single view of your data protection status. Companies can also leverage HYCU for data migration, mobility, and disaster recovery, which includes ransomware protection. From the release of R-Cloud, dev teams can build upon its platform for a simplified approach to native backup development.
Companies have come to rely heavily on SaaS solutions. The SaaS industry has expanded, and businesses can leverage a solution for almost every need and task, from payroll duties to marketing campaigns. Companies estimate that 70% of their applications are currently SaaS-based, which is expected to increase to 85% by 2025.
Although SaaS applications streamline many processes, challenges can arise from mismanagement. Productiv reports that IT teams don't manage 53% of enterprise apps. With the average SaaS portfolio comprising 315 apps, most of a company's active data lives within those applications. Without effective management, this data can be left vulnerable to various threats.
"Twenty years ago, when you look at the number of things companies had to protect, it was limited. Now, we have to deal with multiple clouds, theories, and SaaS products," said Subbiah Sundaram, Senior Vice President of Products at HYCU.

Managing multiple data environments and silos can leave companies with inefficiencies, pain points, and security risks. This is where HYCU steps in. It allows users to streamline their data control by providing a Backup-as-a-Service solution that consolidates every SaaS data estate into one view. The backup vendor specializes in three areas: data protection, data migration and mobility, and disaster recovery, which includes ransomware protection.
"Protection with HYCU is simple. All you have to do is select a data source and click what policy you want to apply, and you are done. There's no more to do. We don't want you to do anything manually. Everything is set and forgotten. True simplicity is our primary goal," said Subbiah.
Delivering Data Protection, Mobility, and Recovery
Headquartered in Boston, HYCU's primary goal is to streamline and facilitate user data protection. Companies can own numerous data sources stored in various environments across public and private clouds and on-premises infrastructure. With data in so many places, managing and handling all of these sources can be challenging. HYCU minimizes data silo sprawl with its solutions.
HYCU provides a unified view of data estates for streamlined control. With its Protégé platform, users can back up data with one click, quickly recover granular elements, and migrate their data with disruptions or loss.

"People have to move the data from one location to another, one region to another, one cloud to another. It happens all the time. Our goal is to help them with data migration, or data mobility, as we call it. It doesn't matter where you are; we can get you there," said Subbiah.
HYCU enables companies to identify the protection status of their data sources and take swift action to safeguard those resources. Its disaster recovery feature also plays a massive role in securing user data. Users can recover their data quickly, following instructions in the terminology native to the application that is being recovered.
"When ransomware hits, it hits everything. And when you want to recover, you can't say I'll recover only a little because it takes a long time to recover. So that's one of the reasons our goal is to give you ransomware and disaster recovery protection for all of your data sets," said Subbiah.
Subbiah told us ransomware attacks or attempts happen frequently, and SaaS products are usually more vulnerable than other infrastructure models to these attacks. That is why HYCU includes ransomware protection in its platform. Its features allow users to protect their data and avoid ransom payments while reducing downtime.
Introducing R-Cloud for Low-Code, Native Backup Development
HYCU opens its platform up to customers from the release of R-Cloud. Subbiah referred to the R-Cloud as the company's penicillin moment. When penicillin was created, the research was shared with multiple scientists and labs before the antibiotic went into mass production. With R-Cloud, HYCU extends its Protégé platform for users to build upon the patented technology and create their own personalized backup solutions.
"R-Cloud allows us to let other people build on top of our platform. That's our penicillin moment. We opened it up because we said as long as we have the developer integration, people can add to it on the fly, and we can expand it," said Subbiah.
R-Cloud includes three cornerstones: HYCU's core services, a marketplace, and a comprehensive graphing feature. Users can leverage the marketplace to find additional applications they own to integrate into the platform for protection. And the R-Graph feature helps companies visualize their data estate to identify vulnerabilities and unprotected applications.

"The R-Graph, which gives your data resiliency part, is free for customers. There's no cost to it. Anybody can use it anytime. So I strongly encourage people to get a view on what applications they have with this solution," said Subbiah.
The innovative R-Cloud solution also makes backup development more accessible and simplified with a low-code approach. Developers can build upon HYCU's platform to create a native backup solution catering to their needs. There is no learning curve, and companies can deploy their data protection service within three days.
"I'm proud of the low-code approach for building because when you ask us a full developer or Jira developer to add integration, you cannot expect them to learn all the backup language. It should be simple in that context," said Subbiah.
Helping Customers Detect Data Sources for Management
Before a company can protect its data, it must know the problem exists. With a breadth of coverage that extends beyond 70,000 SaaS applications, HYCU helps users detect and discover where problems lie in their data estates. Subbiah told us a common issue companies face is that they don't know the number of SaaS products they have.
"We want first to help you discover what you already have. So we use Okta to detect all your different SaaS, on-prem, and public cloud services. That's the first part so that they can have intelligence around each of these applications and their data protection," said Subbiah.
After HYCU discovers a client's data sources, it can provide an overview of these SaaS products and whether they have default protection. HYCU auto-categorizes the SaaS solutions into different organization units for companies to manage and describes their protection status. All of the descriptions are also in the language native to the application for easier management.
"Our entire goal is to ensure you don't have to go through a big training exercise. That's the level of simplicity we've been able to accomplish. So in less than 20 minutes of starting, the customer can have the entire data set protected," said Subbiah.
As for its road map, HYCU sets out to provide integration and coverage for more SaaS products. HYCU started with only 10 SaaS applications but has grown its partnerships over the years. In 2023, HYCU plans to work with its partners to build more backup integrations into its code.
"Our goal is not to become the developer of each one of these applications but to get the partners to deliver these integrations. And we have great partners who signed up to build integrations into our code. Our part is to enhance the process for our partners," said Subbiah.