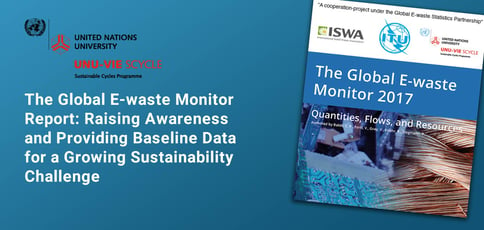 TL; DR: The Global E-waste Statistics Partnership (GESP) is on a mission to collect and distribute statistics on electronic waste across the globe. Its latest publication, "Global E-Waste Monitor 2017," provides a comprehensive look at sustainability challenges related to obsolete or damaged equipment and its improper and unsafe disposal. Moving forward, the partnership, founded in 2017 by the International Telecommunication Union (ITU), the United Nations University (UNU), and the International Solid Waste Association (ISWA), will be publishing the latest edition of its e-waste monitoring report while seeking to provide more in-depth information via regional initiatives.
I've probably gone through three or four smartphones since I purchased my first, the iPhone 3G, in 2008. In most cases, I didn't upgrade because my old device was broken. I just needed a faster-performing piece of hardware to keep up with the latest version of iOS and the apps it supported.
At the same time, I have a few tech-obsessed friends who upgrade to the newest iPhone series with each yearly or even biannual release — for no reason other than to obtain the latest and greatest in technology.
While good credit lines make such rapid device turnover financially sustainable, the process is far from environmentally sustainable. Electronic waste (e-waste) — discarded electronic devices of all kinds — is piling up quickly.
According to The Global E-Waste Statistics Partnership (GESP), North and South America generate an entire quarter of the world's e-waste (11.3 million metric tons), with only 17% collected for proper disposal.
"Only several dozens of countries across the globe have e-waste legislation in place," Ruediger Kuehr, Head of the Sustainable Cycles (SCYCLE) Programme hosted by United Nations University. "We are still substantially lacking data to steer the e-waste challenge toward a more sustainable direction."
GESP was founded in 2017 by the International Telecommunication Union (ITU), the United Nations University (UNU), and the International Solid Waste Association (ISWA) to collect worldwide e-waste statistics, raise visibility on the importance of tracking e-waste, and deliver capacity-building workshops.
In December 2017, the partnership published the "Global E-waste Monitor 2017," an in-depth look at the sustainability challenges related to obsolete or damaged equipment and its inappropriate disposal.
"We engage with companies, other researchers, other UN organizations, and governments, among other stakeholders, to provide the information they need to be better positioned to understand global e-waste data and its relation to sustainability," Ruediger said.
A Collaborative Effort: The Global E-waste Statistics Partnership
Ruediger said he and his colleagues have been working to enable strategic approaches to sustainability since the late 1990s. By the early 2000s, they realized that rising market demand for computers and their final disposal would have a significant impact on sustainability worldwide.
So they gathered information from several experts on environmental effects over the life cycle of a computer. In the process, they found that there was hardly any valuable or robust information when it came to e-waste — which spans everything from phones and laptops to refrigerators, sensors, and TVs. Many of these items contain substances that pose considerable health and environmental risks if not disposed of adequately.
"New e-waste was being generated every day, not to mention the batteries and plugs that came with each device," Ruediger said. "But we needed better evidence to take a strategic approach toward sustainability that could inform decision-making at the highest level."
After some more research, the team determined it couldn't move forward without more data.
"We didn't have a grasp on the magnitude of the e-waste issue because, in the early 2000s, there were no numbers out," Ruediger said. "Everything was anecdotal or focused on the export of e-waste from the Global North to the Global South. This was not robust enough for us."
The result was GESP, which now monitors developments of e-waste over time to help countries produce their own e-waste statistics and inform policymakers, industries, academia, the media, and the general public about the growing issue and how to address it.
A Comprehensive Overview of Global E-Waste Statistics
The "Global E-waste Monitor 2017," a joint effort of UNU, ITU, and ISWA released in November 2017, was one of GESP's earliest and most important achievements. The report shows that e-waste continues to accumulate without proper recycling.
In 2016, the world generated 44.7 million metric tons (Mt) of e-waste — equivalent to nearly 4,500 Eiffel Towers. Of that amount, only 20% was documented and recycled through appropriate channels, with the vast majority undocumented and likely incinerated or dumped in landfills.
Although the number of countries adopting e-waste legislation increased from 2014 to 2017, the report indicates that efforts must be made to implement, encourage, and enforce these measures.
The report also highlights a lack of nationally available e-waste data, with only 41 countries collecting international statistics on the topic. Ultimately, Ruediger said he believes many companies and organizations prefer to avoid the issue altogether.
"There was a hot spot around 2010 when e-waste began to make its way to the political agenda," Ruediger said. "A lot of companies began to bring the topic of e-waste up, but they also began to realize that it's not a very attractive one — nobody wants to speak about waste."
Many tried to focus on enabling a circular economy designed to eliminate waste through the reuse of resources. But even those efforts were often tainted with controversy.
"In places where waste is incinerated to harvest valuables in a primitive way, e-waste recyclers were frequently exposed to toxins," he said. "You would see photos from Africa with children sitting in smoke, and OEMs didn't want to be associated with those."
Encouraging Substantial Changes in the Tech Industry
In 2016, the value of all raw materials present in e-waste was estimated to be worth 55 billion euros (about $60 billion). But Ruediger told us that, despite increased awareness of environmental impacts and economic opportunities inherent in electronic waste, little change has occurred.
"Some companies claim to be more sustainable, but if you look at how their products are produced, what resources go into them, and their end-of-life treatment, the technological changes that could be present are not," he said. "We are awaiting a much more progressive response from companies and global leaders looking to gain a competitive advantage by reducing environmental impact."
There's also very little information on product sustainability from the customer perspective. When buying a computer or smartphone from a sales agent, for example, consumers will typically receive plenty of information on performance but none on environmental impact.
"There is hardly any ongoing, serious consideration of greener purchasing options," Ruediger said. "Of course, these would entail designing machines in a much smarter way, with more components for reuse and an easier recycling process performed at end of life."
Ruediger envisions a shift from the current consumption model to one where consumers purchase the service an electronic product provides, rather than the hardware itself, through the intense use of cloud computing. This would require an interdisciplinary effort.
"Psychologists are, for example, speaking with engineers on how it can be psychologically attractive to move away from pure ownership models," he said. But it's not well-researched, despite the magnitude of the problem."
Searching for Partnerships and Building Regional Initiatives
GESP planned to release an updated edition of the Global E-Waste Monitor in early May but postponed it due to the COVID-19 pandemic and its overtake of the media.
"We plan to release it in June, but one of the key findings is that performance globally in comparison to our report two years ago is not very impressive," Ruediger said. "We are not making the progress we are supposed to. If we continue like this, our forecast for 2050 is that 110 million tones will be generated per year globally."
The partnership will also focus on using its site, globalewaste.org, to promote in-depth regional e-waste monitoring efforts. The group currently provides such services for the post-Soviet states, Latin America, and Arab countries.
"We would also like to work with the U.S., Canada, and Mexico, but it is not an easy goal," Ruediger said. We are ready to do it, but we need partners and financing. This is important because North America is in urgent need of an overview of its e-waste challenges."