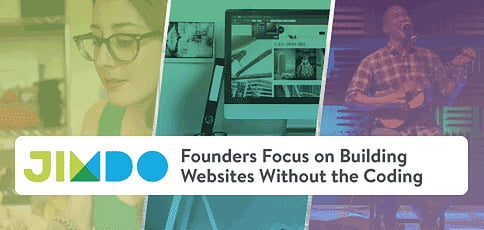 TL; DR: The team at Jimdo believes the most important website in the world is the one you create with their site builder. In a few minutes and a couple of clicks, anyone can make a professional looking website, online store, or blog — with no coding required. From a Hamburg-based artist who makes jewelry out of used skateboards to two brothers reinventing the Bronx's image, the global company showcases the success individual users are creating for themselves through the Jimdo platform. With everyone from a Co-Founder and the Chief Technology Officer to individual Jimdo users chiming in, we have Jimdo covered from top to bottom.
Maurice Schadowske wore glasses as a kid, so it was no surprise when he decided to become an optician and make glasses for a living. The surprise came later, when he turned his appreciation of colorful plastic frames into a modern, funky line of jewelry made of the same materials.
The epiphany continued when a friend asked Maurice to craft a ring out of his old skateboard deck. Maurice was immediately fascinated by the seven layers of maple that appeared as he sanded and shaped the skateboard.
Maurice launched his Pauli Bird jewelry line in 2015, working alone out of a small garage in Hamburg, Germany. Without any previous web design experience, he created an online store with Jimdo's easy-to-use site builder — and a brand was born.
With Jimdo, all you need to create a website is a cup of coffee, some good music, and your creativity. Customers can choose their own adventure, with 39 templates and more than 100 variations with which to experiment.
Jimdo's do-it-yourself platform exists to make customers the stars of the show, according to Head of International Teams Eila Lifflander. The Jimdo marketing team heard of Maurice's success and asked him to share his story in a TV commercial.
"He had to hire 10 people because he got so successful," Eila said. "He was contacted by the local newspaper, and he was also in a TV program, so now he's a big superstar. We're trying to really focus on our customers and show them as the heroes of the story."
The Jimdo Journey: Founders Go from Farmhouse to Major Investment
Co-Founders Fridtjof Detzner and Christian Springub started making websites while still in school and decided to start their first agency when they turned 16. Matthias Henze joined the team shortly after, and the business continued to grow. The trio built hundreds of websites, but the sites all started to look the same. The feedback also started to sound the same — "This website is great, but I wish I could build my own. If only the coding part wasn't so difficult."
Their solution was a content management system that would make life (and web design) easier for themselves and their customers. Fridtjof, Christian, and Matthias moved into an old farmhouse owned by Fridtjof's parents in Northern Germany, and developed the first version of their program.
They formally launched Jimdo in 2007 after sitting around a fire with a case of beer and throwing out random words and sounds trying to land on a name.
"It needed to be international, short, and catchy," said Eila, who would join the company a year later. "Most importantly, all the domains needed to be free."
The Model Entrepreneurs: Founders Wait for $28 Million Investment
Jimdo raised only 500,000 euros (a little more than $570,000) for their initial capital, but the lean company was able to start turning a profit two short years later. A German Internet services company acquired a 30 percent stake in 2008, but the Jimdo Co-Founders bought back the shares a year later.
For several years, the Co-Founders declined other opportunities to bring on investors, before receiving a minority investment of 25 million euros (slightly more than $28.5 million) from US-based Spectrum Equity.
The Jimdo leadership team spent more than four years getting to know executives at Spectrum Equity before accepting the investment. TechCrunch calls Jimdo's strategy of raising only what is needed at the most favorable terms and times a "classic move which many entrepreneurs could learn from."
"It took us a while because it was very important for us to find the right investors," Eila said. "We have a very nice company culture here, so we expect the same from our customers, our partners, and also from our investors."
The World Travelers: Jimdo Expands Around the Globe
Before the investment, Jimdo had managed to scale globally, with offices in Hamburg, San Francisco and Tokyo enabling users to create more than 15 million websites in eight languages.
A major priority for Jimdo, according to Eila, is to hire native speakers to the various support teams. "We really try to be very local," she said. "We want to offer our services as if we were in the country of the customer."
Maria Tarasova, part of Jimdo's International Public Relations team, said Jimdo-created websites exist in 192 countries. To put that in perspective, the United Nations and the US Department of State recognize 195 countries globally.
"Maybe we're not in places like North Korea, no, but we're pretty much everywhere else," she said with a bit of a laugh.
Evolution of Jimdo: Togetherness, Growing Pains, & Transparency
Eila joined Jimdo as a student worker in 2008 and didn't plan to stay long. "I was actually planning to do something totally different, but then I fell in love with the company," she said.
Even though Jimdo's employee ranks grew from 20 to upward of 250 today, the gung-ho startup atmosphere stayed the same — and she expects the culture to stay that way whether the company has 1,000 employees or more.
"The thing that has been nice here is that the Founders really care about the company," Eila said. "We want to come to work every day, and we enjoy our work."
Togetherness: Jimdo Employees Find Room to Grow
Both Eila and Maria started at Jimdo with temporary, entry-level jobs that likely will become lifelong careers.
"If the ideas are great, you will always find people to support you here," Maria said. "Others will help you along the way and fuel your growth. You're going to be proud of the job you're doing. To actually be satisfied with what you did at the end of the day, that's awesome."
Growing Pains: Jimdo Communication Habits Adapt as Ranks Grow
As Jimdo experienced exponential growth, their leaders tried to balance the need for structure and organizational communication without hampering creativity.
"At the beginning, we were living on one floor, so it was really easy to communicate with everyone," Eila said. "Right now, we have five or so floors, and then we still don't have much space here so we have to go to another building sometimes."
Transparency: Jimdo Founders Still Seek Employee Input
Fridtjof, Christian, and Matthias aren't tucked away in a corner office. Everyone can talk to the Founders as they walk the floors, according to Eila, who added that the trio make themselves available to veterans and new hires equally.
"You're never afraid of giving them your ideas or feedback," she said. "Everyone works with a lot of passion for the company, and the Founders want to make sure that everyone feels invested."
Jimdo Asks: Is Web Design Easy Enough for My Mother?
From the start, Jimdo's Co-Founders sought to make a system for people with zero coding ability. According to Eila, everything needs to pass the "Would my mother understand this?" test. She says she finds the most reward when people in their fifties and sixties come in afraid of the technology but overcome the barrier and create something they're proud of.
When it comes to the Founders, Fridtjof said it was impossible to choose just one feature with which he was most satisfied. "I'd say that what I'm most proud of is how easy and intuitive it is for our users to build a website with Jimdo," he said. "When we first started Jimdo, our main goal was to create a website builder that anyone could use, and I'm happy to say we've done just that."
Support, Resources, & Meetups Allow Users to Form a Community
With the company so focused on customers and their success, Eila said Jimdo's live support is a key advantage in the site-builder game. In addition, Jimdo teams organize user meetups and even held a user conference at their main offices. Online, users can find webinars, handouts, video tutorials, and a blog dedicated to helping users capitalize on every component Jimdo offers.
"It's really easy to add new text or change a headline, but the thing that most people don't know is how to really create an effective website and position it on Google," she said.
Jimdo support teams urge users to take advantage of the included SEO tools and offer tips on logo placement, keyword usage, and more.
"We not only want to answer the questions that they ask, but we also want to be a little more proactive and give them tips about how their sites can be even better," Eila said. "We're trying to communicate this human part to remind them that, yes, there are humans behind this company."
Mobile Offerings Enable Customers to Create & Edit from Anywhere
In addition to Jimdo's templates being optimized and responsive, users can edit and create sites from smartphones and tablets as well. With companies such as Apple and Google featuring the Jimdo platform, Maria said there was a feeling that Jimdo was "disrupting the area" when the company launched its iOS app in 2013 and Android app a year later.
"It was amazing to feel so innovative," she said. "We want people to have access to their website everywhere and be able to make basic edits on the go."
With so many environments, Chief Technology Officer Boris Erdmann says Jimdo developers use a variety of languages: PHP, Ruby, Python, Java, JavaScript, Go, Swift, and others.
Jimdo Saves Users Time and Money — Putting the Focus on Creativity
The users-first company showcases their customers' websites and successes throughout the Jimdo website. For example, Paul and Anthony Ramirez use Jimdo for their two sites that boost the image of the Bronx. The brothers sell Bronx-themed merchandise, host community events, and showcase local artists and brewers at the Bronx Beer Hall.
Anthony said he appreciates Jimdo for the ease of tracking inventory, communicating with customers, and lowering their costs. Because they don't have to spend a lot of time and money on the websites, they can devote the resources to the organization itself.
That feedback echoes what Fridjof hears from users around the world, like Paul and Maurice, Fridtjof said. "It's amazing to see all the wonderful websites they've created and inspiring to learn about the successes they've achieved."
Advertiser Disclosure
HostingAdvice.com is a free online resource that offers valuable content and comparison services to users. To keep this resource 100% free, we receive compensation from many of the offers listed on the site. Along with key review factors, this compensation may impact how and where products appear across the site (including, for example, the order in which they appear). HostingAdvice.com does not include the entire universe of available offers. Editorial opinions expressed on the site are strictly our own and are not provided, endorsed, or approved by advertisers.
Our Editorial Review Policy
Our site is committed to publishing independent, accurate content guided by strict editorial guidelines. Before articles and reviews are published on our site, they undergo a thorough review process performed by a team of independent editors and subject-matter experts to ensure the content's accuracy, timeliness, and impartiality. Our editorial team is separate and independent of our site's advertisers, and the opinions they express on our site are their own. To read more about our team members and their editorial backgrounds, please visit our site's About page.