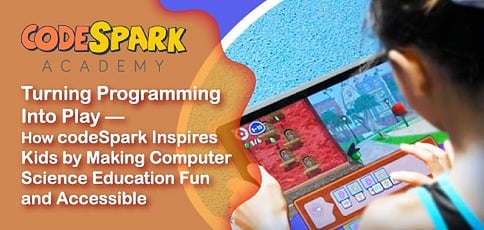 TL;DR: By teaching children as young as four years old how to create their own superheroes and games, codeSpark enables kids to learn how to code — even before they can read. More than 25 million kids have accessed the app, which uses games, entertaining characters, and creative exercises to foster curiosity and inspiration. Co-Founder and CEO Grant Hosford chatted with us about how codeSpark aims to close the tech gender gap, how the app resonates with the way kids learn, and how partnering with teachers makes the app even better.
When Grant Hosford visited his 6-year-old daughter's LEGO robotics camp in 2013, a few things surprised him. For starters, she was the only girl out of 24 children. She was also the youngest — by four years.
"The content really was for older kids," Grant said. "She didn't totally understand what was going on. She thought it was fun to build the robots, but she wasn't really understanding the programming."
His biggest surprise, however, came when Grant looked for a basic primer to give his daughter more context about coding — and discovered that nothing like that existed.
Already thinking in startup mode — he was working for startup studio IdeaLab at the time — Grant found research from Tufts University and the Massachusetts Institute of Technology showing that children as young as 4 can be taught the logical thinking behind programming languages, especially if you take away the keyboard, mouse, and syntax.
With development help from Co-Founder Joe Schochet, codeSpark launched in March 2014 and provides a platform for children ages 5 and up to learn the basic principles of coding. Programming with codeSpark is completely word-free, so students of all language abilities can benefit. Children learn to solve puzzles and build games with friendly cartoon characters named The Foos.
"It just made sense that we would be teaching computer science the way we teach language and math," said Grant, codeSpark's CEO. "You don't want a 5-year-old worrying about where her semicolon goes in her loop function. That's not exactly what you're trying to accomplish, but the basic concepts still resonate."
Computer Science in a Kid-Friendly Package
Coming from a family of educators (his dad and brother are high school principals, and his mom is a high school teacher), Grant naturally honed in on what would make the best educational experience for children.
"What we like to do is look at game mechanics we know kids love, such as nurturing pets, creating games, and racing," he said. "Then, we think carefully about whether coding could be added to it in a way that would make sense. We see ourselves as needing to win the right to teach them, to have content that's interesting enough that they want to explore it further and further."
Inside the app, there is a mix of structured puzzles to solve based on a well-defined curriculum that serves as a lesson in coding principles. Then, students can jump to more free-form, creative activities where they can apply the lessons they've learned.
"To us, it's really critical that kids can bounce back and forth between those two," Grant said. "They learn a few things, they put them to work in a creative environment, and then they want to learn more, and they bounce back to the puzzles."
Throughout the learning experience, codeSpark focuses on repetition and practice, which are particularly effective learning styles for many children. By removing certain parameters, according to Grant, the learners have more freedom to explore the programming concepts.
"They tend to use the knowledge in ways that are more sophisticated than you would expect," he said. "We always try to be really careful about not introducing too much too quickly, but we also don't want to underestimate what the kids will ultimately do with what we give them."
Encouraging Young Girls to See Themselves as Coders
Inspired by what he saw in his daughter's LEGO robotics program, Grant is determined to help close the technology gender gap and motivate girls interested in coding.
"Especially with my girls, I had become very aware that if you can't see it, you can't be it," he said. "I wanted to make sure they had a positive exposure to computer science before somebody told them it wasn't for them."
With a 50/50 split of boys and girls among its young users, codeSpark evens the playing field in a number of strategic ways, including featuring "kick-butt" female characters, as Grant put it.
"The first character you see is a girl," he said. "They're ninjas and astronauts and policewomen and cool things that any kid would want to be. Boys really either don't care or think it's cool, but girls notice immediately. They're not used to seeing themselves in video games."
Game mechanics are another important area where codeSpark pays attention to gender differences. Although not all girls and boys play alike, each gender tends to have specific ways they prefer to learn and play.
"There are girls who play like boys and boys who play like girls," Grant said. "When you look at boy behavior and girl behavior on average, however, there are patterns. They tend to prefer different types of games, so we made sure there are meaningful choices within the app around those different things that boys and girls prefer."
Even Playing Ground Overcomes Income and Language Barriers
Designing a visual interface that teaches programming principles without words allows codeSpark to cater to kids who haven't yet taken to reading.
"We were thinking about the age of kids we're trying to reach, and many of them either don't read well or don't want to read even if they do read well," Grant said. "Plus, it removes any language barriers. We wanted the app to be international from Day One."
Children with dyslexia and ADHD also do well with the word-free app — an unintended benefit that Grant said the company will research further to discover how it can further optimize that audience's learning experience.
"Our goal is to connect as many kids from as many backgrounds as possible with as many styles of learning to a high-quality early coding education," he said.
In their attempt to reach a wide range of children and families around the world, Grant said the codeSpark team quickly discovered what game elements resonated universally.
"We use silly characters, very active scenes, and fun commands," he said. "You can make your characters make silly sounds, including burps and farts. It turns out, if you let a 6-year-old loop a burp noise, they learn what a loop is really, really fast."
Partnering With Educators to Make Programming Accessible
Input from both students and teachers is valuable for codeSpark, Grant said, as the company relies on the feedback to guide its efforts. User testing plays a big role whenever the team develops new ideas.
"We definitely listen to our users," Grant said. "There are elements of the game and characters in the game that were suggested by them."
This inside knowledge has empowered codeSpark to offer free access to the app for schools and provide additional support to teachers with supplemental curriculums. Teachers can log in to a dashboard to access the materials, track student progress, and control what students can access.
"We believe that the more we support public school teachers in terms of bringing coding into classrooms, the better off schools will be and the better it is for us long term," Grant said.