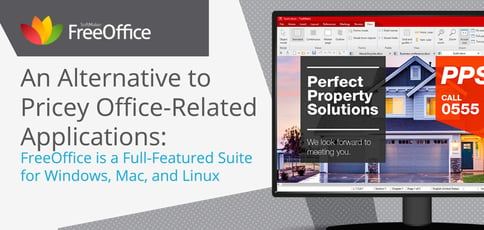 TL: DR: SoftMaker's FreeOffice 2018 is a robust software suite that includes a word processor, spreadsheet application, and presentation program. The Microsoft Office-compatible tools, intended for use at home and on the job, are available as a free download for Windows, Linux, and Mac users. Commercial users can easily upgrade to the intuitive SoftMaker Office suite for a competitively priced alternative to Microsoft Office featuring additional power-user features and seamless compatibility.
Picture this: You've just purchased a shiny new laptop from the Microsoft Store. It features all-day battery life, incredible graphics, and a ton of storage — all of which cost you a pretty penny, especially after factoring in taxes.
You get home, eager to play with your new toy, and remember there's something else you have to buy: Office 365. Purchasing a subscription means you'll have to fork over $6.99 monthly — for as long as you use the suite.
Add that to your existing subscription money pit — Hulu, Netflix, Audible, your gym membership, etc. — and you'll be lucky to have any funds left at the end of each month.
Fortunately, there's another option in no-cost office suite solutions like SoftMaker's FreeOffice 2018. The comprehensive software collection, available as a free download for Windows, Linux, and Mac users, frees consumers from the constraints of yet another subscription fee.
"The main purpose behind FreeOffice is to offer the everyday home or business user the tools they need to complete office tasks," said Niklas Pulina, Product Manager at SoftMaker. "It's a full-featured office suite containing a word processor, a spreadsheet application, and presentation software. Everyone can download and use it as long as desired at no cost."
Some free office solutions are a pain in terms of compatibility issues with Microsoft Office — but FreeOffice isn't one of them. The software cooperates with Microsoft Office's standard formats, making collaboration with others a breeze.
Users who fall in love with FreeOffice but ultimately desire an even more robust solution have the option to upgrade to SoftMaker Office suite, a competitively priced alternative to Microsoft Office.
A Customizable UI and Compatibility with Microsoft Office
SoftMaker, based in Germany, has been developing office-related software since its inception in the late 80s. Today, its flagship suite includes TextMaker, a word processor; PlanMaker, a spreadsheet application; and Presentations, a slideshow program.
The release of FreeOffice 2018 brought several new features to the software bundle. For the first time since its original release, SoftMaker's free version includes complete support for Microsoft's standard file formats: DOCX, XLSX, and PPTX. Users can now open and save files with these extensions, eliminating the need for prior conversions.
"Compatibility with Microsoft Office, including our native use of Microsoft formats, is one of the key features of our office suite," Niklas said. "The other aspect that is especially attractive to me is the user interface."
SoftMaker FreeOffice 2018 also delivers an improved user experience through a redesigned interface that enables users to choose between a modern ribbon-based layout and classic menus and toolbars.
Users who are hesitant to try the ribbon mode can rest assured that they can still access the classic version via a special menu. Regardless of the style chosen, users have access to several dropdown features and template collections intended to simplify the creation of detailed documents. For example, users can add complex numbered lists, headers, and footers to a TextMaker file with just a few clicks.
As with previous editions, the free office suite covers all the essentials offered by a professional paid solution. TextMaker 2018, for example, empowers users to create complex documents with customized images, graphics, headers, footers, and tables, among other elements. It also includes the option to export the document as a PDF or the e-book file format EPUB.
PlanMaker 2018 includes everything the average user needs for calculations, tables, and charts, and Presentations 2018 now allows users to design unlimited slide layouts that can be populated with customizable placeholders.
In 2019, SoftMaker introduced an update to FreeOffice 2018 in honor of the company's 30th anniversary. The update provided compatibility with Microsoft Office 2019, improved user-friendliness, added new word processing features, and provided additional features for spreadsheets.
Upgrade to a Commercial Solution with SoftMaker Office
Niklas told us the majority of SoftMaker customers start out with FreeOffice before transitioning to SoftMaker Office, the company's competitively-priced for-purchase product. "Our paid version is essentially the free version plus additional power-user features," he said.
Unlike FreeOffice, SoftMaker Office includes an extended sidebar, a full-screen mode, a thesaurus, a built-in file manager, advanced backups, and smart guides, among many other features.
To celebrate its 30th anniversary, SoftMaker released a free anniversary update of its commercial solution that added numerous perks. As with the anniversary update for FreeOffice, this edition introduced seamless compatibility with Microsoft Office 2019, guaranteeing users can open, display, and save any Microsoft Office document.
In addition, the company significantly extended functions for image scanning, including a new integration with Windows Image Acquisition (WIA) that allows users to scan multiple pages in one step. The anniversary update also introduced a keyboard shortcut for the format painter tool, allowing SoftMaker Office users to apply complex formatting specifications more quickly than ever.
But that's not all: The update also provided new features specific to individual programs designed to enhance the user experience. The SoftMaker Office version of TextMaker received the latest version of the German spelling and grammar checker Duden Korrektor, as well as an option for printing selected text. The paid version of PlanMaker was also updated to include an experimental import of OpenDocument Calc files and the option to calculate with rounded results.
Technical Support and Ongoing Development Efforts
When it comes to product development, Niklas said SoftMaker collects user feedback via an input form as well as a discussion forum, which it reviews to inspire future innovations. "We always listen to our users — their opinions are extremely valuable in determining what should be included in our updates," he said.
Users can also leverage the discussion forum to post questions and bug reports for FreeOffice software, as no support is provided. Email support is, however, included with SoftMaker Office, the company's commercial software.
In addition to continuous updates, SoftMaker provides all users with a new free font every month, plus tips on everyday computer use via "Bytes and Beyond," a blog authored by German computer journalist Gerald Himmelein.
Ultimately, these perks, combined with powerful and competitively priced software, are intended to put SoftMaker software in a class of its own. "Between our intuitive user interface, seamless compatibility with the Microsoft Office file formats, free benefits, and lightning-fast applications, we're providing an unbeatable value proposition," Niklas said.