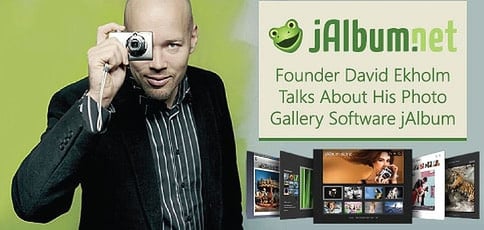 TL; DR: After a skiing adventure in 2002, developer David Ekholm was frustrated by the limited options for sharing his trip photos with friends. He experimented with existing photo sharing software but quickly opted to build his own: jAlbum. David's software now powers the photo galleries of more than 30 million websites worldwide. With customizable galleries, jAlbum gives users full control over workloads. Their hosted and downloadable license options and flexible tools make jAlbum a great fit for designers, developers, and, really, anyone wanting to share photography online.
By the early 2000s, digital photography had become a widely popular medium for photographers to capture images. However, the technology to easily share photos online had not yet caught up to the technology used to take them. Burning images to CD-ROMs or using clunky online mechanisms that didn't allow customization were essentially the only options available.
Photographers needed a solution that would allow them to tailor and present their images to audiences on the web, and David Ekholm figured it out when he founded jAlbum. His software allows users to create professional online photo albums that can be easily embedded into any website. David wanted his solution to be customizable and straightforward so it could benefit the broadest array of users.
Today, more than 30 million websites employ galleries powered by jAlbum. The software's popularity among businesses, designers, developers, and amateur or professional photographers is a testament to its flexibility, security, and portability. And jAlbum's hosting solution allows those without their own websites to share photos and videos on their own customizable platforms.
Digital Photo Gallery Software Aimed at Ease of Use & Customization
It all began in 2002 when David went on a ski trip with 12 of his friends.
"I had a newly purchased digital camera storing about 120 images from our trip that I promised to hand over to them," David said. "I realized there had to be a better way than burning CD-ROMs and sending them via snail mail."
David had a website where he thought he could place the photos for his friends to download, but he quickly ran into problems trying to find an acceptable piece of software up to the task.
"I downloaded 10 to 15 titles, but I got stuck in half of them," he said. "That was very provoking for me. My mother can get stuck in Word, but, as a developer, I didn't expect to get stuck in that basic software. Some turned out to be very complicated, and the ones I could get along with, I couldn't make very basic customizations."
That's when David rolled up his sleeves and used his years of experience as an online gaming developer to create something better.
Initially developed as freeware, jAlbum quickly took off, and David knew he had something big on his hands. People were finding the software was easy to use and a way they could customize online galleries, a novel combination at the time.
"When I released the software, I was running my website under my desk at the gaming company," he said. "It soon flooded their network, so I had to move it to network servers to handle download. It was very popular, and that's when I knew I was on to something."
How Businesses, Creatives, Developers, & Hosts Benefit from jAlbum
There really is no defined target user of jAlbum, and that's due to how their different plans are set up and the flexibility of the software. Users with their own websites or hosting platforms can opt for the Standard or Pro license. Those who need hosting services can sign up for the Premium or Power accounts, and both the Pro and Power options contain commercial use capabilities.
The plans are based on need and can be effectively used by professional designers, developers, and even parents looking to share photos of their kids. For hosting companies wanting to upsell customers, jAlbum is an attractive partner offering added value to any hosting package.
Businesses and Creative Industry Individuals Can Customize and Share Their Work
The jAlbum software gives users the ability to build and tailor albums to individual specifications, making it very popular with those in the creative field.
Bo Brandsborg has been using jAlbum for years as a platform from which to share his photoblog, which is a great example of the software's customizability. Bo chose to present photo galleries on his site in multiple formats. Some of his albums present viewers with clickable thumbnail galleries, while others give full-sized photo slide shows.
The hosted plans are popular with sports clubs and other topic-oriented groups looking to share photos with a community.
"A common user we have are kids sports clubs that share weekly activity," David said. "Parents can actually make galleries offline from the field and connect to the Internet when they have Internet availability."
Developers Benefit from Flexible Integrations and Portability
The downloadable license jAlbum offers allows developers to manage everything offline. Photos can be uploaded and galleries customized offline, and once they're ready to go, users simply embed a line of JavaScript into their sites.
"Being a downloadable client with not just the web service, we allow total offline usage of the software," David said. "That is a unique selling point for us."
David told us many of jAlbum's customers are professional developers running websites, so it's natural for them to opt for the downloadable licensed version. The software allows users to display a large number of images on a regular basis, and the software makes it convenient to manage this high volume by supporting deep hierarchies of folders.
Again, David stressed customizability as the #1 feature that sets jAlbum apart from the pack.
"Competitors sometimes offer different themes, a white gallery or a black gallery, for example, but they're just variations of the same functionality," he said. "With jAlbum, each theme is actually a software within the software. We have about 160 themes, so there is no feature we don't provide."
The software comes with numerous integrations that further its flexibility.
"If you go on a trip and want a Google Maps integration to show where you've been with a pin, we have themes that provide that," David said. "If you like a fullscreen slideshow with background that uses Ken Burns transition effects, there is a skin for that."
There are integrations with PayPal and a shopping cart solution for developers building sites for commercial purposes.
Furthermore, all galleries created with jAlbum are portable. If users want to move their albums to another service, they can do so without starting from scratch.
Web Hosts Can Partner with jAlbum to Offer a Robust Marketing Tool to Customers
Hosting companies can find an effective partner with jAlbum. The software's tools automatically optimize images for the web, so user sites are sure to load fast.
"We accelerate the use of any hosting solution, not just ours," David said. "We're really a natural partner for any hosting company around the world. They like accelerated use of their service so they can sell larger hosting plans, and our software is a solution for that."
Going forward, David aims to explore expanding partnerships with hosts around the world to help them market their services to consumers. David plans to grow his own marketing efforts to accomplish this.
Copyright Protection Features Secure the Integrity of Content
Security is always top-of-mind for people uploading content to the web, especially when it comes to their creative work or precious photography. Those hosting with jAlbum can rest assured that their assets are, literally, bomb-proof.
"We have storage facilities in Stockholm where we host 30 meters below the ground in an atom-bomb-proof ex-military shelter," David laughed. "So, it's designed to withstand a direct hit."
The software does more than protect against air raids, though. Users can watermark images with logos, place copyright notices in image metadata, and disable right-click saving abilities.
David stressed that jAlbum is a totally distributed solution, which is another important layer of protection offered by the software.
"The challenge is to reach out to let customers know they shouldn't put all their eggs in one basket," David said. "People who upload all of their content to social media sites, like Facebook and Instagram, run the risk of running into changing terms and conditions, copyright infringements, and other security problems. We value the integrity of your images, so you don't store everything in one location."
On the Horizon: Improved Responsive Design & Entering the Retail Space
Back in 2002, David saw the technological gap between taking photos and sharing them and addressed it by creating a comprehensive online gallery solution that benefits a wide variety of users. His software solution presents a success story, but it doesn't end there.
The future looks bright for jAlbum with continued improvements and further reach. David noted that upgrades to the software's responsive design are underway. New skins are being developed that focus on responsiveness and integration, and David aims to make jAlbum more readily available with a move into the retail market.
"When a customer purchases a camera, it should be a natural thing to also purchase a jAlbum license," he said. "Anyone with a camera can take advantage of the software's customizations, features, and integrations."
Advertiser Disclosure
HostingAdvice.com is a free online resource that offers valuable content and comparison services to users. To keep this resource 100% free, we receive compensation from many of the offers listed on the site. Along with key review factors, this compensation may impact how and where products appear across the site (including, for example, the order in which they appear). HostingAdvice.com does not include the entire universe of available offers. Editorial opinions expressed on the site are strictly our own and are not provided, endorsed, or approved by advertisers.
Our Editorial Review Policy
Our site is committed to publishing independent, accurate content guided by strict editorial guidelines. Before articles and reviews are published on our site, they undergo a thorough review process performed by a team of independent editors and subject-matter experts to ensure the content's accuracy, timeliness, and impartiality. Our editorial team is separate and independent of our site's advertisers, and the opinions they express on our site are their own. To read more about our team members and their editorial backgrounds, please visit our site's About page.