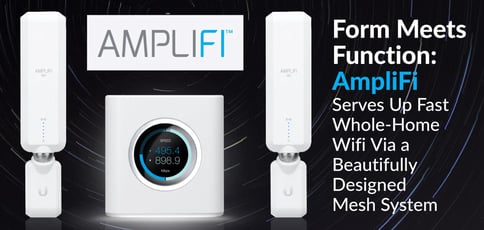 TL; DR: AmpliFi, the consumer brand of networking equipment provider Ubiquiti Networks, is on a mission to improve home wifi coverage and performance through area-spanning MeshPoints. Setup is a snap using the AmpliFi app, which guides users through a quick and seamless configuration process. Now, with a low-latency AmpliFi Gamer's Edition, the company is offering specialized options to stay connected.
In modern homes outfitted with robovacs, smart assistants, and self-learning thermostats, you wouldn't expect something as fundamental as the internet to fail periodically. But, time and time again, it does — usually during a pivotal moment in your favorite Netflix series.
The problem, according to Malia Brady, Brand Communications Lead at AmpliFi, is that we're expecting too much from traditional routers.
"The solutions that are on the market right now leverage just a single router," Malia said. "It may be a very strong router, but if it's sending signals through concrete walls, then you're not going to get adequate reception in the areas where you need it the most."
Rather than broadcast wifi signals from a single point, innovative mesh systems like AmpliFi eliminate dead zones through multiple access nodes, providing ubiquitous coverage throughout the home.
AmpliFi, in particular, uses multiple self-configuring radios and advanced antenna technology to deliver high-performance connectivity with a range of up to 10,000 square feet. The robust connections can handle the tech demands of the modern home, such as 4K streaming, gaming, video chats, and home networks.
And, although the system is advanced, you don't have to have a networking degree to enjoy enterprise-level wifi. Setup is simple with the AmpliFi app, which guides users through the process within minutes.
Users also have the flexibility to strengthen wifi signals in the areas of the home where they need them most. For those focusing on video games, AmpliFi's new Gamer's Edition even offers the specialized, low-latency solutions gamers need to stay connected. With customized solutions like this and ongoing plans for development, AmpliFi aims to streamline our increasingly digital home lives.
A Powerful Wifi System for the Connected Home
AmpliFi was created as a consumer offshoot of the enterprise wifi communications provider Ubiquiti Networks in 2016. At the time, Ubiquiti Founder and CEO Robert J. Pera was eager to explore how the mesh wifi technology used in high-brow networking schemas could be extended to the home experience.
"He knew it could really help within the home setting, so he gathered some of his best developers together with the plan to introduce high-grade wifi to homes — and that's how AmpliFi came about," Malia said.
The resulting AmpliFi Mesh Wi-Fi System includes a router base station and two wireless mesh points to ensure maximum home coverage. The AmpliFi HD Mesh Router was created for both aesthetics and ease of use, with a minimalist design and an intuitive touchscreen display that allows users to view their network status, monitor speeds, and check the current time and date. It can be used as a standalone router or paired with the AmpliFi MeshPoint HD to expand coverage and eliminate dead spots throughout the home.
As homes become increasingly connected through smart devices and the IoT, Malia said the internet has essentially become a utility. "Everyone has a smartphone, a smart TV, an iPad, all sorts of connected devices — and it's our job to make sure the technology we're providing allows people to seamlessly connect all of those devices to wifi with no lag time," she said. "We're always working to ensure that our wifi is really powerful."
The AmpliFi App: Designed for a Streamlined User Experience
In addition to uninterrupted service, today's customers demand an easily accessible and hassle-free user experience. AmpliFi created its customizable app with that in mind, ensuring users can manage their wifi from home and remotely using just a smartphone.
With quick setup and configuration plus automatic updates, the app makes it easy to keep track of which devices are connected to your network, get throughput readings, and test your ISP speeds.
"A lot of routers on the market today look like dead spiders that just kind of blink at you, and you're like, 'I don't know what's going on,'" Malia said. "But AmpliFi is great because we provide the interactive touchscreen on the device plus the app to diagnose problems and provide the information you need."
The app also features the ability to manage guest access for a specified time period without sharing your password, prioritize wifi clients based on internet usage needs, and remotely manage your system through Google or Facebook. Parents will especially appreciate the app's ability to define user profiles, configure parental controls, and disconnect internet access for defined users during certain hours (like when you're hoping the kids will go to sleep so you can finish that Netflix binge).
"Even more importantly, all of this can be done without headaches," Malia said. "The system and app are very plug and play," she said. "You just plug in the router, and you'll be able to navigate it and the app intuitively — you don't have to be a network specialist to use it."
The AmpliFi Gamer's Edition: Low Latency, High Performance
The video game market continues to balloon, and it doesn't seem to be slowing down anytime soon. According to Nielsen, 64% of the U.S. population considered themselves gamers in 2017. Furthermore, a 2017 Statista study indicated that 22% of those self-identified PC gamers spent 61% to 80% of their time on online multiplayer games.
To that end, AmpliFi recently changed the game in the most literal sense with the introduction of its new AmpliFi Gamer's Edition, built specifically to optimize streaming performance. The system comes with a built-in GeForce NOW QoS mode developed by Ubiquiti with the support of NVIDIA. The mode helps deliver lightning-fast network speeds and ensure low latency, even when there's heavy traffic on the network.
"We recognize that different people have different needs with their wifi," Malia said. "There was an especially good opportunity to customize the device for the growing gaming industry, and we wanted to make sure that it was really powerful and customizable, however you're gaming."
The AmpliFi Gamer's Edition can be configured in two different placements — either in the middle of the home to ensure exceptional performance in any room, or in a row, expanding your signal across the home. And, as with all of AmpliFi's systems, users can easily add additional mesh points throughout the house to expand coverage as needed.
"We feel like it's a very scalable system that's also really powerful and easy to use," Malia said.
Customizable Solutions and Ongoing Development
Malia said the company relies heavily on users to inform its product development road map, whether those users come from the AmpliFi or Ubiquiti side of the businesses.
"There is a lot of testing that goes into adding new features and putting new ideas into production," she said. "We always rely on our user community for feedback on what's working for them, the problems they're experiencing, and what they need."
AmpliFi is already ahead of the curve compared with traditional, Netflix-disrupting routers, and it plans to stay that way through continual development
"There will always be new wifi products introduced, and we'll always be working on new products to remain ahead of the curve when it comes to helping people stay connected," Malia said.