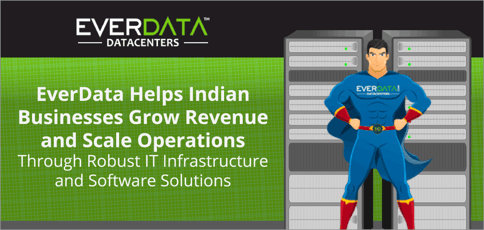 TL; DR: During its decade in operation, Indian web host EverData has seen its share of changes in the region. Back in 2009, few businesses in the country were familiar with cloud hosting, but EverData started delivering cloud service long before other hosts did. And that commitment to staying ahead of expectations in the shifting marketplace has earned EverData customers and accolades. Not only does the company listen to feedback from clients, but it also continually performs market research to offer the most cutting edge features, software, and apps.
In 2009, Indian businesses typically hosted their websites with providers outside of the country. And even as the Indian web hosting industry started to gain traction, many companies still needed to be convinced to host in their home country.
"At that time, it was a new situation," said Naseema Fazalullah, Customer Relationship Manager at EverData, a hosting provider based in Jaipur, India.
Over time, as Indian web hosting companies became more established, more businesses became interested in keeping their websites within the country. Now, India is experiencing an unprecedented online boom, and EverData is preparing for the future.
The country's internet usage is predicted to increase from 250 million users to 1 billion users over the next decade. And in that time, countless more ecommerce businesses will need hosting services.
To meet that expected influx of businesses, EverData has developed an India-first approach. That's why the company built Rajasthan's first Tier III datacenter and developed Hindi Cloud, the first cloud solution translated into Hindi.
As the company notes, this Hindi-translated cloud service "provides data sovereignty to Indian businesses and organizations by enabling them to host and keep their mission-critical data in India and away from international governments and corporations."
EverData can also help clients of any size scale their businesses — from SMEs to corporate customers.
"We have small-scale customers who look for domain registration and hosting, but we also have much larger customers, as well," Naseema said.
From Colocation to VPS: Offering a Diverse Range of Services
Over its decade in operation, EverData has diversified its offerings to stay ahead of the changing IT marketplace. And one of the biggest trends has been a shift to the cloud.
"Now, clients are focusing on cloud-based servers," Naseema said. "Before, they were not aware of the cloud, but the demand for cloud hosting has increased exponentially."
To meet this need, EverData provides a variety of plans and options. One is its cloud VPS hosting, which allows companies to retain control of their web servers, mail servers, and apps without needing to maintain hardware. Clients can choose between full or half racks, depending on their needs.
A full rack of servers offers 3kVA of power and 2500GB of bandwidth. If clients need only one, two, or five servers, they receive 50GB, 300GB or 1100GB of bandwidth, respectively.
But no matter how much space clients need, they still receive live chat, phone support, and 24/7 monitoring included in their plan.
"We have a datacenter in Jaipur, so we are into colocation," Naseema said. "We have a lot of corporate customers who prefer cloud service on uninterrupted servers."
EverData offers cloud packages, dedicated servers, VPS, corporate hosting, colocation, and business solutions, including SSL and security options. And the company helps Indian entrepreneurs with both simple and complex services — from those looking for server space to clients who need comprehensive packages with applications and software.
Preparing to Meet Customer Needs Before They Arise
One of EverData's core missions is to develop a customer feedback loop that can predict trends before they arise. If a customer has a concern, the company aims to address it and ensure that no one else experiences a similar issue.
"We take feedback very seriously," Naseema said.
To that end, EverData is continually researching and developing new products and features. The goal of this constant innovation is to make the company's products as useful to clients as possible.
"Our changes are designed to make the platform and the features of the product as easy as possible for customers to use," Naseema said.
To ensure that these changes are well-received, the EverData team analyzes the market to see what trends might soon become commonplace. Even if they're deciding whether they want to make changes to a minor feature of a tool or product, they still conduct in-depth research and look for use cases.
"Every day, customers' requirements vary, so we need to adapt to them," Naseema said. "We need to be ready for their technical requirements, and our team always needs to be ready to offer them support."
With those goals in mind, both its in-house development team and customer support team are kept up to date with the latest information and customer demands.
Partner Program Allows Clients to Build Unique Brands
In addition to selling web hosting packages, EverData's partner program benefits resellers of its hosting and domain plans. EverData provides Indian entrepreneurs with all of the tools and space they need to create their own localized web hosting companies, including a storefront for selling and marketing features. From there, resellers can set prices for those services based on their own markets and clients.
"For all reseller companies, we provide a platform called the Partner Program where they can sell our products," Naseema said. "We provide everything — the infrastructure and technical support — and they can sell their own products on behalf of themselves and develop their own branding."
From there, resellers can choose what they want to sell. For example, they could sell Linux Hosting for a low monthly price or .info domain names by the year.
Many resellers enjoy working with EverData because the company offers so many additional benefits, including no-cost migration help for customers and in-house support.
"I really would like to say thanks for my Partner & Storefront websites. Now I can resell products at my price. It really helps to be a part-time job for me," said Lalit Sharma, the Founder of Aquatech Infocom, about the partner program in an online testimonial.
According to Naseema, that praise also speaks to the goal of the program.
"We give everything to the customer so they can start a business," Naseema said.
EverData: Developing a Hosting Following Beyond India
Since its founding in 2009, EverData has exclusively catered to Indian clients that wanted to enjoy the benefits of hosting their websites within the country. And one of the most significant ways that the company has developed a strong reputation with its clients is by offering customization and robust support.
EverData offers so many packages that it can build specific plans and provide services based on most client need or business use cases. Further, if they ever need assistance, the company offers 24/7 support with chat and phone features, as well as support tickets that it addresses as quickly as possible.
What's next for a company that's continually expanding its offerings? Expansion out of India.
"We have a solid customer base within the country, so we are focusing on developing a customer base outside of India," Naseema said.
In the next year, businesses in other parts of the world can expect to have access to EverData's features, customized packages, and responsive support.
For more information on EverData products and services, reach out to the team at +1 800-102-9696 (toll-free), +91-9829151699 (mobile), or info@everdata.com.