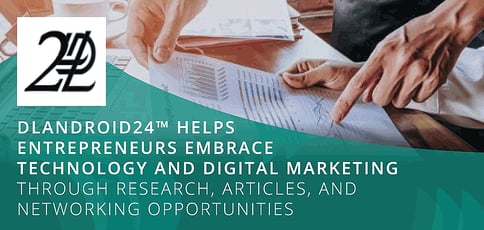 TL; DR: DLAndroid24 is an online news outlet where readers can find in-depth analysis on the intersection of technology and business. The platform has become a resource for professionals who want to keep up with the constant march of innovation. To help more of those readers, the site plans to introduce more content geared toward building business websites, hosting, and online marketing. DLAndroid24 aims to become a platform that professionals in the tech community can rely on for information on the latest trends in the space.
Michele Thompson has always wanted to help entrepreneurs better understand online marketing. She knew that not every business owner is well versed on the subject — or technology for that matter — and many lack the time to study up on it.
That's why she started writing articles packed with information on digital marketing and made them accessible to novices. When she worked for print magazines, she shared her insights and advice with readers on a broad scale, but she still desired to do more.
"I thought it would be interesting to bring the advice I was providing to a different audience," she said.
After seeing the response her print articles received, she said she decided to share her expertise with an even larger group of people. She became the COO at DLAndroid24 — an industry news platform — with the intention of helping readers understand the connection between business and technology.
Articles on how business and technology intersect are useful for entrepreneurs who may not understand how innovation can contribute to business success. Articles on the site inform those readers on best practices and cover relevant topics including email marketing and broadband networks.
And DLAndroid24 has content targeted to those readers who may not understand the ins and outs of digital marketing.
"We're dealing with people who know they need a website but may not know what hosting is," Michele said.
Of course, understanding technology — and how it intersects with areas like marketing — is imperative for companies that want to remain competitive. As DLAndroid24 continues to offer relevant, relatable content, it also wants to become a go-to website where both tech-savvy and non-tech-savvy professionals can find advice.
"We're trying to break all of this tech innovation down because businesspeople need a place to learn about it. To be competitive, you need to understand these things," Michele said.
Content That Addresses Questions About the Digital Landscape
Michele's advice to entrepreneurs is based on the questions she would field regularly about business and technology. She covers everything from creating Android apps to how women can become more confident investors.
The articles on DLAndroid24 are designed to answer those questions as quickly as possible — and the team is always willing to help.
If a reader needs a certain type of content, the staff of DLAndroid24 often quickly shifts gears to produce what the reader needs. The site shapes its editorial calendar based on the questions it receives from professionals. This relaxed and responsive attitude provides DLAndroid24 with more flexibility to create relevant content.
"We want to listen to what the customer wants. You don't want them to ask for a steak dinner and be fed a hotdog," Michele said
And DLAndroid24 isn't seeking to be a niche resource but rather to cater to every type of audience that may find its content useful.
"The needs are the same across the board," Michele said. "We want to let folks know what the best technology is, what they need to watch out for, and how to make a choice."
This willingness to meet the needs of those professionals is what has contributed to the site's growing readership, Michele said. Readers are more likely to feel that the site is tailored to them because they know their concerns will be addressed. Sites where editors simply choose business and technology content to produce on a whim can miss out on what is actually useful to readers.
"We look at the questions we get from our clients and compare them to what we thought we were going to put out that month," said Michele. "That's why our readership is growing. Everybody wants to get the content they need."
Seeking Inspiration from Innovative Businesses
Some of the most popular posts on DLAndroid24 are about successful business strategies. Many of the website's readers like to see what other companies have had success with so they can implement similar strategies in their own firms.
"What most people are looking for online are business articles," Michele said. "They like our 'Day in the life of' articles and those about what great leadership looks like. That's what the bulk of our readership enjoys."
And DLAndroid24 provides plenty of that content. For one article, the site asked hundreds of business leaders to describe their leadership styles. Another examines why colleagues may struggle to get along in the workplace. And, as expected, many articles merge business and technology to consider topics like how search engine marketing can boost ROI for B2B companies.
Without a comprehensive resource, it can be difficult to know how other successful companies are dealing with emerging trends and technologies. The goal at DLAndroid24 is to make it easy for readers to see what those companies are implementing and what kind of success they're seeing — if any. After all, there's no need to reinvent the wheel if a similar business has seen explosive growth by using a specific technique.
Articles on business and money typically make the connection with technology. Though the tech world shifts quickly, many of the fundamentals remain the same.
Some entrepreneurs slip up because they want to enter the business world but aren't educated on the tools they need to be successful. Michele said that others may know what they need to do to have success but not why they need to do it. Both pieces — the what and the why — are essential for companies to be fully operational in the online business space.
"They want some affirmation or confirmation that they're on the right track with what they should be doing. Or they want to know what they should be doing instead," Michele said.
A Mission to Help Entrepreneurs Develop Confidence and Succeed
With DLAndroid24, Michele found a platform that can reach a wide audience of entrepreneurs, professionals, and even executives to answer their questions about the relationship between businesses and technology. And the website is always on, hence its tagline: 24/7 News for the Tech Savvy.
That makes the "24" in the name DLAndroid24 clear, but what about Android? Is it a reference to the popular mobile operating system?
No, Michele explains; that reference goes back much further.
"The android in the name came from Star Trek. I love Data. He's an all-knowing, super-fast android who can talk about everything," she said.
"We want to help some companies remain competitive, and we want to help others just get into the game in the first place." Michele Thompson, DLAndroid24 COO
With a famous, intelligent android as inspiration, DLAndroid24 continues to offer information that can help readers draw connections between business, marketing, and technology. And the site wants to focus on tech-related marketing content.
"We want to bring technology back into marketing," says Michele.
Like Star Trek's Data, DLAndroid24 helps its readers sift through the noise in online content. The site is a place where users can find straightforward information to address their concerns.
And the site's overarching mission has remained the same since its launch.
"We want to help some companies remain competitive, and we want to help others just get into the game in the first place," Michele said.