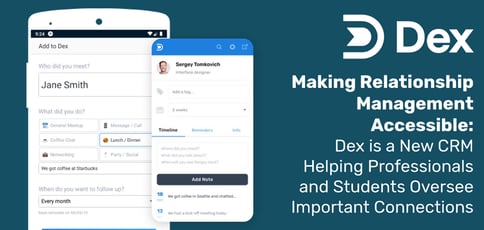 TL; DR: In the age of online communication, we're networking with more people than ever before, making it difficult to keep up with acquaintances, colleagues, customers, and followers. Dex, an affordable and straightforward relationship management solution, makes cultivating personal and professional networks a breeze. The platform eliminates tedious data-entry tasks, features robust workflow integrations, and funnels information into one source of truth. With plans to release a mobile app and updated Chrome extension, Dex is poised to help users build stronger relationships on the go.
In a past life, I worked as the managing editor of multiple small, industry-specific magazines. Each project involved several clients, stylesheets, workflows, and shipping requirements.
Staying calm amid such chaos was difficult, no matter how many meditation techniques I employed, so I turned to one of the most popular customer relationship management (CRM) solutions on the market.
I quickly realized it wasn't the right fit. Sure, it was packed with tools and features, but I didn't need most of them and found navigating the platform even more cumbersome than taking the manual route.
After learning about Dex, a simple and affordable relationship management solution, I see where I went wrong. Unlike solutions built for large enterprises, Dex is a personal CRM designed to help you make the most of your network.
"Dex focuses first and foremost on accessibility," Founder Kevin Sun told us. "Other solutions, like HubSpot and Salesforce, track opportunities, companies, and pipelines — introducing too much complexity for the average user."
The platform was designed to suit the needs of founders, investors, and students who want to be more effective at maintaining connections — and is priced accordingly, offering an affordable way to cultivate networks.
Through a simple Chrome extension, Dex helps streamline data entry, eliminate tedious tasks via workflow integrations, and manage complex calendars. The platform is still in its early stages, but Kevin told us the Dex team is working diligently to build upon an already strong foundation with new developments, such as a mobile app.
A Simple, Affordable Way to Cultivate Professional Networks
As with many great startup ideas, the concept for Dex (named after the classic Rolodex) grew out of a personal need.
"I wasn't super great at keeping in touch with personal or professional connections, especially over the course of starting several companies," Kevin said. "I tried existing tools on the market (Google Sheets, Airtable, and Notion) that were flexible and powerful but difficult to come back to. Even after meeting new people, I struggled to find the time and motivation to build a regular habit of use."
Kevin soon noticed that other professionals had similar problems keeping up with spreadsheet data entry — after all, it's a tedious task, not at all the type you look forward to. With this experience in mind, he set out to create something more accessible with seamless email, LinkedIn, and calendar integrations. By August 2019, he was ready to launch Dex.
"Since then, we've been heads down in product-building mode, making sure that the features that we're creating resonate with our early users," he said. "The people who sign up for Dex are typically those who are looking to manage their personal networks, but are transitioning into a professional purpose — your lawyers, your Realtors, your small-business owners."
Unlike larger, enterprise-level CRMs, Dex is designed for individuals, not to be sold in a B2B capacity. Getting started is as easy as signing up for a simple Free plan — with up to 1,000 contacts, 50 notes, and 50 reminders — to get a feel for the product. This package includes the web and Chrome Extension, a mobile app (currently in beta), and limited calendar integrations.
To take things to the next level, users can sign up for the monthly Premium plan, available for less than you'd pay for pizza delivery. In addition to the perks available in the Free version, Premium includes unlimited contacts, notes, and reminders, plus all calendar integrations and priority support.
At the top tier, the Professional plan delivers all of the features in the monthly Premium plan plus numerous email accounts, multiple calendars, Outlook and Exchange Support, and collaboration tools.
Eliminate Tedious Tasks Via Easy Workflow Integrations
When it comes to ROI, software investments are rendered worthless in the face of low adoption rates — which are all too common. In a 2018 survey conducted by CSO Insights, for example, less than 40 percent of the 1,275 participating companies reported end user adoption rates above 90%.
I know from personal experience that, if it's too complicated to get up and running with a new piece of software, I'll probably abandon it. But Dex makes it easy to visualize, understand, and manage relationships without a cumbersome setup process. The tool allows users to add contacts with just a click — taking data entry out of relationship management entirely.
"With the Chrome extension, Dex not only helps you import from LinkedIn and Facebook — which are generally pretty difficult tasks — but it also integrates with your existing desktop workflows," Kevin told us. "It will pop up when you're on a LinkedIn or Facebook profile, making it super easy to add information."
As anyone who's ever worked extensively with spreadsheets knows, data entry is a mind-numbing job.
"There's a lot of tedium that comes with entering names, titles, and locations into a spreadsheet, and Dex makes the process a lot easier," Kevin said. "That's typically how a lot of our early users have found value in the product."
Customers also love the ability to manage and integrate data from their calendars, which is as easy as providing permission for the software to access the information. Kevin said that between past and future events, calendars are a rich source of information, and therefore power much of the core Dex experience.
Building on a Strong Foundation via User Requests
Kevin told us Dex participated in Y Combinator's 2019 batch and has since grown from a one-man operation to a team of three dedicated to building out a full suite of Dex products. The San Francisco-based team is primarily focused on building and improving a product that works well for users.
"There's a lot of different types of people who sign up for Dex, and it's my job as the founder to understand why people sign up," Kevin said. "I've been able to learn so much directly from emailing users, and this feedback has been crucial in making the product better."
Feedback thus far has been largely positive, but Kevin is considering adding additional reminder functionality, such as the ability to automatically send the user an email with past notes directly before a meeting.
As a company, Dex is still in its preliminary stages. But in terms of expansion, Kevin said the company eventually hopes to reach an even larger audience of people who manage relationships on a daily basis.
"The common thread between customers is that they care about being better at relationships so they can be more effective in a professional context," he said. "Dex power-users understand how important it is to stay on top of their relationships and keep in touch."
Future Plans: A Handy Mobile App and New Chrome Extension
One feature customers have requested so far is a complementary mobile app, which the Dex team is set to release shortly.
"It will be pretty transformative in allowing users to jot down a quick note on the go or receive a push notification before their next meeting," Kevin said. "The ultimate vision we have for Dex is to provide a system of record for all of your relationships, so you have one authoritative source of truth."