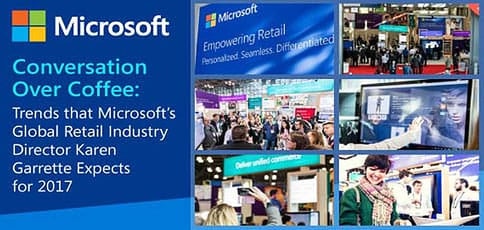 TL; DR: The National Retail Federation's Big Show draws more than 35,000 conference attendees to New York City, but even with a full schedule, everyone needs a break now and then. That's why we planned a coffee meeting with Karen Garrette, Global Retail Industry Director at Microsoft. While caffeinating, she explained that the Big Show is a crucial event for Microsoft's retail and consumer goods division, which had 250 employees on hand to demo new solutions as well as meet with retailers and journalists from around the world. Karen was excited about her booth this year, which, for the first time, featured a scaled-down version of a Microsoft Technology Center. As we discussed the state of retail, she shared her perspective on emerging trends and the partnerships helping drive Microsoft's retail division forward.
The National Retail Federation's 2017 Big Show was aptly named, with more than 35,000 conference attendees descending upon the Javits Center in New York City for three days of speeches, meetings, and product demos.
Sitting down at the conference — especially during lunch hours — was an adventure, with well-dressed attendees circling tables like vultures, waiting for someone to relinquish precious real estate. An opening finally presented itself just as Karen Garrette, Microsoft's Global Retail Industry Director, arrived to meet us at one of the two Starbucks in the building. She seemed appreciative for the opportunity to get off her feet and re-energize over a nonfat latte.
The Big Show is always a massive undertaking for Microsoft's retail group, and for 2017's event, the company brought 250 employees along to meet with clients and man its sprawling booth.
"The events team is planning for 10 months, and the wider group is planning for 6 or 8 weeks because everybody knows that coming here is never any question," Karen said. "It's on everyone's calendars."
We had previously spoken with Karen months earlier for our feature on Microsoft's robust software suite, Dynamics 365. Following our initial conversation, Karen's role at Microsoft shifted in the last quarter of 2016 to allow her to focus more on managing enterprise partnerships within the retail division, which has given her a broader perspective on the industry.
Karen was kind enough to carve some time out of her busy day to speak with us about Microsoft's plans for the event and some of the trends she's seeing in retail as a whole.
Microsoft's Innovative Collaborations at NRF's Big Show
For the first time, a pop-up version of a Microsoft Technology Center (MTC) was embedded at the Big Show, and Karen told us it was booked solid for the event with major retailers going to see the company's latest innovations. Microsoft has more than 40 MTCs worldwide that specialize in helping enterprise-grade businesses find modern solutions through consultancy and interactive experiences.
"It's appointment-only, and the idea behind it being appointment-only is we can give the right level of attention," Karen said. "We can properly show the customer the end-to-end journey."
The Microsoft booth was split up into different areas and stations for partners, including ESRI, AFS, and Plexure, and organized by how the company is approached by different existing and prospective clients.
"It really depends on the customer, and if they have specific areas of interest," Karen said. "Some are on a time crunch, so it's like, 'Well, I've got 30 minutes. I'm interested in these things. Show me X, Y, and Z.'"
For those with time for more extensive booth tours, Microsoft tried to focus on the customer journey and how its technology and partnerships provide comprehensive solutions in retail.
"From the perspective of Dynamics 365, the important thing for us is that end-to-end retail solution is baked in," Karen said. "Whether the customer wants to take back office or they want to take point-of-sale or they want to take everything, that's kind of a key tenet for us when we think about retail solutions."
Partnerships to Create Personalized Customer Journeys
A growing trend in retail has been to leverage new technology and big data to deliver personalized experiences to customers, and several Microsoft partners have developed products that are true differentiators in the retail industry.
FaceCake, known for its Swivel Virtual Dressing Room, showed off its augmented reality software built on the Microsoft Azure platform. It helps shoppers visualize how they would look in different apparel without having to try anything on. Standing in front of a camera and display screen, users saw a live feed of themselves wearing different items on the screen, and this technology is something FaceCake makes available in-store, online, and on mobile devices.
Another partner, Footmarks, which built its beacon technology on the Microsoft Cloud, showed off how it's helping Nordstrom Rack stores improve customer experiences through data collection. Nordstrom Rack uses beacons to lead customers to vacant dressing rooms and make personalized upsell recommendations while they're browsing the store.
One Microsoft partner that aims to revolutionize the grocery shopping experience is SKIP. Built on the Microsoft Cloud, SKIP has already been deployed in Macey's, a grocery chain in Utah. Users of the SKIP mobile app create shopping lists from home and get to avoid lines at the register by scanning items as they shop before checking out on their phones.
Partnerships to Improve Operations with Technology
On the topic of grocery stores, two Microsoft partners were on site in New York to show us innovative technology that's helping improve shelf presentation and track inventory in real time.
Product shortages and surpluses cost retail stores more than $1 trillion worldwide, and Lakeba created a robot on the Microsoft Cloud it calls Shelfie to help combat the problem.
Karen excitedly shared how these robots use image recognition technology to check that items are under the proper SKUs. The original Shelfie is a tall unit with a built-in camera to scan the shelves on every aisle, but Lakeba also created a flying drone robot that's especially effective in warehouses.
"It looks like a Dyson fan and it uses image recognition to look for compliance on the shelf," Karen said. "They've just sold it to a very big retailer in the U.K. that had an expensive inventory out-of-stock problem, and they bought it in the meeting because of how cost-effective it was for them."
Speaking of grocery shelves, another Microsoft partner, Powershelf, demoed its products at the Big Show.
Built on the Microsoft Cloud, Powershelf provides retailers with a complete shelf solution that gives employees a real-time look at what customers aren't seeing on the shelves using sensors and integrated visual dashboards. Powershelf also offers environment-friendly, battery-free Smart Retail Labels (SRLs) that enable stores to change SKUs digitally throughout the software.
Karen's Take on the State of Retail and Where the Industry is Going
As she took another sip of her latte, Karen explained that here at the Big Show she's been hearing reports of the death of the physical store for years, but she claims that notion has been greatly exaggerated.
"They've been saying that for the last five years, and the numbers just don't say that," Karen said. "E-commerce is growing much faster, but there's that whole thing about what that dress looks like, and I want it for Friday. Now, it's to get the customer in the store and make the experience the very best it can be."
Modern software suites go a long way in unifying operations and enhancing customer experiences, and Dynamics 365 is at the forefront of that movement. Some retailers have been hesitant to update their systems, but it's becoming unavoidable.
"We talked to a retailer this morning who has a 12-year-old ERP system," Karen said. "They know they've got to do something, but they just can't face the pain and the anguish and the disruption to their business. A 12-year-old system, unless it's been heavily customized, isn't doing anything that they need for today's business."
Karen told us Microsoft's approach is focusing on both near-term and long-term solutions. Everything on display in its booth at NRF is available for implementation today, but Microsoft is also looking at future innovations that will change the landscape of retail.
"Obviously, artificial intelligence is a huge theme for us, and I think one of the things that will start to manifest itself out of research and out of development is how AI can be commoditized," Karen said.
In two pilot stores, Lowe's is already using Microsoft's HoloLens headsets to give shoppers a mixed-reality kitchen-planning experience by allowing them to interact with an environment and visualize their ideas.
"I think we'll start to see more retailers providing in-store experiences for customers that leverage AI," Karen said. "If you look at what we're doing with Lowe's, it's taking the decision time with a customer down drastically. They are making their plan, they're seeing it as if it were real, and they're saying, 'yes.'"
Microsoft's Partner Expertise Drives the Retail Division Forward
As we finished off our coffees, Karen shared her thoughts on the culture shift that's been occurring at Microsoft over the past three years.
Karen, who has played a key role in Microsoft's retail strategy for more than five years, says the company has transformed under the leadership of Satya Nadella, who became Microsoft's CEO in 2014.
"It is just a different place, and I think people look in from the outside and can see it's different," Karen said. "We have this culture of mindfulness that I think we'd never had before. Satya talks about bringing your best work every day, and we see that manifested in the way he engages with customers."
Partnerships are a crucial piece of the Microsoft business model, which was on full display in its booth at the Big Show. Featured alongside Microsoft's home-grown products and solutions were its partners, many of whom help add to the customer journey.
"I think it's nice for our customers to be able to see how the ecosystem can exist together because it's such a big part of our business," Karen said. "We are a partner business at the end of the day — we have industry experts in Microsoft, but it's our partners that bring the lion's share of the expertise."