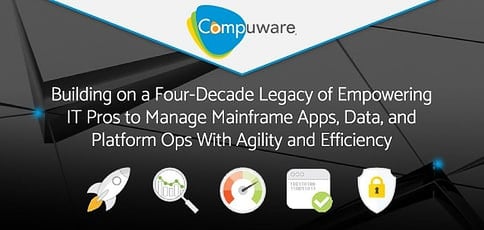 TL; DR: Compuware opened its doors more than 40 years ago when it began powering IBM's mainframe with developer productivity software. Nearly a half-century later, the company sits as a leader in the mainframe software space, building innovative mainframe app development and operations solutions for the world's enterprise-level organizations. We recently sat down with Sam Knutson, VP of Product Management, who told us how Compuware leverages Agile DevOps to equip today's businesses with the app management and data visualization tools their IT teams need to be successful.
Mainframe computers are used primarily by large businesses and organizations to process data and run critical applications. These particularly powerful systems are capable of running multiple operating systems at once through a variety of virtualization techniques and are designed with hot-swap capabilities and redundancy features to ensure constant uptime. Unlike supercomputers, however, mainframes are primarily used in transaction processing rather than large-scale engineering projects.
Because mainframes power some of the largest organizations in the world, their security is vital — just one downed mainframe can have a severe impact on global business operations. And, for Compuware VP of Product Management Sam Knutson, getting organizations to understand and appreciate the critical role the mainframe plays in turning ideas that matter into deliverables that make a difference in an intensely competitive digital age is among his primary directives.
"The biggest challenge we've had to overcome was apathy," he said. "Human nature is to expect other people to change more than you expect yourself to change."
Sam and the Compuware team call this the "apathy virus" and note that it's far more threatening than many realize. If mainframe software fails to anticipate future threats fast enough, mitigation efforts may amount to too little, too late. Aside from that, a lack of innovation results in businesses being left in the dust by competitors.
"Modern civilization runs on the mainframe — if all of the mainframes just stopped, everything around you that matters would stop working," Sam said. "You wouldn't be able to use your credit card or get on a plane or cross the border."
With a majority of customers no longer carrying cash, such slowdowns are much more than an inconvenience to businesses — unable to process electronic transactions with downed mainframes, businesses would lose out on a staggering amount of sales with many simply coming to a complete halt.
A Rich History of IT Innovation 40+ Years in the Making
Founded in 1973, Compuware has a long history of providing the world with quality software. Since the beginning, Compuware has released software capable of detecting and correcting bugs and managing data in mainframe applications.
Unlike antivirus programs, this software could address issues found in a company's original code that might make it prone to failure or leave it open to external threats. Many years and many acquisitions later, the Compuware team took on a new challenge.
"The mainframe market had calmed to the point where you didn't see regular innovation like you would expect in any other software market," Sam said. "We saw there was an opportunity to do something entirely different — revitalize the entire mainframe market."
Compuware was rebooted in 2014 by private equity firm Thoma Bravo as an exclusively mainframe-focused software company, and has since helped power some of the most important applications in the world.
"One of the things we did since re-invigorating the company was really embrace customer-driven design and hold strategic customer councils for much deeper customer engagement," Sam said.
Fostering Customer-Driven Product Management Through Collaboration
Despite its lengthy history, Compuware decided to adopt a startup mentality post-acquisition, dedicating itself solely to mainframe innovation. As a result, the company shifted from a Waterfall development to an Agile development methodology.
The traditional approach to software development, Waterfall, is linear and flows in one direction, from conception to maintenance. Following this method, software can take years to be delivered to customers. Conversely, the Agile model allows for faster development and greater user-friendliness through a non-sequential, team-based approach.
"That startup culture was the breeding ground for Agile, where people needed to do small, iterative development," Sam said. "It was also incredibly customer focused."
An Agile approach allowed for greater flexibility and collaboration opportunities for Compuware, as Agile development is accomplished through a series of sprints in which the team must work together to complete certain milestones within the allotted time.
As the name implies, Agile development typically runs faster than Waterfall. Another aspect of Agile is that it relies heavily on customer involvement, with each step being reviewed by end users alongside the development team.
"We even changed the office space to be open and collaborative," Sam said. "We've really focused on making ourselves what we thought our customers would need us to be."
A Comprehensive Visualization Suite to Track and Maintain Investments
Among Compuware's most popular offerings is Topaz, a comprehensive suite of mainframe development tools that support the next generation of mainframe developers. Topaz enables developers to protect and advance the years of intellectual property held in their company's applications.
"We wanted to bring to the table new tools and techniques that had generally not been available to mainframe developers," Sam said. "We've applied visualization in a number of different ways since January 2015 in our products."
These visualization tools make it easy for developers across all levels of expertise to understand complex applications and data relationships.
The Topaz suite of products includes visualization tools for program analysis, testing, enterprise data, Java performance, and more. Topaz leverages an Eclipse-based IDE and provides mainframe development essentials and easy, centralized access to Topaz's other tools.
Topaz for program analysis, enterprise data, testing, and Java performance provide easy-to-view insights into program behavior, data relationships and CPU and memory usage.
"One of the most interesting features is Runtime Visualizer — part of our Program Analysis feature — that lets people actually look at their running applications visually," Sam said. "With it, you could gain insights that might be nearly impossible to determine just by looking at static, tabular data."
For development, aside from Topaz, Compuware offers a number of tools useful to DevOps, including ISPW to manage and deploy source code and Application Audit to strengthen mainframe online security and compliance. Hiperstation allows for automated performance functional testing, while Xpediter serves as a comprehensive debugging tool that lets developers control source code execution line by line.
On the operations side, Abend-AID and Strobe help identify and resolve performance inefficiencies and faults in mainframe applications. Each tool offers visual data in the form of charts and graphs to make improvement opportunities more obvious.
The Mission: Mainstreaming the Mainframe
It is Compuware's mission to empower businesses to fully leverage their mainframe investments, and, as Sam said, never settling for just "good enough." Recognizing the importance of mainframe software usability, Compuware encourages clients to embrace collaboration and customer-first decision-making. In doing so, Compuware is helping to perfect the user experience for developers and end users alike with a continued investment in Agile DevOps.
"I believe DevOps is going to continue to really transform the way enterprise IT operates," Sam said. "By perfecting a customer's experience, that person in front of your product has a delightful day, and you drive up throughput and quality. We'll continue to obsess about making the mainframe a first-class citizen in DevOps, so we'll continue to invest in APIs and making the platform easy to use in mainstreaming the mainframes."
Compuware continues to lead the way in making mainframes more reliable, secure, and user-friendly. Mainframes are the backbone of business transactions, processing every credit card swipe and barcode scan. As such, their continued reliability depends on businesses using mainframe DevOps practices to the fullest.
"You have to make your mainframe agile to more quickly deliver better products that ultimately matter for customers," Sam said. "We know. We've done it. It's more than doable."