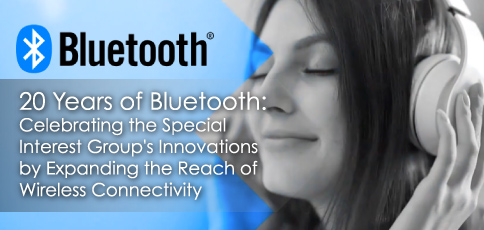 TL; DR: Bluetooth technology changed the way people do business by enabling the exchange of data between devices and creating personal area networks. The Bluetooth Special Interest Group (SIG) that has overseen the protocol's development is celebrating two decades of innovation by continuing to push forward with new mesh functionality that makes businesses more connected than ever. Director of Business Strategy Chuck Sabin told us how Bluetooth has evolved over the years and how the 33,000 member companies in the special interest group continue to serve both developers and consumers.
Bluetooth is one of those technologies that is so integrated into daily life that it is easy to take for granted. Named for a 10th-century Scandinavian king who united dissonant Danish tribes into a single kingdom — yes, really — Bluetooth connects disparate communication protocols and devices. By linking device to device, Bluetooth lets us listen to music, talk on the phone, track fitness data, and play video games without being encumbered by a cord.
Aware that the companies that use the technology have the most to contribute to its development, Bluetooth's original developers at Ericsson formed the Bluetooth Special Interest Group. Twenty years later, the Bluetooth SIG is a coalition of 33,000 member companies that oversee the specifications and standards that must be met by devices purporting to use Bluetooth technology.
The group — which includes tech leaders like Apple and Microsoft, as well as smaller businesses and universities — have collaborated to fuel wireless innovation and anticipate the needs of the market, according to Chuck Sabin, the Director of Business Strategy at Bluetooth SIG.
In those 20 years, the Bluetooth SIG has expanded the technology from wireless audio to connected devices and wearable technology, and is currently championing a new wave of automation, sensor networks, and optimization for industrial and commercial applications.
"Our recurring mantra, as we look back at 20 years of Bluetooth, is that connections enable innovation," he said. "Before Bluetooth, the wireless audio and connected device markets did not exist. Now, nearly 4 billion Bluetooth devices are expected to ship in 2018 across a number of consumer, commercial, and industrial markets."
A Pioneer in the Internet of Things
Bluetooth's major role in technology and business, of late, is serving as a catalyst for the Internet of Things (IoT) — the networking of physical devices, including wearable devices and smart home appliances that exchange data.
"Bluetooth can be credited with enabling the wearables market we know today," Chuck said. "I think it is also safe to say that Bluetooth can be credited with demonstrating the vision of the IoT by simply connecting everyday devices to people, applications, and services. From TVs and tools to toys, everything can be made connectable through Bluetooth."
Bluetooth is now at the forefront of connecting indoor location and position services, as well as developing new methods of asset tracking and item finding for businesses, according to Chuck.
"This trend and shift toward supporting more industrial and commercial applications show no signs of slowing," he said. "It is a dramatic expansion of the role of Bluetooth beyond consumer applications."
Two innovations with the Bluetooth technology increasingly make the protocol more relevant to business and industrial applications. In 2010, Bluetooth Low Energy (Bluetooth LE) reduced power consumption and cost, while 2016's launch of Bluetooth 5 has been critical to the expansion into automation and commercial applications in the IoT.
"By offering extended range, higher speed, and increased advertising data capacity, Bluetooth offers the flexibility required for many of these new applications," Chuck said. "As a technology, Bluetooth and our teams have had to continually adapt to understanding and supporting new and changing markets. Our programs, tools, and support have continued to expand to further support the cornerstone of interoperability on which Bluetooth was founded."
Bluetooth Mesh Facilitates Many-to-Many Device Connections
Bluetooth's new mesh technology represents one of the most recent examples of how the technology supports broader applications and vertical industries. The Bluetooth LE-based protocol enables the creation of large-scale networks of Bluetooth devices (many-to-many, or m:m).
"It is ideally suited for systems where tens, hundreds, or thousands of devices need to reliably and securely communicate with one another," Chuck said.
Adopted in 2017, Bluetooth mesh has been a game changer for IoT developers, who increasingly need long-range, tight security, integrated web capabilities, and reliable communication with many devices.
"Bluetooth mesh networking satisfies those needs, and is poised to further catalyze beacons, robotics, industrial automation, smart building management, smart city applications, and other industrial IoT and advanced manufacturing solutions," Chuck said.
The need for a standardized m:m solution that was low-energy, wireless and could meet the requirements of an industrial-level operation served as the impetus for Bluetooth mesh. To design this protocol, the Bluetooth SIG convened a working group of more than 80 member companies from a multitude of industries — the largest working group in the organization's history.
"The introduction of Bluetooth mesh comes at a time of pivotal industry growth," Chuck said, mentioning research that anticipates roughly 16 billion internet-enabled Bluetooth devices will be installed by 2021. "We expect Bluetooth mesh will make the largest initial impact in commercial lighting and industrial applications, and it will eventually become a common technology in the larger Internet-of-Things ecosystem."
Meeting the Requirements of Both Businesses and Consumers
According to Chuck, the Bluetooth SIG aims to give developers the wireless connectivity they need to build the best possible consumer products. The advancement of Bluetooth technology is geared toward providing scalable, full-stack solutions that address specific connectivity needs.
"As a result, whether you're a developer looking to stream audio, transfer data between devices, build a location service solution, or create a large device network, Bluetooth is still your best option," he said.
At the same time, the SIG works with member companies to learn what features and functionalities are required to meet the needs of their customers. The group also provides resources and guidelines for developers so that all products and solutions designed with Bluetooth have optimal interoperability and connectivity.
"These things are beneficial to both the companies and the consumers," Chuck said. "Companies get a scalable, full-stack, fit-for-purpose technology for a wide range of wireless solutions, and consumers get a trusted brand and compatibility across products. So, yes, Bluetooth is the best option for developers and companies, but it's the best option for consumers, too."
Interoperability as the Focus of Innovation
For Chuck, working with the Bluetooth SIG was an opportunity to join a reliable and prolific technology team that was at a crossroads, he said. When he started, Bluetooth LE was still new and looking for traction — now, it's thriving.
"What made me want to be part of the team was the challenge of building new and expanded market opportunities for Bluetooth, our member companies, and new industries," Chuck said. "My role was to identify exactly where Bluetooth LE had the best opportunities for success, and what gaps we needed to fill to help Bluetooth flourish in new markets."
Compatibility is key to the Bluetooth technology standards, along with the SIG's innovative processes that empower developers to make the best products. As such, the Bluetooth SIG equally serves consumers, businesses, and developers.
"For consumers, seeing that a device uses Bluetooth instills trust and lets them know it will work with any of the other Bluetooth products they already own," Chuck said. "For developers, Bluetooth is the fastest path to mass-market success because of its interoperability, reliability, and global install base."