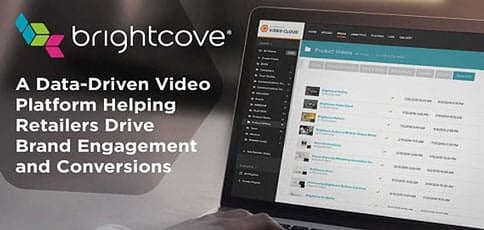 TL; DR: Online retailers understand that video marketing is the key to consumer engagement. But creating experiences that are truly differentiating — and that justify the investment — is about more than throwing a video on a homepage and hoping for the best. Brightcove, a leading video-hosting platform, has been dedicated to reducing the cost and complexity of high-quality video marketing since 2004. The platform easily integrates with a brand's existing systems to enable the seamless delivery of shoppable video across devices, and its analytics generate a comprehensive view of ROI that folds into existing benchmarking systems. The Brightcove platform serves as a flexible solution that works not only for companies that are just beginning to use video but also for larger retailers looking to get more out of the format.
As consumers transition to making more purchases online, retailers are looking for ways to make the on-screen shopping experience more authentic and engaging — like browsing in a brick-and-mortar establishment. Businesses want their customers to interact with products and imagine having them at home. They also want customers to enjoy the experience — and choose to return again and again.
In other words, retailers want to form connections with consumers, something that is hard to come by in today's online marketplace.
Shoppers want it, too. For them, hunting for the right products online can be an indifferent process, and moving from site to site is too often inconvenient.
Forward-thinking retailers looking to build loyalty with their customers — or to make shopping an emotional experience again — are turning to video, said Paul Casinelli, VP of Product Marketing and Strategy at Brightcove. Over the last decade, Brightcove has become a leading provider of cloud-based video technologies for reducing the cost and complexity of video delivery.
"Video engages us on a deep level," Paul said. "It's like an emotional shortcut to the brain. And retailers intuitively understand that it's a powerful way to communicate. What they don't necessarily know how to do is implement a video strategy."
First, there's the challenge of transforming the sales story into a new medium from a content perspective. Then, daunting technical and logistical hurdles arise. Retailers want the video they create to work seamlessly, and they want to understand what they're getting back from their investment in terms of clicks, actions, and conversions.
"No matter where a retailer happens to be on the journey toward integrating video into their overall marketing strategy, Brightcove can help," Paul said. The company has evolved from its beginnings as a hosting platform into a full-service video marketing outsource partner, offering solutions for lead generation, product marketing, e-commerce, and brand awareness.
Moreover, Brightcove shows its customers the bottom-line benefits of video marketing, demonstrating through sophisticated analytics that video — if done right — can increase traffic and conversions.
"We help retailers get the most out of video," Paul said. "We want to make it easy for our customers to understand the value they get from working with us."
Easy-to-Use Tools for Customized Video Delivery
At the core of Brightcove's all-in-one video marketing solution is its fully customizable video player. Based on the HTML5 markup language native to the modern web, the Brightcove-hosted player provides a consistent experience across operating systems, devices, and browsers.
"Our video can go everywhere retailers want it to go and be successful there," said Paul. The product is lightweight, built for mobile, and fast-loading, ensuring that the customer's first experience with a brand's video messaging is not frustrating."
Brightcove always puts the retailer's video content front and center. Brightcove's logo never appears on the player, and the technology is fully customizable, enabling modifications like changing the play button, adding social sharing options, and organizing playlists.
Built-in templates, styles, and customizable colors and designs let a retailer further match the video player to the brand's look and feel.
Finally, Brightcove's online content management system makes managing everything from a few clips to thousands of large videos simply a matter of drag-and-drop and batch editing.
Boost Viewer Engagement with Unique Calls-To-Action
Customizable calls-to-action are an important marketing component of the Brightcove platform. Brightcove customer Tique operates several high-end home and lifestyle niche brands, including Joyus, syndicating shoppable video content to other websites, with calls to purchase embedded just under the videos.
The approach is ideal for smaller retailers who focus on what Tique calls serendipitous discovery, not the typical brand recognition.
"Tique publishes thought-leadership-type videos that create interest in the products that they sell," Paul said. "That's a way of building trust with the customer and imparting knowledge to them — a soft-sell approach."
More than 50% of Tique's revenue comes from its 3,000 syndicated shoppable videos — all distributed and managed through Brightcove.
High-volume, high-traffic destinations, like ao.com, however, use Brightcove to present the customer with calls-to-action at all stages of the shopping journey.
"They're a 100% e-commerce site," Paul said, "and video is the fabric of their approach — it's on product landing pages, on the actual purchasing pages, and on social."
And Brightcove's scalability is a key component of the strategy. "When you're talking about big e-commerce players like ao.com," Paul said, "They see immense amounts of traffic and huge numbers of video plays on their websites, and they have to have a platform that can handle that scale."
Brightcove not only provides the platform but the analytics to enable ao.com to measure the impact and understand whether particular videos connect with the right audiences.
Analyze Device, Traffic, and A/B Test Data to Improve ROI
Backing up Brightcove's video delivery and management systems is Brightcove Audience, a set of industry-leading analytical tools. The solution can track interest and engagement in real time according to device, browser, operating system, and geography, and then allow consolidation of that data into other web analytics platforms to give retailers a holistic view of their marketing performance.
Brightcove Audience also integrates with many popular CRMs to bring data into a company's current marketing workflow.
"Retailers need robust analytics that go beyond total views to who specifically is watching the videos and how engaged they are," said Paul. "They need to know exactly which pages shoppers were on, what they watched, how much of it they watched, and whether they went on to become a customer."
A unique feature of the Brightcove toolset is the ability to A/B test a piece of video content with different styles and configurations of the core player to determine which styling is more engaging in terms of views and time spent watching. These stats enable the retailer to tweak the content presentation continuously.
Retailers can also A/B test their content. "So if I have a video that starts off with someone talking about a product, and a second video that just jumps right into the product and cuts out the talking, I can compare the performance of those videos and find out that nobody wants to listen to the introduction," Paul said.
The third and most important layer of A/B testing pairs styling and content engagement data with individual viewers to determine which viewers end up converting.
"As a retailer, you want to track your A/B test in terms of which video is going to lead to a purchase," Paul said. "And we can help you with that."
Scale Your Marketing Efforts with Brightcove & Its Partners
As more commerce takes place online, businesses continue to search for ways to make the experience more authentic — as it would be in-store. Retailers large and small can leverage the power of Brightcove-enabled and -managed video content to connect customers to products in a more engaging way.
"Our customers are always testing their results, and they see that their visitors who are watching video are converting at up to a 20% higher rate than those who are not watching video," Paul said.
Brightcove stands ready to help retailers new to video marketing get started with a cost-effective first project. Its expert account management team and network of partners can provide the guidance and additional resources necessary to bring a brand forward regarding content creation and production, support infrastructure, and more.
Meanwhile, enterprise-level customers use Brightcove as a platform for scaling video across business units and into internal applications like communications and training. And the company helps the majority of businesses between those two extremes fully understand their ROI picture — what's working and what's not — so they can fine-tune their strategy to increase growth.
"Brightcove has been leading the charge to bring video to all retailers that are looking to engage their audiences in the most efficient way possible," Paul said. "Everybody realizes the power of video. For us, it's about taking it to the next level, no matter what level you're on."
Advertiser Disclosure
HostingAdvice.com is a free online resource that offers valuable content and comparison services to users. To keep this resource 100% free, we receive compensation from many of the offers listed on the site. Along with key review factors, this compensation may impact how and where products appear across the site (including, for example, the order in which they appear). HostingAdvice.com does not include the entire universe of available offers. Editorial opinions expressed on the site are strictly our own and are not provided, endorsed, or approved by advertisers.
Our Editorial Review Policy
Our site is committed to publishing independent, accurate content guided by strict editorial guidelines. Before articles and reviews are published on our site, they undergo a thorough review process performed by a team of independent editors and subject-matter experts to ensure the content's accuracy, timeliness, and impartiality. Our editorial team is separate and independent of our site's advertisers, and the opinions they express on our site are their own. To read more about our team members and their editorial backgrounds, please visit our site's About page.