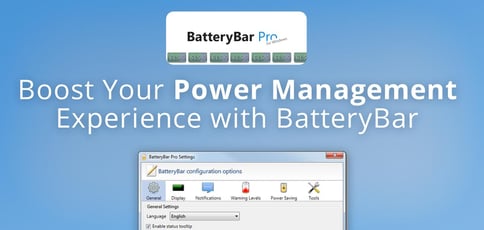 TL; DR: Osiris Development's BatteryBar and BatteryBar Pro provide unique power management solutions for Windows designed to enhance the user experience. The paid version includes an abundance of features, including custom themes, a power scheme switcher, warnings, and informative graphs. If you're looking for a business-ready solution, Osiris Development offers BatteryBar Pro at a discount for three or more licenses, plus white-labeling upon request.
One has to question whether the human species has evolved a bit too much when electronics start to trigger fight-or-flight responses in us. But let's face it: these are the times in which we live.
Today, a low charge on a smartphone or laptop is bringing on a type of anguish known as low-battery anxiety. In 2016, LG surveyed thousands of people to examine how their lives were affected by dying batteries.
The results were nearly unanimous, with nine out of 10 ten participants reporting they felt a sense of panic when a battery drops to 20% or lower. Low-battery anxiety is not classified as a clinical disease, of course, but thanks to developer Chris Thompson, Founder of BatteryBar, remedies exist for Windows users.
"The battery bar on Windows XP was notoriously unreliable, always displaying incorrect figures," Chris told us. "My primary goal was to create something that a nontechnical user could glance at to see a smoothed-out battery life estimate — more of an average than an instantaneous thing, which is more accurate from a long-term usage perspective."
That's precisely what BatteryBar — and its shinier counterpart, BatteryBar Pro — do: allow Windows users to upgrade their power management systems with highly accurate, usage-based meter measurement. A basic version is available at no charge, but users sacrifice ample features if they don't check out BatteryBar Pro, which includes informative graphs, custom themes, a power scheme switcher, and helpful warnings.
The product is suitable for individuals, small businesses, and enterprises alike, with discounts available on bulk purchases of three or more licenses and custom white-labeling.
Providing a Fix for Common Battery Estimation Problems
Chris, a developer by trade, was first struck with the inspiration to create a power management solution when his boss asked him how to determine the remaining battery life on his Windows XP laptop.
"There was that tiny battery icon you would hover over and get wacky estimates each time," he said. "After my boss made that request, I thought, 'That's a good question,' and started researching how Windows does the math for determining time remaining."
He discovered that battery estimates were calculated using the exact amount of power the device used at that precise time. The problem is that that amount is constantly changing.
"I said to myself, 'No wonder it's always moving from one to four hours, then from a half-hour to two hours,'" Chris told us. "So, I created a meter that would monitor your battery life over time to calculate accurate estimates."
He released the service for free until his father-in-law brought up the fact that BatteryBar was a valuable tool people would pay to use.
Chris then formed his own company, Osiris Development. The name — an ode to Egyptian mythology — was passed down as somewhat of an heirloom from his older brother, who programmed games as part of Commodore 64's shareware community.
"Of course, it was decades later, so he allowed me to co-opt his name and logo," Chris said. "It was fitting because my older brother was the one who got me into development."
Today, Chris runs BatteryBar as a side project while he pursues full-time IT and development consulting.
"I enjoy using the engineering skills that I've built up over the years to work with people and help solve their problems," he said.
A Free Basic Version and Feature-Packed BatteryBar Pro
Over time, Chris experimented with Google Ads and other marketing tools, but BatteryBar primarily gained popularity via word of mouth advertising. Users were also passionate enough about the product to post feedback on various forums, which Chris located and shaped into features.
"It grew from a tiny, accurate battery display to the BatteryBar Pro — a system of easy adjustments, customizations, warnings, and graphs," he said.
With graphs, for example, users can view historical data on how long batteries lasted in the past, which is used by the software to help make more accurate predictions in the future. "As far as I know, no other battery applications can do that," Chris said.
Overall, Chris strives to ensure a consistent measuring experience that's super user-friendly — even if users only sign up for the free program. The goal is to make life easier for Windows users who have to spend the majority of their days staring at computer screens.
"Even if they never want to touch any Pro features, they still get that ease of use for the nontechnical — that little quality of life improvement that comes with a reliably accurate time estimate," he said.
In the four years since its initial release, Chris has worked to keep the software compatible with Windows 7, 8, and 10 and a range of laptop models.
"I have a lot of users with different laptop brands and batteries — all kinds of strange scenarios — and the goal has always been to make BatteryBar work for all those edge cases," he said. "That's probably been the biggest challenge over the years."
Enterprise Licensing and Customization Options
Chris said he also aims to serve a broad user base — from individuals to SMBs and enterprises. To that end, Osiris Development offers business-ready solutions for BatteryBar Pro, such as discounts for bulk purchases of three or more licenses.
Enterprises can also purchase white-labeling solutions upon request.
"It's not highlighted on the website a lot, but I get requests from companies wanting to purchase large volumes of licenses," Chris said. "We also offer customization — making it easier to install, limiting features for their users, and putting their logo on the user interface."
Chris said he's continuing to support and update BatteryBar as he pursues his career in IT consultancy. "It's not going anywhere," he said.