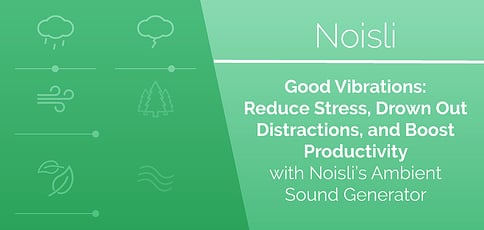 TL; DR: Founded in 2013 by two freelancers looking to motivate themselves in an uninspiring home environment, Noisli helps users increase productivity and block out bothersome noises. The background sound generator features a text editor to improve focus and a timer to ensure effective pacing. With multiple existing customization options plus an even more flexible platform in production, Noisli is empowering users to slip into a sound bubble they've designed for themselves.
Whether we're aware of them or not, the noises around us have powerful psychological effects. Nails on a chalkboard send chills down spines, purring kittens warm hearts, and raindrops on the roof soothe souls.
The influence of sound on the human nervous system is so profound that there's an entire field of scientific study, known as psychoacoustics, built around audiology and sound perception. And studies have shown that when it comes to auditory stimuli, there's no one-size-fits-all approach.
That's why Sabine Staggl and Stefano Merlo designed Noisli with the needs of real people in mind. Whether you're looking to increase focus, eliminate distractions, or relieve anxiety, the platform will allow you to create ambient background noises tailored to your tastes. "We put people at the core of our work because we want to build and grow Noisli around people and their needs," Sabine said.
Sabine and Stefano co-founded Noisli in 2013 when both were working from home on freelance design projects. "It was very difficult to keep focused, motivated, and in the right spirit," Sabine said. "We were aware of the science around background noises, but no product satisfied our needs — so we created our own solution."
When the pair noticed they weren't the only ones enjoying the platform, they decided to put it on the market. The product-first, business-later mentality paid off, with close to 400,000 people per month putting the background ambient noise generator to use when both working and relaxing. The latest version of Noisli includes a distraction-free Text Editor and Timer to ensure effective pacing, plus multiple customization options. With a new platform set to launch in 2019, Noisli is poised to help users design their own auditory environments for years to come.
Get in the Zone with a Platform Built from the User's Perspective
Sabine and Stefano may have built Noisli to motivate themselves in an uninspiring home environment, but the platform works equally well in a bustling office or co-working space full of distractions.
The company's new Chrome extension is especially helpful in office environments because it allows users to navigate the program and various features directly from the browser. There's even access to saved sound combinations, timed productivity sessions, and master volume control. Sabine said that developments like this are largely a product of customer feedback.
"Since the beginning, we have always tried to be close with our users so to understand them and build features for them," she said. "Our main driver is the positive feedback we receive from our users and knowing that we're building something that is useful and valuable to people."
That's why Noisli permits users to test the platform's sound quality before they take the time to sign up for a free account. The company's Text Editor also came to be through interactions with users. "After spending time chatting with our audience, we realized a lot of people write while listening to our sounds, so it was the next natural step to incorporate the Text Editor," she said.
Through discussions with users, the Co-Founders have discovered that users enjoy their platform in multiple ways. Some enjoy the benefits of chromotherapy provided by the platform's softly shifting hues. Others use the tool to block tinnitus. And after a long, productive day, Noisli can be used for an entirely new purpose: To soothe you to sleep.
"People tell us they use it for work, and it makes them super productive, but then they also say it's relaxing and useful for meditation or during sleep," Sabine said.
A Focus-Enhancing Text Editor and Motivating Productivity Timer
Sabine and Stefano, both designers, recognize the value in simplicity and work hard to avoid unnecessary complexity. "Users want to find their ideal sound environment and then just go back to their work," Sabine said. "That's why it's key to review every feature and detail and exclude those that don't serve a real purpose."
The features that do exist are streamlined and uber functional. Want to use a time management method like the popular Pomodoro Technique to ensure effective pacing? Leverage the Timer function to break work into sections separated by short breaks. Combine this with the Fade Out function, and the sound will gradually dwindle as your time period ends. "The Timer helps you avoid burnout and be more productive overall instead of trying to focus for eight hours straight," Sabine said.
In addition, the Text Editor allows for content creation in a distraction-free environment intended to increase focus and inspire creativity. Set on a solid background with a slowly shifting spectrum of color, the editor provides just enough stimulation to keep you moving.
The Text Editor supports Markdown syntax, a simple, clean way to add typographical emphasis to plain text using asterisks, underscores, and other elements. According to Noisli, Markdown is useful when writing emails and blogs as well as jotting down items on a to-do list. As long as your cursor is on the screen, all page elements — icons, the Noisli logo, volume control — completely fade away while you're writing.
"If you are in the distraction-free Text Editor in the process of writing, then you don't need things like the download button right at that moment," Sabine said. "We really think through each thing with the user in mind. There are so many cluttered websites out there; we just don't want to be one of them."
When the writing process is complete, the download button will reappear enabling the user to save the content as a text file or to a DropBox or Google Drive account.
Blend Sounds to Create a Personalized Work Environment
When it comes to sound, what's pleasing to one person's ears may annoy another's. Beyond its standard Productivity and Relax settings, the platform provides users the tools they need to combine a menu of sounds, from crackling fires to background conversation in a coffee shop
If you're a fan of white noise — a consistent sound that combines different frequencies to mask those around you — Noisli's additional pink and brown noise options provide interesting alternatives. Due to lower frequencies, pink noise typically produces a smoother sound than white noise, and brown noise tones frequencies down to an even greater extent.
With Noisli, users have the choice between the three sonic hues, as well as the option to combine them as desired — or avoid them altogether in favor of other sounds. These multiple customization options enable users of all types — whether they're students, freelancers, or developers — to carve out a headspace in any location.
"There's a vast spectrum of users, from white-collar workers to anyone who has to interact with words directly, because if you listen to music, the lyrics are very distracting — it's difficult even to write an email," Sabine said. "Staying in the flow, and staying concentrated, is the main benefit."
In a world full of pop-up notifications and breaking news alerts, Noisli helps keep users focused as long as possible. Sabine said it's also useful in the classroom setting.
"In a classroom of 20 people, Noisli allows each student to create an individual personal space, for example, to focus and read a text before interacting again with the other classmates and the teacher," Sabine said. "I think that's what teachers find adds a lot of value."
Coming Up Next: A New Platform for the New Year
Noisli is used by hundreds of thousands of people from all around the world, and its popularity continues to grow. While a two-person team currently runs the company, the Noisli website advertises that it's "always looking for great people that are curious, truly passionate about what they are doing, and that first of all care about the people."
It's hard to imagine that the platform — which already allows you to mix one part thunderstorm with two parts wind and a dash of pink noise — could become more customizable, but it's true. Sabine told us the new-and-improved edition of Noisli, which will launch early 2019, will bring forth several new options while maintaining its trademark simplicity and ease of use.
"There will be much more variety to the product and new features that will help users even more to maintain their concentration," Sabine said. "We're so excited to get it out."
These features will allow users to enjoy the psychological benefits of sound to an even greater extent.