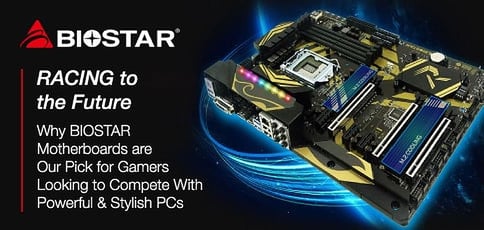 TL; DR: An innovator when it comes to designing and manufacturing cutting-edge and high-powered motherboards, BIOSTAR boasts a long list of accomplishments. The company was the first to include built-in LED lighting and USB 3.1 Type C, along with giving customers the ability to modify voltages and frequencies of the video card's GPU and memory. Always looking to balance performance with flair and affordability, our Developers' Choice Award winner recently became the first brand to outfit its RACING brand of motherboards with dazzling LED lights — giving gamers a way to further customize their made-from-scratch system.
For years, according to BIOSTAR Marketing Manager Kevin Cheng, most computer gamers only cared about performance — how can I eke out an edge?
As gaming became more mainstream, however, the advantages became slighter. Gamers often ended up with the same desktop configurations and equipment. Looking to recapture some swagger and leverage over competitors, gamers are increasingly turning toward do-it-yourself machines and supercharged BIOSTAR motherboards.
For more than 30 years, the company has pioneered new integrations and technologies that push performance to new heights. The company's RACING line, winners of our Developers' Choice award, features first-of-its-kind LED light strips users can adjust to let their personality shine through.
"Every gamer wants to have their own unique PC," Kevin said. "With so many choices on the market, we want to help users make computers that match their individual style. With their gaming PC, they can have more fun and enjoy the real experience of doing it themselves."
RACING Motherboards Boost Performance and Audio With LED Style
BIOSTAR engineers needed to redesign the entire board layout to integrate the LED lights, according to Kevin. RACING motherboards typically have three independent lighting zones: one in the audio area and two 5050 headers that enable users to add color to the heatsink, memory, and other locations.
Customers can choose among 10 pre-set options for color, flashing intervals, and brightness, or use BIOSTAR's proprietary software, VIVID LED DJ, to unlock even more options.
"The big challenge was how to integrate these new elements on a motherboard, while also making it very stylish," Kevin said. "You can make the motherboard your own style and change to any color you want to match your mood or whatever style you want each day."
The coordinated lighting effects amplify the company's Hi-Fi audio systems, which include a multi-layer printed control board and a double amp to produce up to 120 decibels worth of sound.
"We integrate our Hi-Fi technology into every gaming motherboard, and we use a very high-end capacitor to offer the best audio experience for gamers," Kevin said.
Inevitably, though, the test of a good motherboard rests in the performance it gives users. The most dedicated and knowledgeable gamers will overclock their machines, or configure the hardware components to operate faster than originally certified.
The dangerous process generates additional heat and requires more electricity, which can lead to instability or complete failure.
To mitigate the risk, BIOSTAR created the GT Touch touch panel that enables the computer to run in Sport and ECO modes. Sport mode automatically boosts performance by about 20%, according to Kevin, while ECO mode optimizes energy consumption.
"That helps you have very stable, very high performance," he said. "It's extremely easy, and anyone can use the function. Our users can have a very stylish, extraordinary, easy, and fun experience."
Innovative Cooling Systems and Materials Add Durability
With all the souped-up features aboard the RACING motherboards, Kevin said BIOSTAR invested a lot of resources developing high-performance heat-management components throughout the device to boost stability and durability.
By using a ferrite instead of an iron choke, for instance, BIOSTAR can boost the motherboard's capacity and reduce core energy loss by 25%.
I/O armor, often displaying the RACING line's trademark black-and-white checkering, gold, or LED accents, protects the panel and electronic components from static electricity and dust.
Perhaps most importantly, BIOSTAR deploys large-sized heatsinks to protect every performance-critical component. In true BIOSTAR fashion, however, Kevin said the team found a way to stylize the heatsinks with LEDs.
"We wanted to make the heatsink beautiful, but that's a very big challenge, given the LEDs would produce heat and make the component work that much harder," he said. Instead, the company created and installed technology that separated the heatsink and LED functions — users can enjoy the lighting effects while cooling the heatsink temperature. "The LED will not affect the heatsink performance at all."
Finally, BIOSTAR developed the industry's first cooling system for the latest format of solid-state drives. M.2 SSDs, which replace the mSATA standard, uses the PCI Express Mini Card layout and connectors. The storage device's flexible physical specifications and more advanced interfacing features provide an advantage over traditional SSDs.
"All of these things typically add big costs to a motherboard, but we emphasize pairing new technologies with cost-effective materials," Kevin said. "Aluminum, for example, can provide very good performance when it comes to heat distribution, but it also helps us provide very competitive prices. We spend a lot of time and money to find good materials and designs."
Also From BIOSTAR: Professional-Grade Crypto Mining Motherboards
With a comprehensive lineup of Intel and AMD motherboards optimized for mining cryptocurrency, BIOSTAR partnered with ethOS to create a plug-and-mine solution for customers new to the hunt for ZCash, Monero, Ethereum, and other coins mined by graphics processing units.
The BIOSTAR TB250-BTC PRO boards support up to 12 GPUs — again an industry first — and the company estimates that 1-in-5 mining systems use its motherboards.
"We want miners to be able to find a solution easily," he said. "We have worked hard in the crypto mining industry since the initial development stage of Bitcoin, in 2012. As a professional brand for crypto mining products, BIOSTAR is out to produce the best experience for customers worldwide."