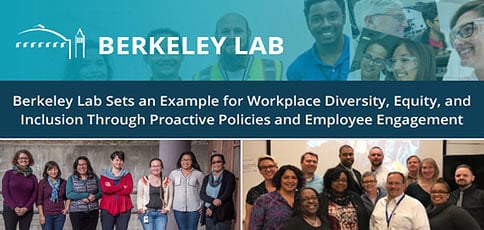 TL; DR: Retailers committed to diversity and inclusion often attract top talent in the modern employment landscape, and the Lawrence Berkeley National Laboratory at the University of California has created initiatives and policies that organizations outside of academia can use as a model through its Diversity, Equity, and Inclusion Office. Berkeley Lab developed six strategies to ensure employee voices are heard and recognized, which helps lead to positive, inclusive changes for more equitable employee experiences. At a time when CEOs are prioritizing organization-wide diversity to better compete for talent, Berkeley Lab's proactive and collaborative approach sets an example for all to follow.
In 2016, the Lawrence Berkeley National Laboratory at the University of California created a written plan to guide and assist transgender employees transitioning on the job. The proactive policy move simplified a lengthy bureaucratic process once described as a "scavenger hunt without a map," recalls Lady Idos, the Program Manager at Berkeley Lab's Diversity, Equity, and Inclusion Office.
The DEI office reduced a cumbersome 30-step administrative process to a 14-step transition plan and incidentally created a new recruitment tool for Berkeley Lab.
Shortly after the plan was put into place, a qualified transgender engineer, who had heard about the streamlined guidelines from a Lab employee who had worked on them, applied for a position and joined the world-class team of research scientists, 13 of whom have earned Nobel prizes.
But the positive effects reach well beyond the Lab, Lady said. The guidelines were the first of their kind for both the University of California and the 17 national labs that conduct federally funded research for the Department of Energy.
Private businesses contacted the Berkeley Lab to use the plan as a model for their own policies.
"We were very happy to make this open-source and say, 'We're the first ones to do this, but feel free to tailor it to your organization.'" Lady said. "When we're able to do something good and have an effect that exponentially multiplies, we really love that. These are the types of things we want to do, not only follow best practices for helping our staff, but create something that our colleagues can use in other industries as well."
Research shows that CEOs are aware that their businesses need comprehensive diversity and inclusion policies to attract and retain talent in the modern workforce — particularly millennials. Berkeley Lab's DEI department has blazed a trail for retailers and other organizations to follow.
That leadership role is a natural fit since the Berkeley Lab has always championed diversity.
Ernest Orlando Lawrence, a UC Berkeley physicist who won the 1939 Nobel Prize in physics for his invention of the cyclotron, established the lab in 1931 as part of the national laboratory system. From the beginning, scientists with diverse expertise have conducted multidisciplinary research.
In 2013, the Lab launched the diversity and inclusion initiative, making it a priority personnel issue. Initially called the Diversity and Inclusion Office (D&I) within the Human Resources department, it implemented a series of strategies and initiatives designed to ensure every individual and group feel welcome, valued, respected, and supported in the workplace.
More recently, the office added Equity to its name and rebranded as the DEI.
"Diversity is inviting people to the party; inclusion is asking them to dance; the equity piece is making sure the barriers to being asked to dance are eliminated," Lady explained. "Equity encompasses fair treatment, access, opportunities, advancement, and looking at ways to identify and eliminate barriers."
Six Strategies Employed to Foster the Lab's Diverse Workforce
The DEI vision statement explains how inclusion aligns with the Lab's core values. The Lab has a tradition of diverse teams working together to bring science solutions to the world. "Fostering a diverse workforce — in experience, perspective and background — and culture of inclusion are key to attracting and engaging the brightest minds and furthering our record of scientific excellence and groundbreaking innovation," reads the Lab's mission statement.
Berkeley Lab uses six strategies to see that vision through:
Take leadership on diversity and inclusion
Broaden and refine our recruiting and hiring process
Grow our own (In-house resources and succession planning)
Ensure a family-friendly workplace
Assess and address our equitability
Enhance awareness and communication
Through anecdotal information from discussions with leadership and staff, and by reviewing data from employee surveys, the office of DEI finds new ways to make employees feel valued. Retailers can follow the Berkeley Lab model because the strategies are broad enough to apply to any industry.
For example, the DEI office has raised awareness among senior management about the state of staff diversity, improved the cooperation between recruiting and hiring managers, sponsored Women at the Lab events, and established employee resource groups. The office has also implemented enhanced bereavement leave, created lactation rooms, and established an annual review of scientist and engineer compensation.
Another strategy focuses on branding and marketing efforts to document the Lab's accomplishments. The DEI website often features news about multicultural events, veterans' programs, its speaker series, ethnic heritage celebrations, and the LGBTQ community's Lambda Alliance.
While the strategies are designed to promote diversity, Lady said part of that process requires preventing the opposite — exclusion. That can take the form of bullying, a tension between management and staff, or any fear of retaliation for simply being yourself at work.
"That's a new kind of thinking we want to introduce," she said. "We can do these things and the six strategies all we want, but if we're not really addressing the exclusion issues, we're going to continue to run into problems."
A Ground-Up Approach Built on Input from Employees
The DEI understands that a top-down, mandated approach to diversity, equity, and inclusion policies would struggle to inspire employee buy-in and likely defeat its own objective.
That's why employee climate surveys and input from a slew of committees are the foundation for the office's strategies and actions. Four employee resource groups — LGBTQ, Veterans, African-American and Disability Inclusion — allow employees to provide input on DEI initiatives, policies, and goals. The Women Scientists and Engineers Council advises on recruitment and retention, work-life balance, and other issues that affect the careers of female scientists and engineers. Taking it a step further, the Diversity, Equity & Inclusion Council, a group of employees appointed by division directors, helps advise senior management of employee needs.
Lady said in 2018 a new advisory council will be formed with members from the six areas of the lab and additional diversity-related groups to advise a new senior leadership council on DEI initiatives. She said employee advisors, not management, will give the ground-up input on planning.
"It's going to be broader than what we had before, which was just divisions and not fully representative of each group that should be at the table," she said. "Revamping it will make it stronger."
Taking an Innovative Approach to Diversity, Equity, and Inclusion
At a time when retailers and other businesses need to foster diversity, equity, and inclusion to attract and retain talent, the Berkeley Lab has set an example to follow through proactive planning and employee stakeholder engagement.
The Lab's DEI office has crafted policies and initiatives based on employees' personal experiences with data-driven analytics. Looking ahead, the DEI will use data to set goals and measure its progress in reaching them, Lady said.
In the past, a dashboard provided an annual snapshot of employee demographics, such as the number of women working in a specific division.

However, starting in 2018, the DEI will use real-time data to build a scorecard of how staff demographics are shifting throughout the Lab over time. Then, predictive and prescriptive analytics will help the advisory board and senior leadership council craft an action plan identifying where the Lab can be more aggressive in reaching certain diversity goals.
"Scientists are data-driven anyway, so this makes sense. They're going to challenge themselves, deliberate, and come up with new ideas that may or may not be accepted," Lady said. "These are all of the things that you do in a family and what we do in a community."