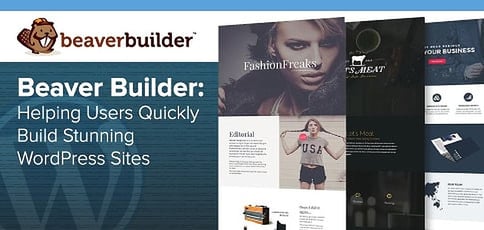 TL; DR: Beaver Builder may have just celebrated its fourth birthday, but the young company is wise beyond its years when it comes to knowing what clients want. In just four years, the company's front-end page builder and framework theme for WordPress have become fundamental in many professional workflows. We took a close look at Beaver Builder to determine how the comprehensive design system stacks up in terms of affordability, ease-of-use, and support. Here's what we learned.
My first experience with website creation was in college when my instructor presented the class with two options: rely solely on hand coding, "like a professional," or commit the quasi-acceptable sin of using Adobe Dreamweaver.
Thankfully, we've come a long way since then. Front-end drag-and-drop page builders have dominated the market, making it possible to design beautiful, professional sites without any code at all — and they're becoming easier to use every day. The best part? They cater to all skill levels, from budding WordPress users to seasoned developers.
Beaver Builder — a drag-and-drop design system for WordPress — is one such example of this new era of site creation. Developed in 2014 under the umbrella of FastLine Media, a web technology company founded by Justin Busa and Billy Young, the open-source software was initially used to help clients manage content on WordPress sites. Just a year later, in 2015, Beaver Builder found itself leading the front-end page builder market. It was then, with the help of friend and colleague Robby McCullough, that the group decided to focus exclusively on Beaver Builder.
Today, the California-based company has earned the trust of some of the biggest names in WordPress, including WP Engine, Crowd Favorite, and GoDaddy. More than 500,000 WordPress sites have been built using the software, which offers unlimited site licenses and world-class support, among other perks. Between Beaver Builder's WordPress page builder plugin and framework theme, first-time site builders and professional developers alike can save time and streamline their workflows. With endless educational resources available on BeyondBeaver.com and a continued focus on innovation — including the introduction of the new Beaver Themer add-on — it's clear that the company intends to stake its claim in the market for years to come.
Gain Control Over WordPress with a Trusted Page Builder
Beaver Builder's packages are designed to suit various users and skill levels. Existing WordPress users with sites on the smaller side would likely benefit from the $99 Standard Package, which includes the page builder plugin, premium modules and templates, unlimited sites, and a year of customer support.
The company's free Page Builder Demo best illustrates how easy the plugin is to use. The platform essentially adds a layer of control over existing WordPress sites to make positioning text and images an intuitive experience. With real-time drag-and-drop functionality and column-based layouts, the plugin provides for a true WYSIWYG experience within WordPress.
Beaver Builder's page builder plugin works with almost any theme, though users without an existing design can choose from dozens of responsive templates, including landing page templates for multiple industries and various content page templates. Looking to design a storefront? Beaver Builder is also compatible with WooCommerce, one of the world's most popular open-source eCommerce platforms for WordPress.
Revolutionize Your Workflow with Beaver Builder Theme
Professional developers looking to build responsive sites that empower clients to handle their own edits should look no further than Beaver Builder Theme, available in the $199 Pro Package (as well as the $399 Agency Package, which also includes white labeling.) The company describes Beaver Builder Theme as the "perfect balance of settings and functionality," built to serve the real-world needs of both developers and end users.
To date, more than 50,000 websites, including several high-traffic sites and blogs, are powered by Beaver Builder Theme. The platform uses the WordPress Customizer for live editing and previews of theme setting changes, and also leverages Bootstrap as its CSS framework to make front-end development fast and easy.
Earlier this summer, the company announced the launch of Beaver Builder Theme 1.7, a highly-anticipated upgrade focused on implementing new features and optimizing performance. With version 1.7, users gain greater control over button styles, dedicated H1 style options, responsive menu animations, and the option to use Bootstrap 4. For an in-depth look into all of the updates, check out the company's comprehensive overview.
New: Headers, Footers, Blog Layouts and More with Beaver Themer
The company's newest addition, Beaver Themer, is a powerful extension to its Page Builder that's perfect for WordPress professionals looking to build custom sites for clients.
While the page builder has traditionally focused on single pages, Beaver Themer enables users to build headers and footers, archive or single page layouts, 404 pages, and more using the Page Builder interface. These custom templates can then be applied to any number of posts, products, or custom post types — a functionality that previously required writing code.
According to an introductory video on the company's website, "Beaver Themer works best with the Beaver Builder Theme, but we're working with theme creators to add support for new themes all the time." In the meantime, an updated list of currently supported themes is readily available.
BeyondBeaver.com: Resources to Become a WordPress Master
Never satisfied with "good enough," the folks behind Beaver Builder also launched BeyondBeaver.com, a resource that's intended to help users "make better WordPress websites ridiculously fast."
The site is currently used by more than 4,000 monthly readers looking for exclusive tutorials, blog posts, and resources that will help them master WordPress and the Beaver Builder platform. Some of the most popular topics on the site include "Recommended WordPress plugins and tools for WordPress websites," "Set up a blog with Beaver Builder the right way without using modules," and "Customize the post header of a single post in the Beaver Builder Theme."
BeyondBeaver.com was also created to help Beaver Builder users make more revenue online by soaking up information on different strategies, processes, and tools that affect the bottom line. That's why the site provides guidance on topics like free tools for starting an online business, common entrepreneurial mistakes, and signs you need to hire employees for your online business.
In addition to helpful tips and tricks, BeyondBeaver.com outlines how users can save money through the BeyondBeaver.com Points System, in which customers earn points for providing reviews on templates, referring people to templates, and other activities. The points are redeemable for discounts on future purchases.
Overall, the company, which affectionately refers to its customers as "Beyonders," seems to be striking the right chord with its content marketing. As customer Abhijit Rawool states on the site, "I have been reading all the articles you've been emailing me as part of your blog series, and all the knowledge you're sharing is awesome! The series has actually given me the confidence to dump Genesis after five years and start using Beaver Builder."