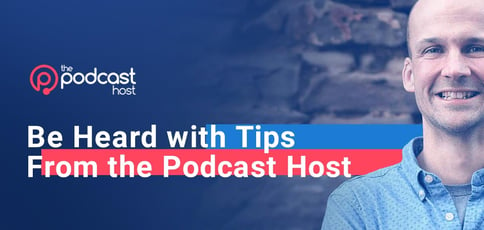 TL; DR: The Podcast Host is a comprehensive guide to podcasting created with the simplicity, brevity, and clarity needed to make what can be a complex process more accessible. Colin Gray, CEO and Founder, designed the site to help users cast away tech worries and focus on creating engaging content. In addition, The Podcast Host's podcast-maker app, Alitu, automates technical intricacies and streamlines the creation process with simple but powerful drag-and-drop tools.
"Serial," a 2014 podcast hosted by investigative journalist Sarah Koenig, is often credited with putting podcasting on the map — and for good reason.
The gripping investigation into the grisly 1999 murder of 18-year-old Hae Min Lee — and her ex-boyfriend Adnan Syed's subsequent life sentence for the crime — dominated media headlines and water-cooler conversations.
Word of the whodunnit phenomenon spread fast among fans and amateur sleuths, who helped "Serial" achieve 5 million iTunes downloads at a record-breaking pace. If that weren't enough, Saturday Night Live comedian Cecily Strong's spot-on impression of "Serial" Host Sarah Koenig thrust the podcast into an even brighter spotlight.
Colin Gray, CEO and Founder of The Podcast Host, already had a well-established site on the topic when "Serial" became a breakout hit.
"The mainstream media all covered 'Serial', which helped attract interest, because more people heard the word 'podcasting' and wanted to find out what it was," Colin said. "It also helped that Apple began including its Podcast app by default on every single iPhone. There was no extra software to download, which made the process quite simple."
Android followed Apple's lead with sophisticated but intuitive podcasting apps designed for everyone — from beginners to power users. But while advancements in technology (and the popularity of 'Serial') certainly gave podcasting a boost, Colin said the industry has generally experienced stable growth.
"Podcasting has never reached that huge inflection point that you saw with YouTube or blogging where usage skyrocketed over a year or so," Colin said. "Even with 'Serial', the shifts haven't been groundbreaking. It's very much been a slow, steady growth."
Through The Podcast Host, Colin and his team strives to keep the momentum going with a comprehensive guide to podcasting and an innovative podcast maker app, Alitu. By offering straightforward, easy-to-digest content and automating workflows, the company helps podcasters share their voices without technical headaches over equipment, recording, and hosting.
An All-Inclusive Podcasting Guide Born from a Hobby
In 2011, Colin worked at a university where he taught professors how to leverage technology in their courses. At the time, he created a lesson specifically on how to enhance the learning experience through podcasting.
"I fell in love with the medium at the time, because I love that balance of information and personality that you can get across," he told us. "It feels quite personal, quite intimate to speak with someone in the form of a conversation, as opposed to a mass broadcast."
At the time, Colin (and the general population) still considered podcasting a hobby, rather than a content marketing tool. So when Colin launched The Podcast Host that year, he did so merely to share information with others interested in the topic.
"I wrote articles on what are the best microphones to use, and how to improve your speaking skills," he said. "And it was just because I was interested, and I'm a bit geeky about stuff. When I learn something, I want to share it with other people. I didn't think I'd achieve anything in terms of turning it into a business."
Today, the site is a one-stop shop for podcasting advice on technical gear, recording a show, content planning, editing, production, launching, and growth strategies. Users can also receive a free seven-day trial of Alitu, the company's automated podcasting platform. Both seasoned and budding podcasters can use the platform to upload or record content, clean audio, edit it using a simple drag-and-drop interface, and publish it directly to a podcast hosting service.
(Hint: When deciding where to host your podcast, reference the site's many resources on the topic, such as this roundup of hosts the team actively uses or has used in the past. Or, check out the Podcast Host Academy for personalized, in-depth coaching, resources, and courses on making the hosting process easier, among many other topics).
Ultimately, these resources combine to save podcasters time and drastically reduce pain points.
"When making a podcast, there are two things that people always tell us they struggle with: Because there are so many steps in podcasting, they don't have enough time," Colin said. "They also don't want to worry about the technical aspects. We save people time and that mental load of learning and keeping up with this technology themselves."
Where to Start? Finding Your Unique Angle
Colin told us that podcasts are often more engaging than other marketing mediums, such as blogging and video.
"You're lucky if you can get people to watch a video for a few minutes or skim through a blog post for 30 seconds," he said. "But people listen to podcasts for 30 minutes at a time, even one or two hours, all the way through. It's a smaller audience, but far more engaged."
Podcasting has rapidly proven itself in the advertising world, leading to better market recognition, brand recognition, and overall financial success.
"Podcasts have been proven to have much better action rates, in terms of the percentage of people listening and whether they'll do what you've asked them to do," Colin said. "And that leads to a better ROI."
In terms of the trends or challenges that podcasters have to stay ahead of, Colin said that, while technology is necessary, it shouldn't be the main focus. Equipment-wise, he recommends that beginners scan The Postcast Host for articles about the best equipment, tools, and software, choosing solutions that fit within their budget and move on.
"Certainly, you have to ensure quality audio, but beyond a certain level, which is achieved using any decent USB mic, and a relatively soft room that isn't all tiles," he said. "That combination will put you into the over and above category in terms of audio quality. From there, you should concentrate on content."
Colin recommends that podcasters consider bringing on a co-host, as the dynamic conversations between two employees or friends are typically more engaging than one-way interviews. It's also good to clearly define how your show and message stand apart from those of others.
"It's about finding an angle," he said. "If you're going to discuss politics, maybe it's for a particular audience: Politics for teenagers, politics for people who live in North Carolina, or politics from the perspective of someone who grew up in South Africa, which has a very turbulent political climate. It could be an angle based on the person you're speaking with or your background."
Simplicity, Brevity, and Clarity: Creating Content for the Reader
Simplicity, brevity, and clarity are the common denominators underlying everything The Podcast Host team does. When describing clarity, Colin said he thinks back to his background in teaching.
"Clarity, to me, means that if you're teaching somebody something, it's about them," he said. "But sadly, in so many cases, it's about teachers proving how smart they are, exposing their knowledge, and lecturing to somebody who's lower-tier than them."
Colin is the first to admit he hasn't mastered the skill of teaching complex topics in the simplest way possible, but said he tries his hardest to focus on the learner instead of himself.
"That does mean providing clarity," he said. "There are a few different aspects of clarity, one of them being simplicity: using very simple words and very simple tools. In our podcast, for example, Matt and I treat ourselves as two ordinary people. We don't use any jargon; we simplify things."
Brevity is another aspect of clarity. Colin said the team takes care to keep podcasts brief — between 10 and 20 minutes, maximum — and to present courses and other content in bite-sized portions.
Alitu, the company's podcast maker app, is also meant to be as simple as possible.
"We have taken out options, we've simplified the process of podcasting as much as we can," Colin said. "And we've excluded some people because of that — Alitu is not for people who need detailed editing and want to control every aspect. But 90% of our users prefer just having it done automatically for them."
Up Next: Writing the Book on Podcast Promotion
The Podcast Host has exciting news for those of us stuck at home this season: The team will soon unveil its book on podcast promotion.
Colin said the company is often asked how to grow a podcast audience — and this book will have the answers.
"We've spent about a year writing this as a team, between myself, Matthew McLean, who was my first team member, and Lindsay Harris Friel, a long-term writer," he said. "Both of them have written the bulk of this book with a couple of minor contributions from myself. They've done such a good job; I'm proud of what they've put together."
Advertiser Disclosure
HostingAdvice.com is a free online resource that offers valuable content and comparison services to users. To keep this resource 100% free, we receive compensation from many of the offers listed on the site. Along with key review factors, this compensation may impact how and where products appear across the site (including, for example, the order in which they appear). HostingAdvice.com does not include the entire universe of available offers. Editorial opinions expressed on the site are strictly our own and are not provided, endorsed, or approved by advertisers.
Our Editorial Review Policy
Our site is committed to publishing independent, accurate content guided by strict editorial guidelines. Before articles and reviews are published on our site, they undergo a thorough review process performed by a team of independent editors and subject-matter experts to ensure the content's accuracy, timeliness, and impartiality. Our editorial team is separate and independent of our site's advertisers, and the opinions they express on our site are their own. To read more about our team members and their editorial backgrounds, please visit our site's About page.