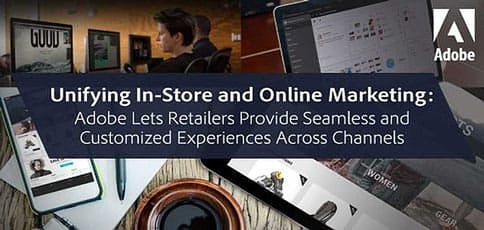 TL; DR: Driving customers to convert is no easy task for a retailer, especially with so many transactions beginning online and ending up in-store — or vice versa. Adobe helps companies take on the marketing challenge of unifying those channels to make the customer experience more seamless and personalized. With Adobe Marketing Cloud, retailers have access to tools that bridge the gap between online and in-store channels. Retailers can create more visually compelling campaigns through integration with the Adobe Creative Cloud, and with Sensei, Adobe's proprietary AI, they can quickly create content and predict what consumers will want next.
A business can become overwhelmed when trying to make sense of data gained from the various touchpoints in the modern customer journey — especially in an omni-channel world where information can pile up instantly. Without a unified plan for acting on that data, marketing can quickly become a guessing game. Forbes writer Bernard Marr refers to the predicament as "being data rich but insight poor."
Such was the case for Sephora, a well-known global beauty product retailer. A powerhouse in online and brick-and-mortar sales, Sephora generated plenty of valuable customer data from its online and in-store channels. But that glut of information caused problems, mainly defining a single marketing strategy that merged data from physical and virtual touchpoints.
The company's search for a solution led directly to the Adobe Marketing Cloud, where Sephora found products suited to answer its omni-channel challenge. Adobe bridged the gap between in-store and online data, and the ability to leverage the Creative Cloud to produce powerful visuals gave Sephora a complete platform that spanned the entire marketing spectrum.
"We have built Marketing Cloud into a suite of tools to address everything from customer acquisition all the way through to conversion and retention," Michael Klein, Director of Industry Strategy for the Adobe Marketing Cloud, told us when we caught up with him at the 2017 National Retail Federation Big Show in New York.
Sephora leveraged the Adobe Marketing Cloud to help create a more personalized view of its customers both in-store and online. By using that approach in its direct mail campaigns, Sephora was able to boost efficiency by 70% and double response rates without any additional costs.
And Sephora's direct-mail campaign success represents just a part of what the Adobe family of products can do for retailers. From integrating stunning visuals through Creative Cloud to infusing artificial intelligence and machine learning into marketing and creative tasks with Sensei, Adobe is an end-to-end solution that can increase efficiency, ROI, and the effectiveness of a campaign.
Marketing Cloud™ Provides Solutions for Engagement & Conversion
Adobe's Marketing Cloud is made up of eight individual tools that come together to form a complete marketing platform. A retailer can leverage any or all of the products to tailor a solution that will best fit its needs.
With tools dedicated to audience management, social media engagement, media buy optimization, and even creating personalized digital video content, the Marketing Cloud covers the entire spectrum of consumer engagement and analytics. When we talked to Adobe at the Big Show, four of its Marketing Cloud products stood out: Campaign, Analytics, Target, and Experience Manager.
Adobe Campaign is the tool Sephora used to reach customers on multiple channels by using customer profile data to prepare and send messages at the right time. With Campaign, a business can look beyond labeling customers as in-store, online, and mobile to deliver a personalized, consistent marketing message regardless of channel.
From one dashboard, a retailer can create campaigns and customer journeys for many different segments of its audience and even automate them to increase efficiency. Another tool, Adobe Target, allows a retailer to drill down into the details of what drives a segment of customers to convert. With Target, a retailer can produce campaigns that relate to consumers on a personal level for improved conversions.
"Not only can we tailor the content to all of the different consumers based on what experience they prefer, we enable a retailer to create that experience to bring the consumer to the point of sale," said Errol Denger, Adobe's Commerce Program and Strategic Alliance Director.
Target tests different campaigns simultaneously to find out which are the most effective and what content or product a recipient is most interested in. And after a particular campaign is finished, Adobe Analytics brings all of the data together to give a clear picture of success, allowing a retailer to learn from insights in real time and adjust before the next campaign.
Adobe Experience Manager takes interactions even further by helping to keep the customer journey consistent through the entire process — online, mobile, and even in the physical store.
"If you have a point-of-sale terminal and you want to incorporate that same rich experience by leveraging targeted content there or on digital signage, that is a problem we are solving," Michael said. "Our platform can recognize if you are an omni-channel shopper, and if you are in the store, we are going to give you a customized experience."
Creative Cloud™ Easily Integrates Stunning Visuals into Campaigns
The Adobe Marketing Cloud offers many useful products housed within an intuitive platform that makes it easy to gather information and interact with the consumer at the right time. But the visual elements are the foundation for any memorable campaign.
That's why Adobe has completely integrated its Creative Cloud with the Marketing Cloud, allowing a retailer to incorporate projects from Photoshop, Dreamweaver, InDesign and a host of other visual-focused Adobe products. Some email marketing tools allow for the easy drag-and-drop of photos, but Adobe lets retailers transfer work directly from programs that are known for the high-quality images and graphics they produce.
With Adobe Dreamweaver, a user can design content-rich HTML emails that are as functional as they are artistic. Once the email is finished, the user can import it directly into the Marketing Cloud and use it in a campaign. Being able to create a unique experience and quickly disseminate it is important, especially considering just how vital email marketing is to a company's bottom line.
"In retail, 30-35% of revenue is attributed to the email channel," Michael told us. "With Adobe Campaign, 50% of marketers are using Dreamweaver to create content for email because the creative and marketing clouds are integrated."
The bridge Adobe built between its two powerful clouds means that retailers can create more memorable messaging that stands out from a templated style. A company's ability to differentiate itself is critical and can directly impact its revenue stream.
With imagery that captures attention and the ability to push more personalized campaigns out to a wide variety of consumers, Adobe helps retailers engage consumers. But understanding exactly what a consumer wants takes a different level of intelligence, which is where the brilliance of Adobe Sensei comes in.
Sensei™ AI Incorporates Machine Learning into Cloud Products
With just a basic set of information, sending an email to a subset of consumers can be easy. If a retailer wants to send one email to all of the males on its customer list highlighting items for men, and do the same for its female customers, it would send campaigns to two subsets of customers.
But consumers expect more than just binary customization, they want products that are curated just for them, which is where Adobe Sensei flexes its muscle. Sensei is an AI and machine learning engine that doesn't just bring all of the information about a consumer into the equation, it predicts what they would like to see based on that data.
Combined with the Adobe Experience Manager, Sensei can predict whether a campaign featuring a ski jacket is going out to a consumer who is interested in fashion, someone who occasionally visits the slopes, or a technical alpinist, and it will adjust the campaign accordingly.
"Sensei is brought in to understand: Who is the shopper? What touchpoint are they accessing through? And what experience do they want to see based on all accessible information?" Errol said.
Knowing how a customer interacts with a brand is important, and Sensei analyzes whether a person likes to shop online and buy in-store, or the other way around. From a marketing standpoint, this can change everything, and Errol compared it to a recommendation engine that most are familiar with: Netflix.
"The way we act in a physical environment is different from the way we act online," Errol said. "For example, the algorithm Netflix wrote to recommend DVDs does not apply to its streaming content. There are subtle nuances to the way we consume things."
By building Sensei to recognize those subtle differences, Adobe makes sure every conversation can speak directly to that individual consumer, and that no opportunity for conversion is missed.
Adobe Helps Retailers Ensure a Consistent Experience for Shoppers
When Sephora engaged the Adobe Marketing Cloud, it was able to begin acting on the global data produced by its customers to increase conversions. Adobe's commitment to providing marketing solutions is evidenced by the powerful programs it brings together to produce results for retailers.
Everything Adobe is innovating has the same goal: to create an engaging — and consistent — customer journey. At the Big Show, the Adobe team even demonstrated how they are bringing the digital shopper journey into the physical store so a consumer can interact with touchscreens in dressing rooms, or peruse relevant products on digital signage. Adobe wants to put a focus back on the physical store because of how critical it is to a retailer's success.
"We know that 90% of retail still takes place in the physical store," Michael told us. "We are changing the physical retail world through digital experiences to harness the power of the recent explosion of touchpoints and communication."
Adobe has positioned itself as a force in the marketing industry by always looking for ways to embrace the future and bring consumers and retailers closer together. By combining the Marketing Cloud with the Creative Cloud and adding machine learning with Sensei, Adobe is empowering businesses to embrace that future as well.