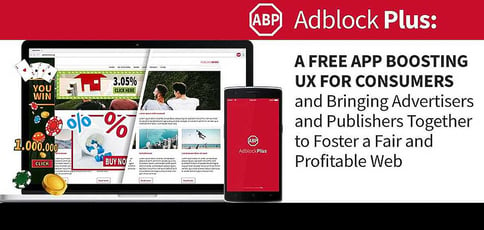 TL; DR: Adblock Plus is an open-source app that empowers users to block intrusive ads, disable tracking, and filter out domains known to spread malware. The app works to keep data and devices safe through a user-defined set of criteria for acceptable advertisements. By creating a common ground between consumers, advertisers, and publishers, Adblock Plus aims to monetize online content in an appropriate way for all parties.
In 2011, Eyeo Founder Wladimir Palant, CEO Till Faida, and Chairman Tim Schumacher came to a conclusion that you wouldn't necessarily expect from the company that owns Adblock Plus: Not all ads are bad.
There's no doubt that, at their worst, online ads are interruptive, spammy, and sometimes illegal. At their best, however, they're an unobtrusive — and even enlightening — way to support content creation online. Recent research backs this up, with 83% of survey respondents stating that they are not fundamentally opposed to advertising and only wish to filter out obnoxious ads.
Realizing this, the team behind Adblock Plus sat down to reinvent the open-source ad blocker in a way that would protect users from intrusive content without disrupting the predominant funding model for online content.
"That's when they had a eureka moment: They could establish criteria for acceptable, decent ads," said Laura Sophie Dornheim, Head of Communications at Eyeo.
With that, the Acceptable Ads Initiative was born. Now, the open-source ad-blocker comes with the option to whitelist ads that meet a strict set of criteria. Users who wish to block all ads can do so by disabling the "Allow Acceptable Ads" feature at any time, or they may adjust their ad-blocking preferences manually. The app also works to disable tracking and filter out domains known to spread malware, among other security measures. By creating a compromise between consumers, advertisers, and publishers, Adblock Plus aims to create an online environment that's fair and profitable at the same time.
A Strict Set of Criteria for Acceptable Advertisements
Adblock Plus bases its Acceptable Ads criteria on feedback from users as well as the ad tech community at large. Those discussions helped the company establish a strict set of rules defining non-intrusive ads. "It's quite simple criteria, mostly about the format, size, and placement of these ads," Laura said. "For example, no one likes to be interrupted by ads, so ads may never be within content like video, text, or a slideshow."
In general, these guidelines specify that ads must be placed on top of, on the side of, or below primary content as not to disrupt readers' natural flow. They should always be clearly recognizable as advertisements and distinguishable from all other content. Ad size requirements depend on the placement of the ad to leave sufficient space for primary content on the most common screen sizes for desktop and mobile devices. In addition, ads placed above the fold cannot occupy more than 15% of the visible portion of the page. Those placed below the fold may not take up more than 25% of the visible portion of the page.
Participation in the Acceptable Ads initiative is free of charge for most entities, with the exception of those that gain more than 10 million additional ad impressions per month through participation. These larger entities are required to pay a monthly fee that typically represents 30% of the additional revenue accrued by whitelisting acceptable ads. All paying and non-paying participants must abide by the same Acceptable Ads criteria, and all whitelisted ads are listed on a public forum.
Keep Data and Devices Safe Through the Power of Open Source
Laura said the company treads a fine line between creating a seamless user experience and a sustainable monetization model for publishers. "Our goal is to change how the web monetizes content, and you can only do that by working with both sides," she said. "Striking a balance is always tricky, and you have to work hard to explain what you do clearly to all parties."
Between pop-ups, autoplaying video ads, and modal ads that you must close before interacting with a site, online advertising techniques become pushier by the day.
"That is not sustainable in the long run," Laura said. "For example, if you go to The Washington Post, up to two-thirds of the data on the page is advertising. At the other extreme, advertising is the predominant monetization model for journalism and a lot of other creative industries, and we don't want to hurt them or decrease the great variety of content they produce."
Overall, Laura said the company's success is indicative of effectively striking a balance between the two extremes. In addition to the company's Acceptable Ads initiative, the company adheres to privacy laws like the GDPR. In fact, Adblock Plus does not collect any user data. "Based in Europe, we're held accountable to the strictest privacy laws, while many of the other ad blockers out there are just hobby projects," Laura said. "Users are better off going with someone they can trust from the start."
Block Tracking and Malware and Create Your Own Filter Lists
With tools that empower users to avoid tracking and malware, Adblock Plus prioritizes data privacy in an online world that's plagued with prying eyes and cruel intentions. Eyeo has also released an Adblock Browser app for Android and iOS devices to protect users on the go. The app reduces the risk of malware infection, enhances privacy, and even saves data and battery resources since ads often cause pages to load more slowly.
In addition to built-in filters, the company also offers a range of additional filter lists that allow users to customize their service. For example, users may choose to install Easy Privacy, an offshoot of the built-in EasyList that stops ads from following you on the web.
When it comes to adding new features, Laura said the company has changed its approach to product development in recent years. "In our first five years, users would pretty much rip whatever we released out of our hands, so our team would just work on each release based on the features they felt were most important," she said.
As the market grows increasingly saturated with a broader user base, that standard has changed. "Our company is in a really interesting stage right now, because we're really putting our ear to the ground and finding out what users want and need in terms of features, the user interface, and the user experience," Laura said.
The open-source nature of the project, licensed under GPLv3, lends itself to collaboration from the community, who are welcomed to report bugs, contribute code, help other users, make suggestions, improve filters, and evaluate acceptable ads.
Exploring New Ways to Monetize Content Online
According to Laura, the challenge of finding the perfect way to monetize online content is like the race to the moon. "The first one there most likely wins it, though, so far, no one has nailed it," she said. "We have this mission statement: Putting you in charge of a fair and profitable web. Ad blocking is what made us big, but we see that as just one part of changing how content is monetized."
Two years ago, Eyeo joined forces with Flattr, a company that created the world's first micropayment system. "It's a browser extension you can use to spread a certain budget over all the sites that you visit in a certain timeframe," Laura said. "We're working on improving it and finding a different angle to provide website owners and publishers an alternative to advertising."
The company has also revamped the way it distributes acceptable ads. Previously, staff whitelisted sites manually. Today, the company is developing a programmatic system called the Acceptable Ad Exchange (AAX), which will allow more sites to participate in the program while maintaining the company's high standards for acceptable ads.
The development builds on the company's original epiphany — that not all ads are bad — while creating a more sustainable methodology.