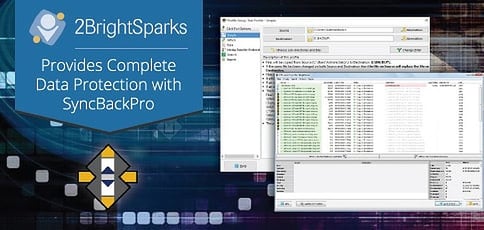 TL; DR: In 2004, Michael Leaver, along with partners Mike De Sousa and Richard Gascoigne, founded 2BrightSparks with their flagship product SyncBack. The software offers comprehensive data protection, allowing users to seamlessly back up, synchronize, and restore data files. Michael and his team have tailored their backup and recovery solutions to focus on flexibility, which is why so many organizations around the world employ it to safeguard mission-critical business intel. Michael told us how SyncBack can be customized to prioritize backup processes — addressing the challenge of balancing data protection with system performance. Offering tools to be used individually or concurrently, Michael and the 2BrightSparks team aim to further disrupt the space with continued improvements to their data backup solutions in 2017.
It was the early 1990s and Michael Leaver had freshly graduated from Coventry University. Winner of the British Computer Society Prize for his final year project, Michael was ripe for a promising career in development. However, surveying the landscape for employment opportunities in the UK, he found the job market to be very slim for new graduates. So he did what any other 20-something would do in that situation — sell all his belongings and move to Hong Kong to start coding professionally.
"I sold everything I owned, which was just an old 386 PC," Michael said. "I had no job lined up, but I had nothing to lose."
Years later, after successful stints at a number of international and start-up companies, Michael found himself in Singapore writing resource management software for hospitals. He found his work was stacking up and quickly realized he was going to need to back up his files. At the time, however, Michael found no suitable solution.
"I wanted to keep my brain active, so I wrote my own simple backup software," he said. "That was the first version of SyncBack."
Michael made the software available for download on his website, asking for small donations to keep the site up and running. As it happened, the first person to contribute to the cause ended up co-founding 2BrightSparks with him.
"The very first person to donate was Mike de Sousa," he said. "It turned out Mike was great at all the things developers aren't good at — graphics, website design, help files, et cetera. We agreed to work together and so started 2BrightSparks."
Soon after, a US expat living in Singapore, Richard Gascoigne, made a donation and met with Michael to discuss the software. When he heard how popular SyncBack had become, Richard convinced Michael and Mike to register 2BrightSparks as a real business, and, in 2004, 2BrightSparks became a private limited company with the three of them as directors.
Flexible Synchronization & Backup Software Adaptable to User Need
Over the years, SyncBack continued to evolve and improve. Today, the software offers a complete synchronization and backup solution with one important differentiator — it's flexible.
"Most software is designed to be simple and obvious to use, and one way to achieve that is to remove as many options as possible," Michael said. "We've always gone in the other direction, which is to provide the most flexible software we can."
This results in software that's more complex to use and understand, Michael noted. However, users are able to tailor the features to their needs and make the software work exactly the way they want it to.
Because of SyncBack's flexibility, the software lends itself to a wide array of user types. SyncBackSE provides home users the ability to easily back up or synchronize their data to local or external drives, over a network, and through FTP.
The professional grade version of the software, SyncBackPro, is being employed by mission critical organizations throughout the world, including law enforcement agencies, hospitals, and government departments. The pro version provides businesses and organizations a robust backup solution with numerous features such as integration with the SyncBack Management Service, cloud support, scripting support, and auto drive failure detection, among many others.
"Our main appeal is that we allow anyone to back up any file to almost any platform in precisely the way they want to," Michael said. "Once set up, the user never needs to worry about losing their data again."
Michael noted the software's SmartSync system works by keeping a record of all the previous states of a file. When a profile is run, SyncBack scans the files and compares them with their previous states. It can then decide what the best action should be.
Versioning is also available, which allows users to retain old versions of files in the event they need to access an older copy of the content.
"Some cloud systems, file systems, and applications may natively support versioning," Michael said. "SyncBack, however, works with any kind of storage, document, and file system, so it doesn't matter where your backup is stored. You can decide how many versions of a file to keep and/or how long to keep the versions."
Total Data Coverage is Possible Without Compromising Performance
As most in the IT community know, many backup software solutions toe the line between providing complete coverage and maintaining optimal performance levels. 2BrightSparks's software was built to work around this problem.
"SyncBackPro is designed to use as little memory as possible, when it can," Michael said. "We have users who must back up millions of files, and SyncBackPro can cope with this without experiencing any issues."
Michael told us it's possible to configure the software so the Windows file cache isn't used when copying large files. Settings can be adjusted to toggle bandwidth to prevent network overloads, and priorities can be set on the backup process so it doesn't overwhelm the system.
"For some people, and in some situations, performance is the priority," Michael said. "A backup or synchronization may be time critical. For others, performance is not an issue, for example, when the backup is run during the night when there is no competition for resources. SyncBack has many settings that can be tweaked so the backup or sync is run how you want it. It's all about what the user needs and wants."
Always aiming for improvement, 2BrightSparks will be releasing a new version of the software with increased FTP and cloud performance by reducing the time it takes to scan for changes to files.
Pairing Solutions Provides Comprehensive, Multi-Platform Protection
All IT professionals are concerned with losing files and keeping them safe from malware. 2BrightSparks offers the ability to combine solutions to create a fully protected environment.
Michael noted having a backup is the only real answer to being infected with malware. However, 2BrightSparks has recently collaborated with Emsisoft to provide a free one-year subscription to their anti-malware software for SyncBackPro users.
"You then get both prevention and cure," he said. "What people often don't realize is that even their backup files can be infected with malware. Some malware is specifically designed to do this. If you back up to an external drive, unless you unplug that drive, it's going to get infected as well."
The same goes for a cloud system, Michael told us. Even though certain cloud services keep old, uninfected versions of files, the restore process is usually complex and time-consuming.
SyncBackPro is able to back up to and from most cloud services without requiring their client software. This way, malware can't reach backup files. And, with versioning, users can easily retrieve a copy of an uninfected file in the event of a malware breach.
Stacking 2BrightSparks's solutions together ensures the integrity of user data. Their SyncBack Touch tool can be installed on Windows, MacOS, and Android. Touch can then be used with SyncBackPro and SyncBackSE to synchronize files with devices on which the software is installed. FTP support is included in every version of SyncBack, which provides another layer of protection for backup files.
With the next iteration of the software, 2BrightSparks will further its effectiveness against threats.
"With V8 we're also introducing a simple but effective feature that will detect malware infection on your host system," Michael said. "It works by checking to see if a file has been modified, and, if so, the backups will not run. This stops you copying infected files to your backup storage."
A Team Committed to the Development of High-Quality Utility Software
A lot has changed since Michael sold everything he had and moved to Southeast Asia. The successful company he started with Mike and Richard has grown exponentially. Though Mike and Richard have recently retired, there are no plans to halt the company's evolution.
2016 had their team working vigorously toward the next version of SyncBack, which will include numerous features and updates. It has required a lot of work, as Michael noted, but the 2BrightSparks team's commitment to continuously improve and innovate made it seem effortless.
"Everyone knows what they need to do and when it needs to be completed," he said. "Everyone provides input on all aspects of the business. We spend a lot of time analyzing everything we do and how we can improve it."
Though Michael may be the last of the Founders still at the company and has taken on Mike's and Richard's roles, he's still excited to spend most of his time working with his team and focusing on the core SyncBack code.
"The computing landscape has changed immensely since we started. The first version of SyncBack was written using Delphi, and it still is," he said. "It allows us to do everything we want to do and has improved consistently without breaking anything. We haven't had to worry about all the fads that have been and gone during that time. No rewrites have been required."
Advertiser Disclosure
HostingAdvice.com is a free online resource that offers valuable content and comparison services to users. To keep this resource 100% free, we receive compensation from many of the offers listed on the site. Along with key review factors, this compensation may impact how and where products appear across the site (including, for example, the order in which they appear). HostingAdvice.com does not include the entire universe of available offers. Editorial opinions expressed on the site are strictly our own and are not provided, endorsed, or approved by advertisers.
Our Editorial Review Policy
Our site is committed to publishing independent, accurate content guided by strict editorial guidelines. Before articles and reviews are published on our site, they undergo a thorough review process performed by a team of independent editors and subject-matter experts to ensure the content's accuracy, timeliness, and impartiality. Our editorial team is separate and independent of our site's advertisers, and the opinions they express on our site are their own. To read more about our team members and their editorial backgrounds, please visit our site's About page.