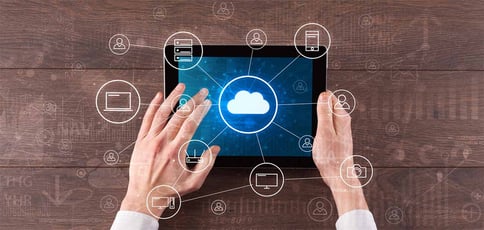 Great for both digital file hoarders and meticulous desktop organizers, the best free file hosting services give users a budget-friendly way to store and share information in a way that won't contribute to the clutter.
Organizing consultant Marie Kondo urges followers to keep only the things in your life that spark joy. She may have been talking about the unmatched socks in your drawers, but the same principles apply when it comes to organizing your data. File hosting services enable you to hold onto cheery files and computer backups while still freeing up space on your laptop.
Uploading and storing your data in the cloud is becoming an increasingly popular option, with an estimated 2.3 billion people expected to use personal cloud storage by 2020. With so many enterprise-grade services fetching top dollar, we've compiled a list of the best free file hosting plans for individuals and small businesses.
Best "Almost-Free" File Hosting Services
Whether you're looking for a place to safeguard all the images and videos that illustrate your favorite memories or perhaps somewhere to store the business documents that show how your hard work translated to major accomplishments and success, you'll want to find a trusted hosting provider that won't accidentally lose, destroy, or otherwise expose your information.
For ultimate peace of mind, consider upgrading away from no-cost plans to more professional organizations that charge a nominal fee for premium services. You can still get started on a free trial to see how the services fit your needs, but the companies we'll discuss soon represent industry leaders that rely on modern hardware and technology innovations to deliver a well-rounded and impressive slate of features.
Automatic cloud-based file syncing across devices
Easily share files and folders for secure collaboration
Manage your data from desktop and mobile apps
Unlimited file sizes and NO bandwidth restrictions
Plans start with 100GB and a 30-day FREE TRIAL
For instance, companies like BestBuy, Lenovo, and SanDisk trust SugarSync with cloud storage and file syncing services. The platform gives users seamless access to their files across multiple devices. Unlike the restrictions that free services place on users, SugarSync starts customers with at least 100GB on flexible month-to-month contracts. Plus, neither your files nor account will expire because of inactivity.
1TB of storage for file backups and syncing
2GB maximum file size with no download restrictions
Integrates with network-attached storage (NAS) devices
Compatible with Windows, Mac, Linux, and mobile
30-day FREE trial or 2GB free plan
Another of our favorite high-value file hosting companies, ElephantDrive offers insane storage and advanced features for individuals, developers, and organizations. The company was one of the first and most popular applications built on Amazon's Simple Storage Service (S3) and has since focused on optimizing cloud storage that runs natively on network-attached storage devices.
In addition to the partnerships with hardware manufacturers, ElephantDrive boasts wide compatibility, with apps available for Windows, macOS, iOS, Linux, and Android devices.
Best Free File Hosting Services
If free file hosting is in your sights and nothing else will do, never fear: We've vetted dozens of no-cost platforms and extended free trials to deliver our list of helpful, reliable, and secure hosting providers. Read on for in-depth descriptions of the features, advantages, and drawbacks associated with each file hosting service.


With more than 840 million people using MediaFire to store, send, and receive files each month, the cloud storage service may be the most popular cloud storage platform you've probably never heard about. The company starts users with 10GB for free and lays out several ways they can earn additional storage, such as connecting social media accounts, downloading the desktop app, and referring others. In addition to the seriously impressive 4GB file upload limit and easy-to-use browser interface, MediaFire's premium plans are extremely reasonable, as well — they start at $3.75 per month for 1TB of space.
Storage: 10-50GB
Maximum file size: 4GB
Download limit: None
File expiration: 8+ months after last login
Direct download links: No
Premium accounts: Yes


Introducing a social component to file hosting and sharing, 4shared enables users to share and search a library of publicly available images, videos, music, apps, and other files to discover what's trending. The company, which launched in 2005, represents a veteran organization with well-appointed plans ready for most casual users. Free accounts lack some of the polished features you'll find with MediaFire, but the company's Windows, macOS, iOS, and Android apps connect your data seamlessly on the go. We especially appreciate 4shared for being the first on our list that makes direct download links available to paying customers, but the company's premium plans cap out at only 100GB and cost $9.95 per month.
Storage: 15GB
Maximum file size: 2GB
Download limit: None
File expiration: 180 days after last login
Direct links: Premium users only
Premium accounts: Yes


With privacy and security woven into every aspect of its platform, MEGA assures customers of high-performance end-to-end encryption that doesn't impact usability. The New Zealand-based operation gives users control of their encryption keys, meaning MEGA has zero access or knowledge about what information you're hosting on its servers. Millions of companies and individuals count on MEGA to store and serve petabytes of data with reliability and security. Files and accounts never expire, but the company's free service can be a bit frustrating: Users start with 50GB, but much of it expires. You can earn much of it back, but only temporarily. Premium plans, which start at $5.56 per month for 200GB, will help you avoid those storage headaches.
Storage: 15-50GB
Maximum file size: None
Download limit: 10GB every 30 minutes
File expiration: Never
Direct links: No
Premium accounts: Yes


More than 12 million people and 330,000 teams use SaberCatHost to share more than 106 million files around the world. SaberCatHost is one of the go-to resources for free file hosting given its straightforward approach to safe, secure, and user-friendly storage. On-the-go users will miss out on optimized mobile or desktop applications, but the company's browser-based interface works solidly on Firefox and Chrome. Free account holders will get 5GB of storage that never expires, but they'll have to adhere to a somewhat strict 50MB maximum file upload size — not a problem if you're storing basic documents and images, but certainly not ideal for video files. Power users can unlock unlimited storage and improved uploading and downloading experiences for $9.99 per month.
Storage: 5GB
Maximum file size: 50MB
Download limit: None
File expiration: Never
Direct links: Premium users only
Premium accounts: Yes


File hosting doesn't get much simpler than ZippyShare. The pared-down service — which features unlimited storage and no download limits— is completely free to everyone. The company, which launched more than a decade ago, doesn't offer premium upgrades or even require users to register an account. All you need to do is stick to the 500MB cap on uploaded file size as you add your data, then share it with collaborators using a unique link. We love that files can be downloaded and tracked via live stats as long as you wish. Users who create accounts can track their files and determine when they should no longer be available to others. You'll also want to keep an eye out on your activity, as files will vanish after 30 days with no downloads.
Storage: Unlimited
Maximum file size: 500MB
Download limit: None
File expiration: 30 days of inactivity
Direct links: No
Premium accounts: No


With a companion VPN service available in nine countries, DepositFiles offers a flexible, user-friendly, and secure platform for global customers. Beyond the unlimited storage and ridiculous 10GB file upload limits, we appreciate how users can add password protection to file links and upload their data from remote HTTP or FTP servers. DepositFiles does not record or keep logs to protect users, and there are no download or traffic limits. Paying customers can enjoy multiple connections, more flexible download options, less waiting time, and most importantly, an ad-free experience. The price may be a little steep at $11.95 per month, but DepositFiles offers the space and security to make the expense worthwhile.
Storage: Unlimited
Maximum file size: 10GB
Download limit: None
File expiration: 90 days of inactivity
Direct links: No
Premium accounts: Yes
What are File Hosting Sites?
We cover many different types of hosting here, starting with web hosting and branching out to services specifically for domain hosting, email hosting, database hosting, video hosting, and others. As you may imagine, each type of hosting site entails storage optimized for the specific type of data you're looking to organize.
File hosting sites are different only that most remove any specifications on what types of files can be uploaded. Users can typically store images, text documents, videos, audio, data files, software, documentation, and virtually anything else imaginable — but you'll want to check with the hosting provider, just in case.
While the storage and upload mechanisms of file hosting are essentially identical to the FTP services and file manager you'll find in your web hosting account, file hosting does not include a web server or publishing component that enables visitors to view your information. Web hosting makes for only a serviceable, if crude, file hosting service.
Instead, file hosting companies secure your data with passwords and custom links. User permissions and roles are much more defined, as are tools created for sharing, accessing, editing, syncing, and otherwise managing the files you store. The ability to quickly access data synced across multiple devices is another big win for file hosting providers.
Are
Free
File
Host
ing
Sites
Safe
?
The best free file hosting services take security seriously, and their terms of use typically reflect this. In exchange for the ability to use their services at no charge, users agree not to upload illegal or copyrighted content. Additionally, you likely won't be able to take advantage of certain features — such as direct linking or HTML code embedding — with a free account.
The best free file hosting services also encrypt your data, with most using the same 256–bit encryption that major financial institutions use to protect customer information. In many cases, you'll have to go out of your way to make your files public, with most platforms protecting user information by default.
While free file hosting services are typically safe to use, avoid any platform that doesn't require an account to upload or download files. These platforms are often filled with viruses and other malicious content, and their security measures are typically nonexistent.
Are
There
Any
Downs
ides
to
Free
File
Host
ing
?
There are a few potential downsides to using free file hosting services, but most of these can be avoided by reading the terms of use and user agreement before creating an account. Additionally, be sure to compare various providers to find the one that best suits your needs.
The primary concern with any file hosting or sharing service is security, and this should be a top priority when evaluating providers. If a platform is known for lax security or doesn't take steps to encrypt user information, avoid it at all costs. Additionally, some free file hosting services place limits on the size of uploaded files, maximum overall storage, and the number of downloads. Others may place ads on download or preview pages, or require users to complete a short survey before downloading a file.
Which is the Best File Hosting Service?
Similar to rifling through your closet to find the best outfit, the best file hosting can vary wildly depending on a number of factors. What is the weather like outside? Is the event formal or casual? Similarly, the file hosting service your mother uses to store vacation photos will likely not be the best one for a research organization, accounting firm, or Fortune 500 corporation.
Separate from the technology or capacity of your chosen file hosting service, cost is always at the forefront of what makes a platform better than another. The best value may very well be a free platform, or paying for more advanced features may be a worthwhile investment, depending on your budget and requirements. Generally speaking, here are some of the key features on which you may want to evaluate file hosting providers:
Maximum overall storage and limits to the size of uploaded files
Download limits or bandwidth restrictions
The ability to directly link to files instead of an interstitial download page
File or account expiration policies
Desktop or mobile access, as well as automatic syncing and backups
User permissions, collaboration tools, and file sharing governance
Before you dive into figuring out the best file hosting service for your specific situation, take a moment to think objectively about the features you particularly need or can do without. You may need sheer storage capacity, unrestricted upload limits — or, just an incredibly user-friendly, low-stress interface that automatically syncs your data across multiple devices.
Which is the Best Free File Sharing Service?
File hosting and sharing often go hand in hand, with companies typically offering both services. However, understanding the subtle difference between the two can have a major impact on the service you ultimately choose and enjoy.
In general, file hosting enables users to upload, organize, and oversee files in a dedicated environment on another company's servers. On the other hand, file sharing entails giving others access to a user's particular file, typically through a custom link. Platforms strictly focused on file sharing usually deal with one file at a time, often not requiring users to create an account or sign up for storage space.
Take a look at the most popular file sharing websites, and compare their offerings with those of the file hosting organizations we've already covered:
The same basic features you use to evaluate file hosts also apply to file sharing platforms. Security becomes even more tantamount, as well as accepted file types and upload or download restrictions.
Boost Business Productivity With Premium File Storage and Sharing
No matter what you store or for what purpose, top-notch file hosting services can make your experience much more efficient and cost-effective. Those attributes especially resonate among businesses of all sizes — especially those with a distributed or remote workforce.
Cloud-based file hosting improves versioning controls, ensuring everyone on the team is working with the most recent information. Ninety percent of business leaders surveyed said that online file collaboration tools improve business processes, with 82% agreeing that work was executed faster.
What's more, file hosting services help boost an organization's security and data recovery capacity, and ensure systems are always upgraded and running updated protocols. Business costs and time investments decrease dramatically because the infrastructure and maintenance is offloaded to another company.
Look for a platform with strong user controls to ensure your ability to distribute your data safely and securely. Password protection and hidden folders are another way to safeguard sensitive data.
These benefits only grow as you transition from the base free file hosting services to premium packages many of them offer. Companies introduce more features, faster speeds, and increased storage as you move through the ranks, making cloud-based file hosting a strong investment for businesses of all sizes.
Further Reading: "8 Best Free File Hosting Services (Oct. 2023): Unlimited Storage"
Hopefully, our recommendation of SugarSync fulfills all your web hosting needs. Starting at just $7.49 per month and rated 4.8 overall, SugarSync gives users plenty of bang for the buck. Among our favorite features:
Automatic cloud-based file syncing across devices
Easily share files and folders for secure collaboration
Manage your data from desktop and mobile apps
Unlimited file sizes and NO bandwidth restrictions
Plans start with 100GB and a 30-day FREE TRIAL
If you'd like recommendations similar to SugarSync and others in 8 Best Free File Hosting Services (Oct. 2023): Unlimited Storage, check out these popular guides. You'll find comparisons of SugarSync to other hosts on pricing, features, support and more:
And of course, if SugarSync is your top choice, you can get started now at just $7.49/month. SugarSync is easy to set up and scale, no matter the size of your next project.
Advertiser Disclosure
HostingAdvice.com is a free online resource that offers valuable content and comparison services to users. To keep this resource 100% free, we receive compensation from many of the offers listed on the site. Along with key review factors, this compensation may impact how and where products appear across the site (including, for example, the order in which they appear). HostingAdvice.com does not include the entire universe of available offers. Editorial opinions expressed on the site are strictly our own and are not provided, endorsed, or approved by advertisers.
Our Editorial Review Policy
Our site is committed to publishing independent, accurate content guided by strict editorial guidelines. Before articles and reviews are published on our site, they undergo a thorough review process performed by a team of independent editors and subject-matter experts to ensure the content's accuracy, timeliness, and impartiality. Our editorial team is separate and independent of our site's advertisers, and the opinions they express on our site are their own. To read more about our team members and their editorial backgrounds, please visit our site's About page.